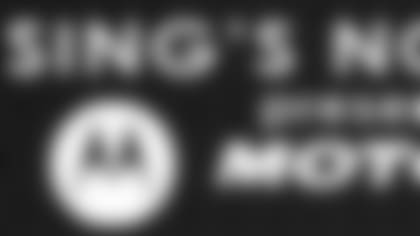 RE: Let's start off with a daily Frank Gore question**
"It's just going to be a game time deal."
RE: So he did not take part today?"No. No, sir."
RE: How about [Allen] Rossum?
"Rossum, yes. He was out here. He did a good job. There's a chance."
RE: So now with Arnaz [Battle] probably down, that would mean that [Josh] Morgan and Zeigler can both be up?"Yes."
RE: Since you've taken over, some of those young guys – [Dominique] Zeigler, Jason Hill – have had a chance to get in some action. How do you feel about how they've progressed in the last month?
"I think they have bright futures. Coach [Jerry] Sullivan has done a great job. Coach [Mike] Martz has so many offensive plays. Jerry Sullivan has done a great job working with those young players and helping them understand what it takes to be an NFL receiver, the consistency that it takes. I think that Jerry Sullivan has done a great job with that, so I think any success that they've had – obviously they're doing it, but at the same time – Jerry's such a great teacher. He's really helped them get to that point."
RE: Is wide receiver one of those positions that it a lot of times does take a year or two to figure out how to do it in the NFL?
"Once again, I think it depends on the offensive system. Some offensive systems are simple. You go out there and you've got seven-route, six-route, nine-route and that's it. Other offensive systems are tougher. This offensive system is very difficult for a young guy to come in and have a chance. Fortunately, Mike Martz is a great teacher and has really helped that process. And Jerry Sullivan is a tremendous teacher, and I think both of them have done a great job of really bringing those guys along at the wide out position."
RE: Some offenses might have someone running three routes?
"No, they run more than that. I'm just giving you an example it's simply a deal – you can make it a lot easier for them, the way they call an offensive system. We've got a lot of different plays and a lot of different things, and the techniques within those routes, and that's a lot of stuff. If you mess up on one route, Mike Martz is going to be all over you. So that adds to the pressure."
RE: You're saying there's different ways to run each of those routes?"Yes. Well, Mike Martz demands that you run it one way. Jerry Sullivan echoes that. Those receivers have to do it. The leeway of some systems as to: what is a seven-route? How deep is it? Here, it's clarifying. It's very specific. There's not a whole lot of room for error.
RE: Can this game give you a good indication of where the team is?
"Sounds like Buffalo all over again. But, you know what? I just think we're taking it one step at a time, and absolutely, every time we play, it's a great opportunity for us to go out and play a great football game. I don't care who it is. The most important part of that is how we prepare and get ready to play our opponents."
RE: Have you talked at all this week about the weather going into Miami?
"Not a whole lot. Just let them know it may be a little humid. It may be warmer, but they have got to play in it too. We've just got to go out there and do our job. It's only four days. We'll be fine."
RE: Do you think the results of your last three games have caught the attention of your remaining opponents?
"I don't know. You're asking me something now, that 'if' and 'would.' I don't know. All I know is what's happened so far, and we have to continue to prove ourselves each week as to what we can do, and what we're capable of doing and just go from there."
RE: You were the first West Coast team to win on the East Coast, how much do you think there is to that?
"I think for us, it's just a matter of really looking at and focusing on the opportunity. All of the other stuff – if we're playing in cold weather, if we're playing in hot weather – it really doesn't matter. If we have to travel three hours or eight hours, I just think that the most important thing is, the greater the complexity of the situation, the better opportunity it is for us. We will overcome whatever it is to get the job done."