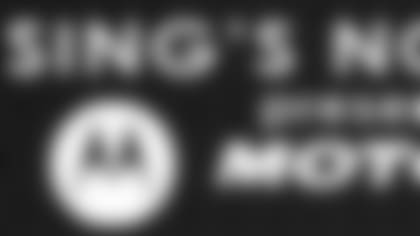 RE: on offensive philosophy being different from Mike Martz's **
"My offensive philosophy is more of a traditional one, more of a run to pass, when it really comes right down to it, sometimes you have to pass more, sometimes you have to run more, depending on the clock situation, depending on the score. But if I'm going to go into the game, my philosophy is to run a little bit more than passing and hopefully have a balance, 50-50, but the most important thing for me is to be able to run. You have to know that you can run the football. I'm not trying to outsmart anybody, I'm not trying to be a magician, we are playing football and we need to be able to run the football."
RE: And was that basically the reason that you decided to dismiss Mike Martz?
"'No, it was not. Really, the bottom line was it's just a difference in philosophy, it's as simple as that. I think Mike Martz's philosophy works. I think it works. I think obviously it works, he's been very successful with it. I think everywhere he's gone he's had success. I know that we have to have a long-term solution for that position at the offensive coordinator and philosophy-wise going forward, just did not feel that the fit was there."
RE: So did you not consider Mike Martz a long-term solution?
"No, I did not."
RE: And why is that?
"Because our philosophies are different."
RE: When you say long-term deal, maybe you are looking at a younger guy who isn't…
"No, I'm not looking at a younger guy. It has nothing to do with age. It's only philosophy."
RE: What you mean by philosophy being different…
"When I say philosophy, this is what I mean. If I'm looking at a coordinator and that coordinator likes to do more of a…basically a four wideout, five wideout, throw a little bit here. Dunk and dink here. That's different than what I'm looking for. If there's an offensive coordinator that likes to have a traditional I-back, split the tight end out, move people around a little bit more and really just kind of wing it here, throw it there. That's not what I'm looking for. That's a different branch of the West Coast Offense, they are different branches of the West Coast Offense. Then there's the stretch offense where you are going down the field, which is more of Coach Martz's offense, I'm going to throw it down field, but it's throw it downfield often rather than running the football and there are different branches of that. I am in the mode of more of a traditional style of offense, very much like the style that used to be here when Coach Bill Walsh was here, but in a different mindset. I want to know I have the ability to know that I can run the ball. I want to have the ability to know that I can impose my will on the defense. I want to know that in the fourth quarter, I can run the football. I want to know that when they put eight people in the box, I can still run the football, if I want to. I don't want to make it seem like I am a three yards and a cloud of dust kind of guy because I'm not. I am very much into innovation. I am very much into motion, moving people around, I am very much into that, but when everything settles and we need to control the football, I need to know that I can run the football and I'm not trying to do anything fancy at that time. I want to run the football."
RE: Is that philosophy born in your playing days, that is when you were a linebacker, was that the type of offenses you found were most difficult to stop?
"I find that today. You look around the league today, I think those teams that are successful year in and year out, when it really gets down to it, they are saying, 'You know what, it's been nice playing you, it's been nice to do this, but right now we are going to take the game over and we are going to run the football. To me those are the teams that are going to be successful year in and year out and not going to go out of style. You have to be able to do that. It's as simple to me as blocking and tackling. Some teams do it different, they have different philosophies, that just happens to my philosophy or our philosophy."
RE: Do you have the offensive line to play this kind of football that you speak of?
"Yes sir."
RE: Are you looking at guys who have run offenses, have called plays in the NFL before?
"I want to do what gives us a chance to win. I think sometimes you can get a coach that has a lot of experience and it doesn't work. I think the most important thing is that we find the right fit. Obviously, I'd like to have a guy that's done it before and has been successful at it and there are some guys out there that have that, but I think the most important thing right now is we sit down and talk to that person, that offensive coordinator, whoever that is, it's important that they have that factor in them that understands, when we talk about being able to impose your will on another team's defense, being able to control the game when you want to control the game. Being able to control the clock when you want to control the clock, you can do that. It's not something that, 'Well we can't do that, we've got to do some other things,' that will get us in trouble, don't want to do that. I want to be able to do that, to me that is important and it's an important formula to win consistently in my mind."
RE: Have you made contact with any candidates so far?
"Right now we're just gathering information, gathering all the data that we can and being prepared to make the move forward when necessary."
RE: Do you have a list of people in your head that you would like to see win the job?
"Um, yes."
RE: How long's the list?
"Right now, it's pretty long, but it will shorten up real soon."
RE: on the changeover at OC
"I certainly understand what you are saying, 'You've got to be kidding me, we've got to go through another coordinator?' Yes, I think sometimes you have to take a step back, in order to go forward. The only thing that I can say is, we will find the right guy. We will find the right person that is the right fit going forward and that person will understand the philosophy and hopefully we can have them awhile and get the continuity that we need. We have to go fast this offseason and the learning and everything else and we'll do the things that we need to do to get our players up to speed and ready to go, but I just think, I don't want a band-aid, I don't want a patch, I don't want a compromise. I want to find that person. You've got to find that person and we will find them. He's out there. We'll find them and once we find that person, we've got to move. We've got to go, we've got to act, we've got to respond, then we've got to move."
RE: Do you have a timetable given that, when you'd like to have a…
"Yesterday, yesterday."
RE: Realistically...
"I'm saying yesterday, realistically, as soon as possible. As soon as possible."
RE: When Mike Nolan was hired he was given control of the 53-man roster, do you have any say…
"Yes, sir I do."
RE: Was that a part of the negotiation on Monday, or did you demand that…
"I didn't really have to demand anything. I think Scot McCloughan and I are working very well together. I think we'll move forward together. I think it's very important that we have a compromising spirit between us. I am certainly not in the spirit of, 'Hey, I'm doing this. I want this. This is my…' because I'm trying to teach a team to work together and compromise and understand what one means. So Scot and I, we're going to have to lead that way and be an example that way. And, to me, that's what it's all about."
RE: Do you report to Scot McCloughan or to Jed York?
"I report to Scot."
RE: How does that with the 53-man roster, if you want to draft somebody and he wants to draft somebody else…
"Compromise. Compromise. I think it's all about compromise. Hopefully, you don't get into the situation where, 'Well, it's my draft choice versus this,' and all this other kind of – to me, even if you had a situation like that: I'm in control of this, you're in control of that. If we're going to win, and I'm standing over here saying, 'You know what? This is, I'm standing on this. This is mine,' we're not going to win. We've lost already. So, I'm very confident in the fact that Scot and I will be able to come together and work together, and compromise and respect each other enough to agree, and agree to disagree and move on. To me, that's what it's all about. It's all about communication. It's all about trust. It's all about all of those things. I am confident that we'll do just fine."
RE: Scot McCloughan and Mike Nolan talked a lot about the 'trigger' last season. Do you have the trigger?
"Trigger? I don't – I'm not going to get fancy with words. I don't really know what that means."
RE: I think final say.
"Pardon?"
RE: Final say.
"Final say. I'll put it this way: I know what I have control over. What does that mean? Whatever Scot has control over, what does that mean? He can fire me? I've got a job to do. If I'm not doing that job correctly, I'll fire myself. That's the kind of person I am. If I'm not doing the job, if I feel that job is over my head, I'll fire myself. I'm going to walk off myself. The most important thing to me, in all honesty, is this: It's about the team. It's about getting everything out of this team that we can. It's not about Scot and it's not about me. It's about us coming together and understanding we're trying to build something really, really important. And, if either of us get in the way, it means we're not smart enough to have that job."
RE: Will the offensive coordinator you hire be able to make changes and bring his own people in?
"Normally, the offensive coordinator who comes in, he has a person that he likes to have with him, and normally that's a quarterbacks coach. That's the flexibility that we have allotted him, whoever that is. So, we move forward with that."RE: So he can bring in his own quarterbacks coach? "Yes." RE: How does that affect the current QB coach Ted Tollner?
"Ted Tollner got let go yesterday."
RE: Were there any other coaches who were let go?
"Mike Martz. Ted Tollner. Tony Nathan."
RE: What's your timetable – will you wait to fill those other positions when the new offensive coordinator comes in?
"We'll just fill them at the appropriate times."
RE: As of right now, the coaches you do have on your staff right now, unless they leave on their own volition, do you plan to proceed with them?
"Absolutely."
RE: No other changes planned other than the three just mentioned?
"No other coaches leaving our staff, other than what we have right here."
RE: Why were Ted Tollner and Tony Nathan let go?
"Well, because we felt moving forward – I felt making the decision right now that would help us get to where we needed to go. I needed to make those decisions. So, that's why he was let go."
RE: Have you talked to Scott Linehan about being your offensive coordinator?
"I have not."
RE: Is he someone that you've talked about internally?
"At this time, we've got a lot of people on the list. But, I don't want to single out anyone at this time that we've talked to or haven't talked to or considered or whatever. But, at the appropriate time, we'll make it available."
RE: A lot of coaches like their offensive coordinator to also be the quarterbacks coach, where do you fall on that?
"The people who we have, I believe in those people. Hopefully, as I said before, I think if we choose the right guy, we'll be able to work that out, whatever that is. So, as far as the offensive coordinator they want to have this guy do that, or whatever. Hopefully, we can work it, whatever it is. We'll work through it."
RE: Are you prepared right now to address the subject of Alex Smith? "
No. No. I am not."
RE: Generally, what do you think this team needs personnel-wise?
"Generally?"
RE: What positions?
"Definitely think we need to add another quarterback. I think we need to add an offensive lineman, guard or tackle. On the defensive side of the ball, we definitely need a pass rusher. You never have enough of those. So a couple of those guys would be great. Possibly a safety. Our guys have done a good job but going forward we may want to get a safety that has some range or what have you. So generally, to start with that's a good place to start right now."
RE: Is Shaun Hill in a competition in your mind? Do you start fresh? What happens with him?"We'll see going forward. I'm not prepared to say right now whether Shaun Hill would go into training camp as a starter or what have you. It depends on what we do this offseason. Right now, whoever we bring in here, and I told Shaun Hill this: 'You're going to compete. You're going to compete.' If the situation is: 'Well, I should be the starter right off.' If you're the starter, you're going to start. If you're the starter, you're going to start. But we're going to compete. To me, I think competition is the greatest thing in the world so I feel that whoever the starter is going to be, they have to want to compete for it. It doesn't mean you have to go through the whole training camp but you have to compete for it."
RE: Why not name Shaun Hill starter right now? You can always change your mind. Didn't he do enough over the past two months to deserve the title of starting quarterback at this point in time?
"I want to say this: under the circumstances, everything that he did I really appreciated what he did. He did not surprise me in terms of what he did. That's why I wanted to go with him. I think Shaun Hill is a leader. I think all of the things we've talked about before, all of the things you've heard me say about Shaun Hill before, but the most important thing is that the best guy is our quarterback. We're not trying to look at situations and go, 'Well this guy here and he did a nice job here.' I want the best guys on our football team to play. If Shaun is going to be our starter, he's going to be the best quarterback that we have. But I'm not into making decisions right now and say, 'Shaun Hill.' Because… And I told Shaun this, and I told all of our players this, 'Anything that I tell you, I am telling you from my heart. Anything that I tell you I want you to take to the bank.' I don't ever want to tell a player something and then come back and say, 'You know what? I'm sorry I said that.' No, I'm not going to say I'm sorry. 'This is what I mean. What I tell you, that's exactly what I mean.' So if I'm saying that he's the starter right now and something happens this offseason where we get a guy that's better, I'm going to go into the season and play Shaun when I've got a guy that… I don't want to do that. And I don't think it's right to him. I don't think it's right to the club. I don't' think it's right to the players. I don't think it's right to anyone. So I don't want to get into making promises and making… just because somebody else says that I should. I want to do something because it's right. But right now, we're looking at winning football games and right now we want to get the best 11 guys on the field. Period. The best 11 guys. And I want those 11 guys to compete. Because we're going to have people here that can compete, and that makes us better. I don't want anyone going in thinking, 'You know what? I've got the job. I'm in great shape.' I want everybody to compete, and be ready to compete when they come. Because that's what I'm doing every day. Competing."
RE: So you're saying your starting quarterback might not be on the roster right now?
"You're right."
RE: How much personnel work have you done in your career? Have you done some draft work as an assistant in the past? What input are you going to have on the draft this year? "
I'm going to have a lot of input in the draft. Once again, it goes back to Scot and I having that understanding. I don't see Scot as above me, I don't see him as under me. He may be the guy that I report to. And I certainly know that Scot does not see me as above him or beneath him. I see us working together. That's the thing that we both talked about. Obviously the general manager has the responsibility of hiring or firing the head coach. That's his job just by title alone. Otherwise I'd be head coach and general manager. I understand that. But at the same time, we also know that in order for us to win, in order for us to be successful, we must, it is not an option, we must work together. If we don't work together we're dead. We're done. So when it comes to personnel decisions, I feel that if I'm sitting there and I'm looking at this guy and Scot's, 'Well hey, I really like that guy.' 'Really? Can I offer an opinion? Can I offer a different view?' To me, that's how we're going to get better. I'm not a yes man. I couldn't be one if I wanted to be. I can't be. But what I am, I am a person that really believes in communicating. I really believe in communicating wholeheartedly. If I don't teach my kids anything else, hopefully I teach them to be able to communicate their thoughts and feelings and be able to deal with the answer you get."
RE: Over the last few offseasons, as an assistant head coach have you been in the room on draft day with everybody contributing?
"Yes, I have been."
RE: I know that after Joe Staley was drafted Nolan brought you in to talk to us about him because he thought you played such a role in helping to scout him so to speak at the Senior Bowl. Are there other players on the roster that you drafted that you really pushed for?
"No, and to be honest with you I didn't push for Patrick Willis either. I really didn't and I told Patrick this. I put the film on, I saw him and I thought there's a chance we may draft this guy? I was disappointed from what I saw the first time I saw him, I really was. I'm just being honest with you. Scot McCloughan said 'Mike, this guy is really talented, you really got to look at him again and I looked at him again and said 'Scot, you really like this guy?' He said 'Mike, I'm telling you. I know what you're saying but this guy is really good now, he's really going to be good.' So that year I learned something, but, what happened is right before the draft I began to understand and learn his history and I understood that his brother drowned before the season started and I understand all of the injuries that he had to work through. Then before the draft now I said 'you know what? I hope we get this guy because I had no idea the mount if adversity that he had worked through and if a guy can work through that kind of adversity there's something special about him and that's what I told Scot McCloughan before we drafted him but I didn't know the whole story and that's the value of personnel."
RE: Mike you're a new head coach, you have a relatively inexperienced general manager, and a 27-year-old team president. Do you think that this organization would benefit from having some more NFL experience in the front office? Someone that you could turn to and ask advice and direction?
"I feel like this and we've talked about this before I think when you talk about inexperience it certainly had its downsides. But so does experience. I've been in situations where I've been in conversations where guys say I've been doing this for 30 years but you know what, it's been 30 years the wrong way. And so for me I think that with Scot. Scot may be young but I think he's beyond his years instead of knowing what the heck is going on there around the league and that's a testament to his father being in the business such a long time and I think Jed York is really busting his tail. The greatest thing that I can say about him is that he is a guy that is not telling you that I know. He is a guy that asks a lot of questions an there is wisdom in that. So I think between the three of us, yeah you can bring a guy in that's got all the experience in the world and run the big risk of really stifling all of the energy and the excitement and the ideas simply because he hasn't heard of it. Simply because it's outside of the box. Simply because it's outside of his comfort zone. I think that we will do just fine if we just stay together. I think our strength is in how we communicate with each other and how strong, the greater the communication, the greater the selflessness, the greater the team. So I'm excited about moving forward with the two of them and I think that the three of us, the sky is the limit. "
RE: Are you feeling that, despite a couple late minute snafus against Miami and Arizona that this is a playoff team right now?
"No I won't say that. I won't say that because I'm a realist. We're a playoff team when we're in the playoffs. A playoff team is not a team that is almost in the playoffs in my mind. We're not there I think that we have a lot of work to do to get there. I think that some teams may have overlooked us, they won't next year. So I think we have a lot of work to do and I would hate to say…I think it would be a very sad thing for me to say that we're basically a playoff team because if that's true then I think that we're all in trouble. We're not there, but we will be"
RE: When having those discussions with the players a couple of days ago did any of the older players tell you or talk to you about perhaps they were going to retire or not be back next season?
"Didn't hear that, no sir, did not."
RE: When you start to sit down and view offensive coordinator candidates, will Scot McCloughan be part of those interviews?
"Oh yes, absolutely."
RE: Has that begun yet? Have you talked to anybody at this point…?
"No, we're gathering a list and gathering all of the information that we can and trying to make sure that we have all the people on there to begin with and then we narrow that list as we go and get ready to make a decision."
RE: Will that work evaluation take place tomorrow or Friday or will you pick it up next week? What's your immediate work schedule?
"Today, tomorrow, the day after that, yeah. We're just working at it. To me right now in the offseason it's offseason for everybody else but we're on, we're moving."
RE: Are you coming into work tomorrow?
"Absolutely."
RE: How are you celebrating the evening?
"Lot of prayer, a lot of prayer."