If Barry Sims could be anywhere in the world, it would probably be on a golf course, knocking a couple more strokes off his 12-handicap. The avid golfer with his sleeve of tattoos and blonde highlighted hair is not exactly what you're accustomed to seeing at your local country club. Sometimes he feels self-conscious of his appearance on the links, but then thinks to himself, "Who cares?"
After all, he's a different kind of weekend warrior.
The 6-foot-5, 300-pound highly-skilled athlete is an ultra-competitive person, who makes a living off opening holes instead of playing 18 of them. And when the 49ers offensive tackle is not firing rounds of golf in the low 80's, he's focused on his other passion, mauling defensive linemen in the National Football League.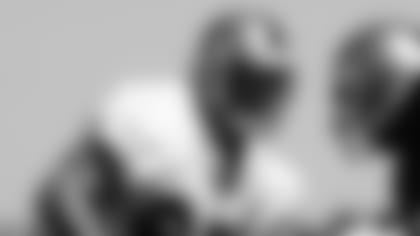 Signed in June, Sims is currently adjusting to his new surroundings with the 49ers quite nicely, and the free agent acquisition can't stop raving about his new teammates and how excited he is to feel needed by the 49ers.
"I'm glad to have an opportunity to go somewhere else," said the former Oakland Raider after a recent morning practice during training camp. "That's all I wanted, to go somewhere where I was wanted. I feel wanted here."
Besides feeling like a necessary commodity, Sims felt that the 49ers displayed a team atmosphere. During his free agency courtship, Sims looked at a number of teams as potential landing spots, but in the end, he felt at home with the 49ers
"When I came to visit, I felt there was a good team environment and that's what I want to be a part of. I didn't want to be a part of a bunch of individuals," he said. "It's a team game and you have to do what's best for the team. I feel like those concepts are prevalent around here."
Signing with San Francisco, whose facility was only a six more mile drive than what it was to Raiders headquarters also kept him in the Bay Area. That was good news for Sims, and good news for his wife Shae, who owns her own local business.
"It's nice to come here and not have to move and still be a part of the Bay Area. It's home for my wife and I," he said. "It's not that much of a transition."
During his 9-year career as a Raider, Sims played both tackle and guard, started in 119 games and was named a co-recipient of the 2004 Commitment to Excellence Award, voted on by team members for a "Player who best exemplifies the spirit of the Raiders."
Sims experienced a number of highs during his commitment to excellence with the silver and black - from playing against the Tampa Bay Buccaneers in Super Bowl XXXVII to starting at left tackle in all 16 games for the sixth ranked rushing offense in the NFL last season.
But now Sims has a new outlook on life and new colors to match. And his mission, help the San Francisco 49ers anyway he can.
So far this camp, Sims has been practicing at left tackle while Joe Staley recovered from a foot injury. But with Staley returning to action, Sims will be pushing Jonas Jennings for a job at right tackle. The switching back and forth is something he has no problem with whatsoever.
"I'll play wherever they need me. I've always played at left tackle and it's taken a bit of an adjustment to move to the right for me, but I'm willing to do that," he said. "I just want to contribute anyway I can to help the team out, whether it's as a backup or if someone gets hurt, I can step in."
In the locker room, Jennings often is seen helping Sims with any questions he might have, which further demonstrates Sims' desire to be with a collective unit and not a group of individuals.
"I'm a big believer in team and that's one of the biggest reasons why I wanted to play here, I felt a sense of team [unity]," Sims said.
He isn't the only new face in the locker room. Sims is glad that the 49ers signed defensive end Justin Smith as well, mainly so he won't have to face him in a regular season game.
But getting ample practice time against Smith suits Sims just fine.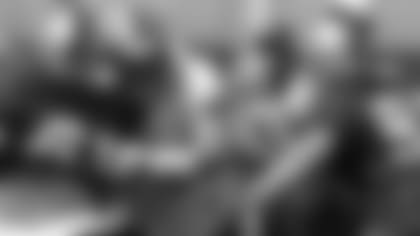 "We played against each other a number of times in the past," Sims said. "It's nice to have him on our team, believe me. He's the type of guy who will make you better because there are not too many guys in the league who are better than him. It's good to practice against the best and it's good to have him here. He's making the transition too, so I don't feel like I'm the only one."
Another major change for Sims and his new teammates is having to learn the complicated offensive of 49ers offensive coordinator Mike Martz.
"It's crazy," Sims said of the nuances of Martz' schemes. "I'm excited about it, and I'll be even more so once I get it down. Right now it's a little new to me. I've only had my playbook for a couple of days. It takes an adjustment, but I'm excited about it."
The road to success for Sims in the NFL wasn't easily traveled. After high school, he didn't receive any scholarship offers so he attended Dixie Junior College in St. George, Utah. Two years later, the University of Utah was one of the few schools to offer him a scholarship.
His college career ended with a dismal outlook for playing at the pro level when he blew out his knee at the Hula Bowl.
"After that injury it was a big question mark," he said. "It was the worst timing, between college and the pros. I missed two years of football completely."
Sims rehabbed vigorously for the next two seasons, waiting for another chance to, "Put the pads on and see if I could do it."
In 1999, he was selected in the 17th round of the NFL Europe draft by the Scottish Claymores. After starting all 10 games for the Claymores, Sims was signed by the Oakland Raiders.
Sims has fond memories of his time in NFL Europe, including an outing to the birthplace of golf.
"We went to St. Andrews to play the day after the game. Since I had injured my thumb in the game, it was a painful round of golf," Sims recalled. "After 12 holes I couldn't play anymore, so I just walked the course with my teammates."
Another golf highlight of his took place at the Palo Alto Country Club, when Sims knocked in his first and only hole-in-one on a 175-yard par-3 with a 5-iron.
With two of the best moments in any golfer's life already reached, Sims the football player, would like to reach the pinnacle of success in his day job.
Under contract for the next two seasons, Sims envisions a bright future with the 49ers in his quest to end his career as a Super Bowl Champion.
"You can see the potential of what we have here," he said. "When we do execute things right, good things tend to happen."