Shawntae Spencer didn't need an alarm clock this offseason.
With his two daughters kicking him every morning, there was no need for one.
But after his rude awakenings, Spencer wasn't about to experience a typical offseason for a six-year veteran of the NFL. Instead of being with his teammates going through offseason workouts at the 49ers team facility, Spencer was back on the East Coast, diligently rehabbing an ACL tear that he suffered against the Seattle Seahawks two weeks into last season.
Soon after the injury, Spencer had surgery the first week of October and was then placed on Injured Reserve.
But the constant wakeups Spencer experienced this offseason proved to be not so much of a bad thing after all, considering his effort was rewarded in the form of being named the 49ers starting right cornerback earlier this week.
"It meant a lot to me," Spencer said. "It was tough to get back healthy, especially with the ACL. That's the injury that no one wants. But, I'm proud of the work that I put in and I trusted the work that I put in the offseason rehabbing. I'm glad to see it paid off."
Spencer found out about his starting gig on cut day, the same day the 49ers trimmed their roster down to 53 players.
With a few days off following their preseason finale, Spencer and his wife were at lunch when he received a call from head coach Mike Singletary's assistant.
"He was saying that coach wanted to see me," Spencer recalled of the conversation. "That was it and I immediately was thinking the worst. I told my wife that I might be coming home with her."
But as it turned out, Spencer received great news on the day known around the NFL for being one of the worst of the year.
"When I got here it was a different story," Spencer said. "He [Singletary] told me that he was proud of me for fighting back through the injury and that I had the starting job."
Looking back on Spencer's achievement, it's possible he might not have won the starting job if it weren't for his two daughters.
"They were my alarm clock," Spencer said of his two-year-old and one-year old. "They would get up about a quarter to seven and I'd feel a little kick in the back. That would be my cue to get up."
Once he got his morning signal, Spencer would drive to the University of Pittsburgh where he met up with his college strength coach Buddy Morris.
There, Morris gave Spencer some simple advice for their rehab workouts.
"He told me just get up every morning, show up and he would take care of the rest," Spencer said.
It was quite difficult physically for Spencer to rehab the knee injury throughout the offseason, then come back to the Bay Area for training camp and battle other talented cornerbacks on the 49ers roster.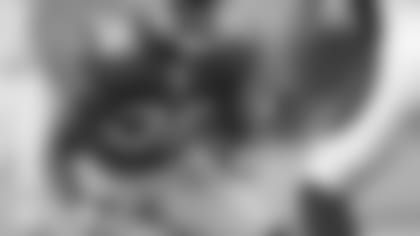 But even more so, the experience was taxing on him mentally in the early stages of the rehab process.
"Mentally, you don't know what to expect because there are a lot of guys who've not come back from this injury. You try to stay positive and work every day," Spencer said of his mindset during the offseason.
Part of Spencer's frustration came from being away from the sport of football and part of it came from not being one of the guys in the locker room who contributes every week with the rest of his teammates.
Because of that, Spencer hardly watched football following his injury.
"It was very tough. After I got the surgery, I didn't watch football at all. I didn't even watch the Super Bowl," Spencer, a Pittsburgh native said with a straight face. "I spent a lot of time with my wife and our children and just enjoyed the family."
The time spent in Pittsburgh did Spencer a lot of good.
So much good, that after Singletary named Spencer the team's starting right cornerback, he said Spencer looked better than he's ever been.
Upon hearing Singletary's assessment, Spencer didn't fully agree.
"I think 2005, 2006, were very good years for me. But, I'll guess I'll go with his word," Spencer said.
Since being drafted in the second round of the 2004 NFL Draft, the 6-1, 190-pound corner has had a variety of roles with the 49ers. From backup to starter, Spencer has gone through it all.
But from the early stages of his NFL, Spencer has been an integral part of the 49ers secondary. In his first three seasons, Spencer started in 39 games and totaled 5 interceptions.
In his last two seasons however, Spencer has struggled with hamstring and knee injuries. Over that span, he started one game and intercepted one pass.
"It's been a rollercoaster," Spencer said of his 49ers career. "It started out very well. Then we hit that first hill and I'm climbing back up and trying to get back up top. It's been an interesting ride to say the least."
Along with Spencer, five other 49ers have been the team over the last half-decade.
Wide receiver Arnaz Battle, center Eric Heitmann, long snapper Brian Jennings, defensive tackle Isaac Sopoaga and linebacker Jeff Ulbrich are among those six.
For the aforementioned players, the reward for making the team ever year comes in the form of beef jerky from Texas distributed by Heitmann.
"It's absolutely the best jerky out there," Spencer said. "Me and Heitmann and a few of the other guys, that's our bond. I actually look forward to making the team for that jerky among other things."
Heitmann's jerky from his hometown of Katy, Texas has been a staple of training camp for Spencer and the other tenured veterans.
"For the last five years, whenever I see Shawntae the first question he has for me is, 'Where's the beef jerky?'" Heitmann said with a smile.
And although he's responsible for bringing the jerky every year, Heitmann is happy to be the supplier. He's even happier to see Spencer battle back from injuries to reclaim his starting spot.
"I'm extremely glad that he's on this team because more so than anybody else, he appreciates the beef jerky," Heitmann teased. "But more so, I'm just happy for Shawntae. He's been a great player for us. He works extremely hard, and I couldn't be happier for him."
While Spencer and the other tenured teammates are pleased to still be playing alongside one another, their ultimate focus is on seeing the team get back to the playoffs.
"We've experienced the 2-14, 4-12, and 5-11 seasons," Spencer said. "Now, it's time that we experience the other side; the 14-2 records. It's time that we experience the other side of it and make the playoffs and so on."
Perhaps, somehow Spencer can maybe have his daughters nudge him in the right direction towards that too.