Every year during training camp, 49ers.com presents a veteran camp diary with a different tenured member of the team. This year, starting cornerback Shawntae Spencer assumes that role. The seven-year veteran checked in after the final exhibition game to talk about the upcoming season and his new show on TV49.So that's it, the preseason is over and I'm ready for the regular season. It's nice to be out of two-a-days and it's nice to start preparing for the games that count. Plus we've been out of the hotel – you have to love that. You get to stay at home now and we get out of here a little earlier and that's nice considering all the late nights we spend around the facility during training camp. It's getting closer to the season and we're all starting to feel that urgency. Everyone is gearing up for Seattle.
The best thing about camp breaking is being able to sleep in your own bed again. That hotel life gets tiring. You don't get a lot of channels on the TV, and it's harder for me to keep up with all my favorite shows.
As a team, we feel good with where we're at. We finished the preseason 4-0, and while it doesn't really mean anything, it helped teach some of the young guys how to win in the NFL. The starters didn't play much in our preseason finale against the Chargers, but it was good for us to get in there and play a series with Aubrayo Franklin. I feel good about where we're at.
What we really want to do is build off what we did last year. I think right now, at this point of the season, we're just focused on the details. As a defense, we're focused on our scheme. We know we have a great front seven and great chemistry on the back-end, but it's about fine-tuning all three areas and playing better team defense. We're focused on eliminating big plays, some of which we gave up against Oakland. Some of that was because guys weren't being detailed in their assignments. That's what we're focused on right now – cleaning up the little things before the season opener on Sept. 12.
I know it's a holiday weekend with Labor Day on Monday, but you can't take time off right before the season begins. I'm focused on Seattle and that's where my focus will be until we face them next Sunday. I think we have all the pieces we need to make a championship run, so we need to start the season the right way.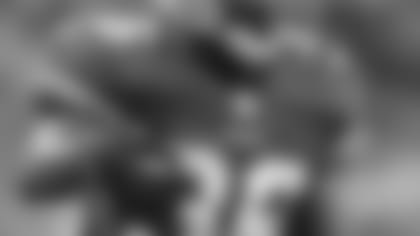 I've been running on the side this past week, doing gassers because I didn't play in the third preseason game against Oakland. I missed a few practices too, so it was important for me to do some extra conditioning after practice just to get my wind right. It's important to be in the best shape I can be when the season rolls around. It's not an age thing though. Regardless of age, you have to be in the best shape when the season begins. That's something I'm focused on even more so for this season. I don't ever want fatigue to be an issue for me in the games. I want to play fast and never let conditioning be a problem for me.
I must admit, I'm enjoying the time I've spent with my fellow defensive backs. We give each other a hard time every now and then too. I think my arch-enemy would be Michael Lewis. But I think Mike-Lew and I made our peace recently.
We try to keep it loose in the locker room. Guys can get frustrated during the dog days of camp, so we try to loosen things up. In the regular season we have a routine where once a week we'll gather as DBs at one of our houses and watch film of our opponent together. We do it to make sure we're on the same page. That's something we started a few years back and it's really helped us prepare for whoever we play that week. Going through the game film, each call, and make sure we're seeing the same things, really helps when we're all on the field together. There's really no surprises that way, we all know where each other's going to be.
Thanks to Takeo Spikes going national with his show, I'll be hosting a show on TV49 this season. I have his old show and mine is going to be called, "Spencer for Hire." Basically, I'll be going around the building throughout the year to show everyone the behind-the-scenes operations that make this organization work.
For my first episode, I'll be interviewing Chef Chad in the 49ers Café and we're going to see how he prepares each meal for the players and staff at team headquarters. We'll talk about his favorite recipes and things like that. I hope to go around the building and show people what happens in other places as well. I don't want to give away too much, but we'll show you different things, things you don't normally see on TV49.
So this is it, my final blog post. My focus is completely on Seattle, and I know that's where my teammates' focus is too.  Stay tuned to 49ers.com for my new show, and thanks to everyone for reading my training camp updates.