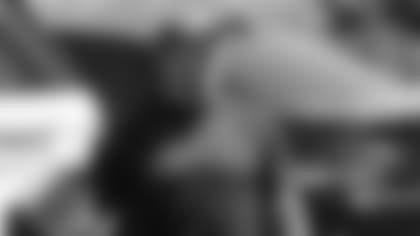 Defensive end Justin Smith arrived for camp with a light load.
When Justin Smith got caught by TV49 weaving his way around a local Santa Clara hotel parking lot on Thursday, the 49ers defensive lineman had no problems fessing up.

"I look lost? Good, because I am," said Smith.

49ers linebacker Tully Banta-Cain could commiserate, having gone through a similar situation a year ago after signing with San Francisco as an unrestricted free agent.

"Definitely, I know how he feels," said Banta-Cain. "I feel so much more acclimated than I was last year when I arrived and really wasn't familiar with the hotel setup, where things were, or the structure of camp. Now, I know my way around. I can ask more guys for a ride to work if I have to, and it's just better to have that comfort level. But I do know how Justin feels with it being his first year."

Even though Smith did get a little turned around for a quick second, he still seemed pretty pleased about the comforts of his training camp home.

"Coming to a hotel I didn't have to bring much," said Smith. "Usually I've had camps at a military academy or a dorm, and you have to bring pillows and blankets and all of that stuff. This is pretty easy. I brought clothes and a fan for noise so that I can fall asleep."

Smith can't wait for the first night of camp to pass so that he can enjoy his first practice on Friday morning, as slowing down for the last month off proved to be a tall order for Smith, a player known for his non-stop motor.

"I'm pumped. That last month we had off took too long really," said Smith. "I was getting pretty antsy this last week and I think everybody was kind of in the same boat. It's good to be here and I'm ready to get started."

Of course, no sooner does camp actually start before guys start wishing it were over, but for now, most of the players said they couldn't be happier about Friday morning's first practice.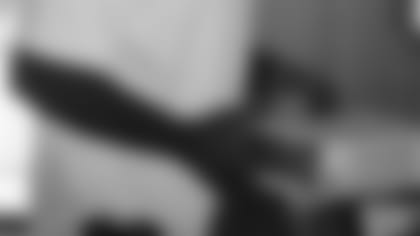 Running back DeShaun Foster made sure to bring his Xbox for his down time entertainment.
"I'm thrilled to be back for camp," said Banta-Cain who is embarking on his sixth NFL camp. "You get the solitude of being alone in your room at night, away from the family and around the guys all day, it's 24-hour football. It's like a boot camp but when you are done with it, you are a better football player. It's a good time of the year."

Third-round pick Reggie Smith arrived on Monday, anxious to get his rookie contract taken care of so that he didn't miss a second of camp time.

"I was just waiting and waiting and kind of nervous," said Smith. "It got done and then I've just been getting everything settled. Now I'm really nervous actually about the first practice. I'm always nervous before things get going, but after the first day, I'll be alright."

Till then, the rookie corner said he's worrying about not being the first guy to mess up.

According to a veteran like Banta-Cain, rookies aren't the only ones experiencing a case of the nerves.

"This time of year is always exciting, but at the same time, everybody's nerves are flowing," said the veteran linebacker. "Everyone has to prove themselves and show what they've done in the off-season and I think all of us want to perform well."

Following an early afternoon of moving in and physicals, all players on the roster reported to Santa Clara at 4:30 for head coach Mike Nolan's team meeting.

"Coach Nolan went over the schedule, talked about two-a-days, and about going to practice against Oakland," said tight end Delanie Walker. "There are some new trainers and equipment guys so we were also introduced to them too and it's just good to get a feel for things. When we come in tomorrow, everybody should be situated and ready to go for practice."

The 49ers will practice twice on Friday. Come back tomorrow for reports from camp, and be sure to check back later tonight for some exclusive footage on TV49 from today's Reporting Day, including tours of a few of the players' rooms.

"I am one of the guys who really always likes training camp. I like football, I like playing football, and that's my passion. I can't wait for it, it actually took too long to get here. I'm like the rest of America. They can't wait for training camp to start, for football to start, and it's the same thing for me." - Safety Mark Roman