Call it a rivalry game, a divisional game, or an unofficial playoff game – just make sure to call it important.
For both the San Francisco 49ers and St. Louis Rams, Sunday's second meeting of 2010 will leave one team with a great chance of winning the NFC West crown. The other… not so much.
St. Louis controls its playoff destiny. The 49ers do not.
If the Rams win their final two contests, a home tilt with the 49ers and road game in Seattle, the NFC West and a home playoff game at the Edward Jones Dome is all theirs.
If the 49ers win their next two games, coupled with one Seahawks loss, a near decade-long playoff drought will end with the 49ers hosting a playoff game at Candlestick Park even with a 7-9 record.
Needless to say, a lot is on the line when both sides meet. But the 49ers are hopeful to repeat a performance they put on six weeks ago when they defeated St. Louis 23-20 at home. Troy Smith threw for a career-high 356 yards and led the 49ers to a hard-fought win against a competitive Rams squad in his fourth NFL start.
Whether Troy or Alex Smith starts this week is anyone's guess. Mike Singletary did not name a starter after the 49ers' ninth loss of 2010. However, both Smiths have had success against St. Louis. Alex Smith threw for 222 yards and one touchdown in a 28-6 49ers win to close out the 2009 season.
Each quarterback attempted 28 passes in their respective starts against the Rams without an interception.
The same type of play will be needed from either of signal caller against a St. Louis defense that allows 337.4 yards per game.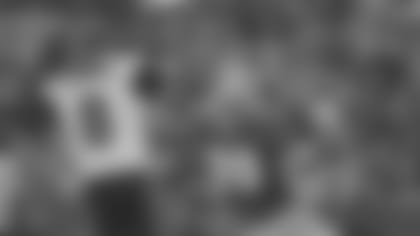 Sam Bradford has done well in becoming the face of the Rams organization. However in recent weeks, the rookie quarterback has shown his age. He's thrown five interceptions and zero touchdowns in his past three games after producing 11 touchdowns and one interception during a seven-game, mid-season stretch.
Bradford was sacked three times last week in a 27-13 loss to Kansas City and at one point had completed only 9-of-27 pass attempts. He finished 21-of-43 with two interceptions and no touchdowns. Bradford attempted a career-high 42 passes previously against the 49ers and completed 30 of them for 251 yards with one touchdown in a game the Rams never led.
With few weapons on the perimeter for Bradford to utilize in the passing game, Pro Bowl running back Steven Jackson remains the biggest threat in St. Louis' offense. He's totaled the ninth most rushing yards in the NFL this season (1,148) and has five touchdowns – the most by any member of the Rams.
Though he's mostly been successful in 2010, Jackson was bottled up by the Chiefs last week, averaging 3.5 yards on 19 carries. Jackson also caught five passes for 37 yards out of the backfield, and has 39 catches for the season, third-most on the team. The sixth-year back rushed for 81 yards against the 49ers already this season and scored on a 13-yard touchdown run.
St. Louis will surely need more production from other offensive playmakers to be victorious against the 49ers. Danny Amendola has emerged as the leading wideout with 75 catches for 627 yards and three touchdowns this season. Other receivers Brandon Gibson and Laurent Robinson had drops last weekend against Kansas City. However, it should be noted that the duo combined for 10 catches for 96 yards in the November meeting at Candlestick.
Similar to the inconsistent play on the perimeter, the Rams could certainly use an improved performance from the offensive line. The unit was responsible for two of the team's five false-start penalties at home last week. They also allowed 3.0 sacks to the 49ers previously and have given up 30 sacks for the season.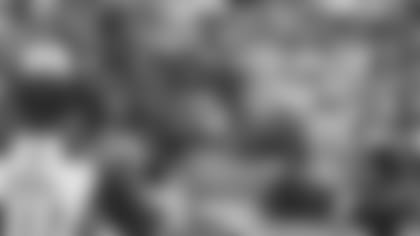 James Laurinaitis has been a stud for the Rams defense all season long, but that doesn't mean the second-year linebacker hasn't had his moments of struggle. Fortunately for Laurinaitis, one of those moments (pictured right) was negated by a holding penalty.
The inside linebacker has been responsible for covering 49ers Pro Bowl tight end Vernon Davis, who in turn, has made several big plays against the middle of St. Louis' defense.
Laurinaitis leads the Rams with 98 tackles, 12 more than the next closest player, safety Craig Dahl. He's critical to a run defense that allows 113.1 rushing yards per game, but also gave up a season-high 210 yards to Kansas City last week.
Dahl led St. Louis with 13 tackles the first time the teams met. The fourth-year pro has two interceptions, two behind cornerback Bradley Fletcher, who leads the team. Opposite of Fletcher is veteran Ronald Bartell, who has 52 tackles but no interceptions this season.
St. Louis' secondary has benefitted from the underrated pass rush duo of James Hall and Chris Long, who have 8.5 and 7.5 sacks respectively. Both picked up sacks on Troy Smith back in November to go along with three more sacks provided by Laurinaitis, defensive end C.J. Ah You and former 49ers safety Michael Lewis.
Known for bringing pressure, Steve Spagnuolo's defense has 12 different players with a sack this season.
The unit will have to dramatically cut-down the big plays they allowed to the 49ers in the first meeting if they want to be victorious the second time around. The 49ers averaged 9.8 yards per pass play and gave up eight passing plays that went for 20-or-more yards.
Big plays will surely be needed once more in an even bigger game for both teams. It comes down to who supplies more of them, the 49ers or the Rams.