It was the type of performance that would have won them the NFC West. If only the 49ers had played their 15 other games the way they did in a 38-7 home victory over the Arizona Cardinals, the season would not have ended Sunday.
Finishing at 6-10 on the year, the 49ers find themselves in third place in their division, completing a frustrating season with a dominant performance that should bode well for the future.
"I feel good for the players, this is a player's game," said soaked interim 49ers head coach Jim Tomsula a short while after his players celebrated a win by dousing him with a tub full of water.
"I feel good for the coaches, I can't say enough about the way the coaching staff prepared this week," he continued. "These guys were just very unselfish, stayed on point and really worked through to the end."
Along the same lines, linebacker Takeo Spikes put together an inspiring performance in the season finale. Playing with a broken right hand for the third straight week, the 13-year pro finished strong posting three tackles – on a day where the 49ers concluded the regular season without allowing 100 yards to an individual rusher.
It's the first time since 1997 that the 49ers have accomplished that feat and fifth time in the franchise's history it's been done (2010, 1997, 1990, 1971, 1967). The streak is now going on 22 games since a rusher totaled 100 against the 49ers defense.
As one of the team's main leaders, Spikes likes to remind his fellow linebackers on the importance of playing all-out. In his mind, it's a chance to show somebody what type of player he is, as if it's the first time they're watching him play.
The savvy veteran made sure those watching for the first time knew what he's all about.
"I didn't have a choice," Spikes said with a sly smile. "It's because I'm built for this… I had no second thoughts. It means a lot to me to finish the season and play strong for 16 games. I've always believed in finishing what I start."
The 49ers finished a solid season of run defense by holding the Cardinals to 78 rushing yards on 22 carries. Tim Hightower rushed 12 times for 30 yards on a day where Arizona's longest run netted just 10 yards.
"It's one of the positive things we got out of this season out of the rough season we had this year," nose tackle Aubrayo Franklin said. "We got a win for Coach Tomsula – that was the biggest thing."
Spikes was joined in the starting lineup by rookie linebacker NaVorro Bowman, who took heed to the words of his veteran teammate in making his first career start. Bowman started in place of Joe Staley, who ended his 63-game consecutive starts streak after undergoing a second procedure on his broken right hand earlier in the week.
Bowman was up to the task of replacing the four-time Pro Bowler. In his most extensive playing time of the season, he finished with eight tackles.
"I could be wrong but every time I looked I saw Bowman in there a ton of times," said center David Baas, who couldn't help but admire watching his defensive teammates sack Arizona quarterback six times as well as intercept them twice. "It just seemed like the whole defense was playing well, shutting them down and putting pressure on the quarterback. That helps us out and we were able to execute, hit a couple of big plays and play together."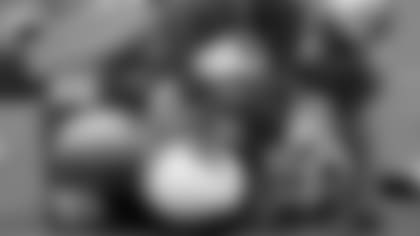 Right off the bat, the defense took heed to the words of Spikes by leaving a positive impression on the 49ers incoming head coach and general manager. The unit sacked Cardinals rookie quarterback John Skelton three times in the first quarter on their way to holding Arizona to minus-14 yards of offense and zero first downs in the opening 15 minutes of play.
Skelton finished the game completing 14-of-25 passes for 92 yards with one interception before he was pulled in the second half. Journeyman Richard Bartel entered on Arizona's last drive of the third quarter and didn't fare much better. He completed 16-of-28 passes for 150 yards with an interception of his own.
Bartel's turnover was brought back for a touchdown by cornerback Tarell Brown, who capped a 28-0 second half in favor of the home team.
Conversely, the first half was much closer with the 49ers leading 10-7 at the break.
After failing to sustain drives last week in St. Louis, the 49ers only needed a one-play scoring drive in the first quarter to take an early 7-0 lead. It was one they would never relinquish.
Alex Smith opened up a productive day, by tossing a perfect 37-yard touchdown pass to Ted Ginn Jr. for the fourth-year wideout's first receiving touchdown with the 49ers. Smith's pass was put in a place where both Pro Bowl safety Adrian Wilson and star cornerback Dominique Rodgers-Cromartie could not intercept.
Smith went on to complete 15-of-29 passes for 276 yards with two touchdowns, no turnovers and posted a quarterback rating of 107.8.
Like his performance against the Seattle Seahawks in Week 14, Smith threw for the most passing yards in a 49ers victory since he's been with the team. Although he will be a free agent next season, Smith spoke positively about finishing the season in a winning fashion.
"As crazy as this year's been, we've been through a lot, I've been through a lot" Smith said. "Some of it stops fazing you, I guess. You just kind of keep going about your job and doing your deal."
After giving up a 10-yard touchdown reception to Larry Fitzgerald in the second quarter, the 49ers responded by outscoring the Cardinals 21-0 in the third.
Smith completed his second touchdown pass of the game on a 59-yard strike to tight end Vernon Davis, who did a nice job of exploiting an opening down the middle of Arizona's defense. Davis outran free safety Kerry Rhodes down the home sideline the last third of the way on his way to making it a 17-7 game with 13:02 left to play in the third quarter.
The 49ers would go on to force a Cardinals punt and added to their lead with a six-play, 78-yard scoring drive. Brian Westbrook picked up 30 yards on a rush that brought the 49ers inside of Arizona territory. A few plays later, Westbrook scored on a 6-yard touchdown run to extend the 49ers lead to a 17-point advantage.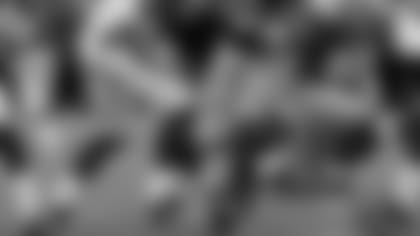 Westbrook added a second 6-yard rushing score in the quarter and became the only active NFL player to total 40 rushing and 30 receiving touchdowns. He finished the game with 79 rushing yards on 13 carries.
"We had a lot in the tank," Westbrook admitted," We didn't play real well all season, but we played pretty good today… With the talent on this team, we have the capability to go a long way."
After Westbrook's second score of the game, the Cardinals swapped quarterbacks, benching Skelton in favor of Bartel. Under Bartel's lead, Arizona marched into the red zone but as sent away on downs when Brown broke up a fourth-and-goal slant pass intended for Fitzgerald.
Brown would end Arizona's next possession with his first career touchdown, returning an interception 62 yards for the final points of the game. The Cardinals turned the ball over on downs once more in the 49ers red zone which allowed a pair of Tomsula's defensive linemen to give their former position coach a premature shower.
While defensive players wanted to win for Tomsula, so did the offensive side of the ball.
"I felt like we finished strong. We needed this win," Baas said. "We all enjoyed playing for Jimmy this week. We came out and we had fun. I felt like we needed to do that more and as you can tell, we had fun, we executed. Everything didn't go perfect, but we were out there playing for each other and look at the result."
The 49ers public relations staff announced postgame that both safeties Reggie Smith and Dashon Goldson suffered hip pointers.