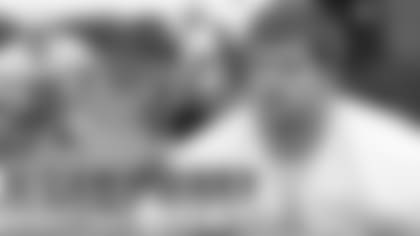 Rookie linebacker Scott McKillop, the 49ers fifth-round draft pick (146th overall) will be the latest to share his first-year experiences in a rookie diary. The former University of Pittsburgh linebacker will be following in the footsteps of Kentwan Balmer, Joe Staley and Vernon Davis, who previously wrote rookie diary columns. In his first entry, McKillop shares his draft day and rookie minicamp experiences exclusively on 49ers.com.**
I found out I was drafted by the 49ers while I was sitting in my living room at my parent's house. I was with my dad, my mom, my two brothers and my girlfriend. Before I was picked, I received a text message from my agent, who said the Chargers were thinking about picking me two picks later from where I actually ended up being drafted. But right after his text, I got a phone call. I didn't know who it was, but halfway through the conversation they said they were with the 49ers and that they were going to take me.
It was a pretty special moment.
It was a long day and I was pretty happy for it to be over. The mood in my house totally changed after I was picked. Before, everyone was pretty quiet and not much was said. But after the pick, everyone got really excited.
A little while after being picked, someone from the 49ers public relations department got in touch with me and set me up on a conference call with the Bay Area reporters. A few minutes later, my agent called and said someone from the team would be in contact with me to set up travel arrangements so I could come out to California for rookie minicamp.
Coming over from the East Coast, it's a long flight. Flying out of Pittsburgh, it was a three hour flight to Denver and then a two hour flight to San Jose. They didn't have a movie on either flight, but I just played Madden on my PlayStation PSP to pass the time, listened to my iPod and dozed off occasionally.
We actually hit some pretty bad turbulence flying into Denver. It was probably the worst turbulence I've ever had in my life, so I started to say my Hail Mary's and the Lord's Prayer over and over again. I'm sure everyone was a little worried; meanwhile I was gripping the chair in front of me as tight as I could.
I know it's out of my hands, but I'm really not a big fan of flying.
I landed in San Jose on Thursday and the first thing I did was report to the 49ers team headquarters. All the other draft picks and I went over to Stanford hospital for physicals. We got poked and prodded just like we did at the Combine. Then we took all kinds of tests and then came back to meet with our coaches and then spoke to the media.
The 49ers put us in a hotel close to the facility and after my first day out here I went back to the hotel and called my friends, family and my girlfriend. My roommate at the hotel was defensive lineman Ricky Jean-Francois, our seventh-round pick out of LSU. We probably talked to our family for the first three hours we got back to the room. Then we spent the rest of the time by getting our heads in the playbook.
After both nights of minicamp we were dead tired and we fell asleep right away.
One thing that really stood out to me from our workouts was the conditioning circuit we did both days. By far, it was up there with some of the hardest conditioning workouts I've ever done. I had done stuff like that previously, but I'd never had conditioning and then practice.
It's definitely something that signals that we've all gone up another level. We're all professionals now, so you have to take yourself to another level and do stuff you've never done before.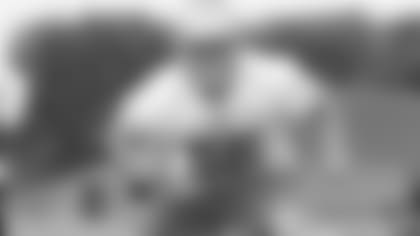 It was also great to finally get to work with coach Singletary. He was definitely intense and he always knew what he was talking about. I noticed that he was over with the linebackers probably more than the other groups during individual drills. It's nice to have his input and coaching because he was a Hall of Fame linebacker himself. I definitely appreciate his coaching style because you can tell he's trying to get the best out of you.
Now that rookie minicamp is over, I thought I did ok, but I know I can do much better. It was our first time really being exposed to the playbook, so I'm sort of happy with my play but not 100 percent behind it. I know I can do better. Once I get my nose in the playbook, I'll be back working again to get better.
On Sunday, the last day of camp, we took a written test to see how much of the playbook we had absorbed. Afterwards, I flew back to Pittsburgh and landed around 1 AM and I lost three hours with the time change.
I'll be home for two weeks and then I'll be out for our next minicamp. Our schedule might change though, so whatever they tell me to do – I'll do. I'm looking forward to getting back out there and working out with the team and learning the playbook as best as I can.
For the rest of the time that I'm home, I'll be doing one thing mainly and that is training. I'm going to run, train, run and train some more. I will spend time with friends and family, but I feel like I have a lot of stuff to improve on and I'll be ready when I come back for our next camp.
Thanks for reading my first entry. I'll have more stuff to share during OTAs.