General Manager Scot McCloughan took the podium Thursday morning inside the confines of Lucas Oil Stadium at the 2010 NFL Scouting Combine. Here are some of the highlights from McCloughan's press conference.
Q: What are your plans in operating in a cap-less season?
A: For us it's not changing. We're going to go forward as if there is a cap. As you guys are well aware, we're not going to be considered a big free agency team anyway. But we'll do what we need to do in free agency if we think it's a smart move, if it makes us better. But it's not going to change us, our spending, one way or another. Because I think we have a good plan in place and the vision and philosophy we've had in the past. We're going to keep the same. If all of a sudden we get to a place where we think we have to, then we'll definitely consider it. But right now we're going forward as we have in the past.
Q: Why are so many teams placing franchise tags on defensive tackles?A: I know this. We've been on the 3-4 now for five years - it is a very important position. The one thing about it is when you have good football players at any position, you always want to try to extend them early. You want to get a long-term deal. And we tried with Aubrayo. Now that we've reach the deadline and we put the tag on him, we're going to keep trying. I think the price tag for it isn't outrageous yet, for the tag. But again, I don't want to speak for other organizations. From our standpoint, we're glad he's on our team for one more year and we're going to keep fighting for a long-term deal.
Q: What are your thoughts on the offensive line class?
A: I think every draft takes on an identity. I'm not saying this is a real deep year on the offensive line but there are good football players out there. The one thing about the offensive line nowadays is the game's changed a lot in college with the spread offense. The big power guys, the guys that come off (the line) and drive block and all that - you don't see that any more in college. You see more finesse, more pass protection. From our standpoint, the o-line is always going to be important. When you're carrying the 53, it's the deepest position numbers-wise. You're always looking in the draft, first round through seventh round, for guys who can come in and play and play a role for you.
Q: How do you evaluate spread quarterbacks?
A: Every quarterback is different. What you're seeing nowadays is a trend that's not going away. Even high schools are going to spread offenses. If you're going to take a spread quarterback, know that that's what he's used to and the reason you're drafting him is that he's been a good football player. Don't completely change what he's done in the past that's made him successful. It doesn't mean he has to be in the shotgun every snap and run the routes he ran in college, but you've got to find a balance between the two - being in the shotgun, being in three and four-receiver sets. Most of the teams - I know it's a little bit different with New Orleans - need to be able to run the football in the fourth quarter, especially late in the year and especially on the east coast in open-air stadiums. You've got to be able to play power football still.
Q: What are thoughts on selecting Michael Crabtree last year?
A: Looking at a football player at any position. The one thing about the college draft is it's not an exact science, that's why so many mistakes are made. But what we felt about Michael Crabtree was that he was a very good football player, not just from the standpoint of his measurables and all that. But when the ball was in his hands, he scored 42 touchdowns in two years. And that's production in any kind of offense. But our philosophy is not going to change at any position. If we see a player we think can come in and help us from a starter standpoint or a back-up or a core special teams player, that's the guy we're going to draft.
I expect (Crabtree) to take a big step forward. He came in and had production for us at a position where a lot of rookies don't, with him missing the five weeks and all of training camp. Being around him and seeing the way he's wired and how important it is for him to be a good football player, I expect him to come out and have an excellent year for us.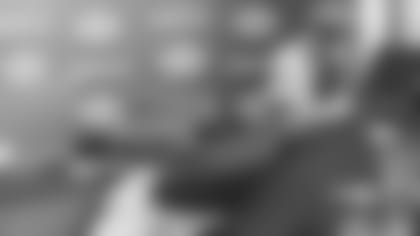 Q: Do you plan on taking a running back with a different style than Frank Gore?**A: We could. Yeah, we could. Again, I think it comes down to what will be his role with us. Is there any special teams value involved in it? Again, where he's taken in the draft is going to say what the role is going to be and how soon we think he can help us. Gore is a really good football player for us and we expect him to be a good football player for us for the next couple of years. But we also understand that we can't count on him forever. And if you start limiting his carries now somewhat - he doesn't like it - but if we protect him. What our vision is to play 16 (games) and get to the playoffs. We need him to be healthy for him to that.
Q: Do you feel the need to add fast corners with so many prolific passers in the NFL?A: Again, each team has their own philosophy in what they believe. We believe in bigger corners. In our division, we went 5-1 last year, I think we set ourselves up pretty well to match up against guys in our division. Also, you've got to realize the receivers coming in have somewhat running back vision and instincts because they the ball and have so many opportunities to make plays in college. But again, I'll never lose sight of this and maybe I'm a dinosaur in this, but it's a big man's game. From the standpoint of holding up through a season durability-wise. But also in the playoffs. You have to have some size and some power and strength I think to be a contender year in and year out.
Q: How do you evaluate defensive ends who become linebackers in 3-4 defenses?
A: Natural pass rush. The thing about is very seldom do you see them standing and come out of the two-point stance. I think it's important here, you see a lot of the guys in the two-point stance. Natural instincts and being able to go forward. I don't think you're ever going to be able to sit there and say, 'Can he drop, how's he going to be in coverage?' I think the first and foremost thing is, can he get to the quarterback and go from there.
What does Kurt Warner's retirement mean for the 49ers?
A: They're a good football team. Kurt Warner at that position has been an excellent football player for them. But they're talented. I know this: With the staffs that are in our division now, with the coaches and all that, it's going to get back to being tough one at some point. What we've got to do is take care of business week in and week out. I like the fact that we have been able to compete in our division and that's our first goal. But now we have to find a way to win the division and get in the playoffs.
Q: Who has given you the best draft advice?
A: My father, of course, I've been around him my entire life. And Ron Wolf was very instrumental, and Ted Thompson, who's coming up here in a little bit, in Green Bay. I learned a lot from all of them. And again, never lose sight of a good football player. It's not just the production and the tape and all that but the person himself - the character, the passion, the intelligence. Life's short in this business. And if you have a vision, stick with it. And if you go wrong, at least you go wrong with your own vision. You're not flip-flopping back and forth each year. With our team right now in San Francisco, it's a great group of guys, coaches and players. We're taking steps, little steps, but we're going in the right direction. So I'm excited about this year and I'm excited about coming years to see which way this team goes.
Q: What are your thoughts on Vernon Davis' Pro Bowl season?
SM: I think just, you know, I don't want to say a social maturity standpoint. He's always worked really hard. But I think he's come into his own now. He came out as a true junior. He knew physically he could do it but now mentally he knows he can do it. I'm glad for him. Coach Singletary will speak next, and you can ask the same question of him. The guy is a competitor, the guy's a warrior and it's important to him. To see how hard he works and the determination he has. And with him going to the Pro Bowl this year will only make him work harder. That's just his personality. You see a guy that work that hard, you pull for them. He's a guy that deserves where he got to.