Thursday's full-padded afternoon practice lasted about a half hour longer than normal, and led to some ruffled feathers.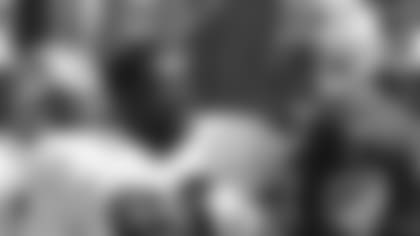 A few back-to-back scuffles broke out during a team period when the first-team offense battled against the second-team defense.
Defensive lineman Walter Curry first had a push and shove match with tackle Jonas Jennings, and then got into it with tight end Vernon Davis.
"Whatever happened on the field, we got into a little scrap, but we went back to work," said Curry. "We were just trying to give our offense a good look for Green Bay, and when we get back into the locker room we're going to hug. Matter of fact I'm going to hug Vernon right now."
A few plays later, Davis blocked rookie linebacker Larry Grant on a run play that also erupted into some push and shoves. Grant took a swing at Davis and the two went at it for about half a minute before members of the offense and defense jumped in to split it up.
Grant returned to the huddle, but appeared a little dazed and was forced over to the sidelines where he received medical attention, and a few puffs from an asthma inhaler.
"I'm not out here to hurt anybody," said Davis. "I was blocking hard and I got him pushed back and he shoved me afterwards and I shoved him. It ends there for me. I'm not going to swing on anybody, unless they swing on me. I know we don't need that. We don't need to be hurting each other."
But Davis did hurt the defense during the practice. He caught several passes in skelley and team periods, including a deep ball along the sidelines from J.T. O'Sullivan.
"Any time I'm involved in the offense like that, I like it," said Davis. "That's fun, and as soon as I catch my first pass I get pumped and I like to feed off of that."
The practice ended with quarterback Alex Smith running a hurry up drill with the second-team offense against the first and second-team defense. He completed about a 30-yard pass to Jerard Rabb to move the chains on 3rd and 10, and then hit on 3 out of 4 passes to move his unit to the 9-yardline where the drive eventually stalled.
As already posted earlier today, O'Sullivan will start on Saturday night against Green Bay, followed by Smith and Shaun Hill.
All four quarterbacks, including Kyle Wright saw action in Thursday's practice as it was an install day for the Packers. Hill and Wright mostly worked the scout team for the defense, while O'Sullivan and Smith worked the offense against the scout team defense.
During the same team period, Smith connected on a deep touchdown pass to Jason Hill, while O'Sullivan found Davis on the long bomb.
Tight end Cooper Wallace had a couple of nice grabs, including a one-handed grab from Hill against the first-team defense, and an over the shoulder catch on a deep ball during 7-on-7.
Frank Gore gashed the defense for an explosive run, hitting a crease provided by guard Adam Snyder and tight end Vernon Davis.
Linebacker Joe Staley enjoyed laying the hammer down on running back Thomas Clayton for a stop in the backfield.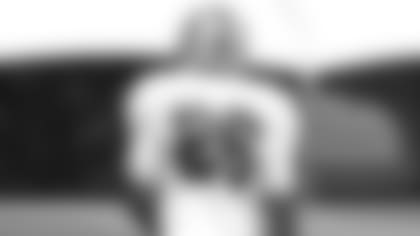 Today's practice provided many seen and overheard moments, starting with safety Mark Roman entertained himself along the sidelines with a game of hopscotch, hopping, skipping and jumping over the various yard markers and cones.
Then during a 7-on-7 period, offensive coordinator Mike Martz told the 49ers defensive backs to "Knock the (crap) out of his receivers."
"Did you guys just hear that?" asked cornerback Marcus Hudson in disbelief. "He just told us we could knock the (crap) out of them. 'Let's go.'"
Martz apparently wanted the secondary to mimic the aggressive style of play that he expects from the Packers defensive backs.
"That's the first time one of the offensive coaches gave us permission to go hard so I liked hearing that," said Hudson. 
Hudson provided several overheard comments worth mentioning, including a few back to back plays where he heckled his teammate and best friend Manny Lawson.
"Manny, you just got blocked by a receiver. You're tired huh?"
And on the next play, "Manny, how is it that your legs are skinnier than your arms? What have you done your whole life – gone around walking on your hands or something?"
Hudson also had commentary for running back Frank Gore. Gore rolled off a 20-yard dash and on his way back to the huddle, Hudson noticed the back's clunky running shoes.
"Frank, what do you have on? You training like Rocky or something?
Gore didn't bother to reply, but cornerback Tarell Brown said that Gore was wearing the big shoes that the offensive line wears.
During the final two-minute drive, defensive line coach Jim Tomsula screamed at his line for not getting enough pass rush.
"You are hanging them out to dry," said Tomsula as he pointed to the secondary. "Can we get some pass rush?"
Following the next play, one of the rushers responded, "Say something now about the pass rush!"
Tomsula replied with, "That's a little better."
Wide receiver Bryant Johnson missed practice again as he recovers from a hamstring injury, but he did jog out at a fairly fast pace to watch the latter part of practice.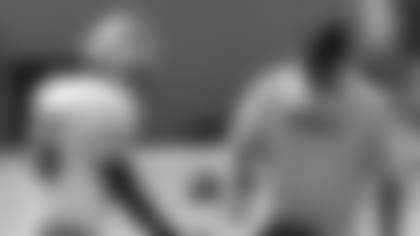 The Daily Drill today was that basically every position had a filibuster, a term 49ers.com borrowed from secondary coach Johnnie Lynn.
With the 49ers making use of scout teams today and running around 12 plays at a time straight instead of rotating every four, the position coaches pulled together the players not working for some additional instructional sessions on the side.
"No use wasting time," said Lynn. "We weren't having them do anything physically taxing, but we certainly want to push their minds and talk over different formations we might see or different checks."
Lynn pulled together Nate Clements, Walt Harris, Michael Lewis, Mark Roman and Shawntae Spencer during their reps off, and borrowed defensive coordinator Greg Manusky's wet ball trick. The group used a Gatorade bottle to squirt down the balls and then threw passes at one another – using a mix of high, low and hard balls.
"It was good to get them focusing hard on the ball," said Lynn.
When Lynn's starting backfield returned to action, quarterbacks coach Ted Tollner took up that side of the field with O'Sullivan and Smith to work on drops and footwork. Kyle Wright and Shaun Hill would later get the same attention when the first-team offense went to work.
During skelley, Tomsula talked strategy with his guys, while oline coaches Chris Foerster and George Warhop had their guys practicing technique.
S Lewis Baker (thigh), WR Arnaz Battle (hamstring), WR Bryant Johnson (hamstring), WR Ashley Lelie (calf) missed practice and have been ruled out of the game.
G David Baas remains on the PUP list, while RB Michael Robinson is out still after having surgery on his knee.