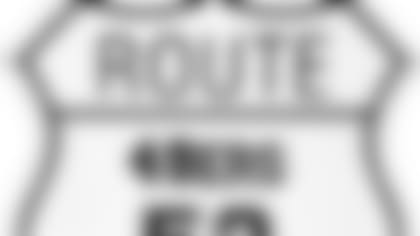 80 players are allowed to be on NFL rosters at the start of training camp (81 for the 49ers since they have an international player), and the goal for everyone is to earn their way onto the final 53. Throughout training camp, 49ers.com will highlight some of our newcomers and their Route to the 53. Here's the final installment of Route 53 with 49ers wide receiver Dominique Zeigler.**
He considers himself a fan of the game. So much so that when the 49ers signed veteran wide receiver Isaac Bruce this offseason, he was full of anxiety about meeting one of the greatest players to ever play his position.
So naturally, 49ers wide receiver Dominique Zeigler took a wait and see approach when the veteran Bruce arrived in March as a free agent.
"You never know how he's going to act or what type of person he is," Zeigler said. "You don't want to run up on him and ask him this and that. Once he started feeling his way around here and I saw what type of guy he was, I saw that he was a real good guy. Talking to him is an opportunity to learn from one of the best."
Zeigler was especially nervous the first time he was in the same car as Bruce.
"I'm young, so every time I see somebody I'm like, 'Man that's so and so,'" Zeigler said. "I remember when I gave him a ride to the hotel I was just sitting there thinking, 'Man, Isaac Bruce is in my car.'"
Zeigler tried to act like it was routine drive down the block, but he couldn't help but feel star-struck.
"It's kind of weird. He's on your team and you have to look at it like that, but still I'm a fan," Zeigler said. "I didn't even turn the music on. I just sat there and talked to him. He's a real good guy."
Once Zeigler spent enough time around Bruce, he quickly got over his initial trepidation and started to soak up as much knowledge as he could from the receiver with the third most receiving yards in the history of the National Football League.
"Being able to play with a guy like that, that's something that I never would have dreamed of," Zeigler said.
"Growing up as a receiver, you watch those types of great players and you always want to mimic what they do. It's just a blessing to watch him in practice and see the way he does it. If he gives you a pointer or something, you have to take that and do what he says, because obviously it has been working for him."
Things have been working well for Zeigler too this camp. With the 49ers coaching staff resting Bruce by design, along with injuries to Arnaz Battle, Bryant Johnson and Ashley Lelie, Zeigler has made the most of his ample opportunities.
After three weeks of preseason play, Zeigler has 14 catches for 148 yards and a touchdown. He's second in the NFL in catches, eighth in receiving yards and is tied for first with ten catches for first downs.
Last week against the Chicago Bears, Zeigler posted his best stats of the preseason, catching six passes for 61 yards and a 12-yard touchdown pass from Alex Smith.
"I got a chance to go in there and make plays," Zeigler said. "I just ran what the play was called and as long as you do that in this offense, anyone can make plays."
Zeigler credited his confidence for allowing him to haul in every pass thrown in his direction.
"When your number is called you have to go in there and make plays," he said. "I have always believed in myself. Yeah, I might not be the biggest or I might not be the fastest guy, but I know I can make plays in this league. When my number is called, I'm going to catch the ball."
Zeigler has that confidence because he's built it during the many hours spent working with the juggs machine during his collegiate career at Baylor University. Zeigler would use the machine to practice catching passes overhead and to both sides of his body.
"We would catch a lot of balls different ways and I'm pretty lanky and limber so I can move a little bit different," Zeigler remembered of his individual drills in college. "Some people say I move in awkward ways, but it helps to my advantage."
Currently listed behind Bruce and Battle as the 49ers third "Z" receiver, Zeigler has been able to work with all three quarterbacks during training camp and has caught passes from both Smith and third string quarterback Shaun Hill in the games.
"It doesn't really matter what quarterback it is, or what line is in, as long as everyone knows what they're supposed to do you can get your job done and that was exactly what we were doing against the Bears," Zeigler said. "Mike Martz's offense has been known to put up points as long as you execute and that's what we've been doing."
Zeigler praised Martz's offense for being wide open and said it reminded him of the big play potential offense he played in at Harker Heights High School in Killeen, Texas, where he once threw for 338 yards and five touchdowns in a game.
"I've always liked that type of offense. I ran something similar to that in high school, but I was the quarterback. It's always a fun opportunity to attack people downfield. If you want action, this is the type of offense you want to play in," Zeigler said.
Zeigler first earned a reputation for making spectacular catches with the 49ers last season when he played on the team's practice squad. Although he came short of his goal of making the 53-man roster, Zeigler was pleased to have been able to improve his skills for an entire season.
"It was a lot to learn. I got a chance to go against the number one defense every day," Zeigler said. "You're going up against guys like Walt Harris and Nate Clements. I took that as a learning experience because those are some veteran corners."
For the 2007 season, Zeigler continued to work on his skills, though it was hard not being able to play in the games.
"It was my first year not playing football since third grade because I didn't redshirt in college. I just took it as a learning experience and I just tried to craft my skills," Zeigler said.
With one game left on the preseason schedule, Zeigler knows Friday's contest against the San Diego Chargers will be extremely important in determining whether he makes it on the final roster this go-around, or potentially returns to the practice squad.
"I'm going to go out there, run crisp routes and catch everything that's thrown my way," Zeigler said. "I don't like dropping balls, even the hard ones. That's just the type of person I am, I hate dropping balls. Any ball that's thrown to me I feel like I can catch it. I'm just going to go out there and make plays."
And that's all the 49ers organization could ask for.