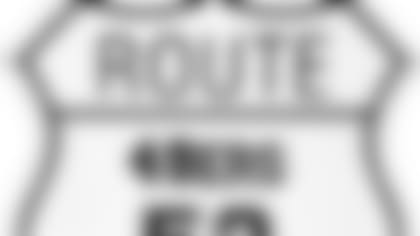 80 players are allowed to be on NFL rosters at the start of training camp (81 for the 49ers since they have an international player), and the goal for everyone is to earn their way onto the final 53. Throughout training camp, 49ers.com will highlight some of our newcomers and their Route to the 53. Here's the latest installment of Route 53 with 49ers tight end JJ Finley.**
What are the chances that two players on the same junior high football team would end up with the same franchise during a National Football League training camp?
Well according to 49ers rookie tight end JJ Finley, you wouldn't be shocked if those two players happened to come from Cuero, Texas.
"You'd be surprised to know how many good athletes come out of that town," he said after a recent practice at the 49ers team facility. "It's traditionally known for being loaded with athletes and a lot of Division I football players come out of that town."
Besides Finley, 49ers rookie center Cody Wallace was also a member of the Cuero Gobblers.
Back in those days, Wallace was the center and Finley was the quarterback. The duo specialized in quarterback sneaks, as they were two of the biggest guys on the team.
"Joe John [Finley] ran the option pretty well," Wallace said of their early football days.
Finley remembered how easy football was back in those days, when he and his teammates would run around having fun.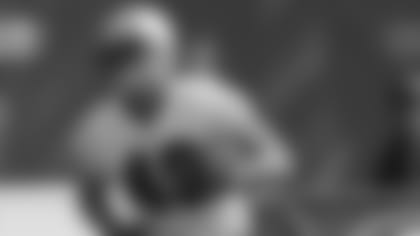 "Those were good times," he said. "It was so simple back then. We were just kids and even though it was organized, it was more like playing backyard football."
Finley and Wallace remained teammates only in junior high since Finley moved to Arlington, Texas – something Wallace wish hadn't happened.
"It was too bad he moved away during high school. If he would have stuck around we would have been a better team," Wallace said.
But Finley went on to have success at Arlington High School. He began his high school career as a freshman quarterback, but switched to tight end and played with the varsity squad as a sophomore. For his junior and senior seasons, Finley took over the reigns as quarterback and led his team to District and Bi-District titles in consecutive seasons.
With his 6-foot-6 frame, the University of Oklahoma recruited Finley as a tight end because of his height and athleticism, and the high school senior quarterback figured his best chance of playing on the next level was to go ahead and make the switch back to tight end.
The hardest part of the transition from high school quarterback to Big-12 tight end was the amount of weight Finley needed to put on. Seven meals a day was a regular occurrence for Finley, who always carried peanut butter and jelly sandwiches around with him on campus. No matter how full he was, Finley would eat the sandwiches to add bulk to his body.
The entire time he was trying to add body mass, Finley was having a hard time maintaining it because of the extensive running drills conducted by the Oklahoma staff. The way the coaches saw things - their team needed to be in top shape because they expected to play in many big games.
They weren't off the mark in their expectations and as a Sooner, Finely was a part of a number of high profile college football matchups.
"It was a lot of fun," he said. "I played in a bunch of big games – four BCS games and two national championship games – we didn't win any of them but it was definitely a good experience."
Oklahoma did more than just play in them. They won them too.
"We had three Big-12 championships, and we were the first team to win back-to-back championships ths past year," he said.
As a Sooner, Finley played in 51 games with 29 starts, catching 62 passes for 775 yards, and scoring 10 touchdowns. Two of his career touchdowns came during his last home game on senior night against a bitter rival.
"In my career, we never lost to Oklahoma State and they were one of our big rivals," said Finley. "In fact, my senior year, I probably played my best game ever against them. I had a bunch of my family there at the game, and I had two touchdowns, and blocked really well."
But winning wasn't everything to Finley during his college career. The lifelong friends he made as a Sooner were equally important to him.
Little did he know when he signed with the 49ers as an undrafted free agent that he'd be continuing on with some of those Sooner teammates, and reuniting with his childhood friend.
"After the 49ers called, I went on the internet and found out that Reggie Smith was there and that Cody was there. I sent Cody a text saying, 'I am excited to play with you again.' Then, Lewis Baker called me and said he was coming out here too."
The transition from college to pros has been easier on Finley knowing that he has familiar faces around him, but he's still had to get used to his new head coach, Mike Nolan, who is a little less vocal than his intense college coach in Oklahoma head coach Bob Stoops.
"I think Coach Nolan is more calm out here and he really likes to control the tempo of practice."
Finley might not get any outbursts from his head coach, but he's heard a few from his position coach Pete Hoener, who isn't afraid to give a good tongue lashing.
"He definitely is outspoken," Finley said. "He'll tell you exactly what he thinks and he's not going to lie to you. He knows how to coach the tight end position, and he understands that it's one of the hardest positions to play. You have to be able to be like a lineman and also like a receiver. He does a great job working with us on our technique and our assignments."
Finley's keeping his eyes and ears on more than just the coaching staff. Players on both sides of the ball are also serving as great examples for the rookie tight end.
"I learn from everybody out here," he said. "Isaac Bruce – I watch him run his routes. He's the best receiver I've ever seen in person. I also learn from even the defensive guys. Justin Smith uses leverage like nobody I've ever seen in my life. It's a different position, but it's the same principal as blocking."
With the right attitude in place and the ability to soak in everything that's being presented to him, Finley has one goal to accomplish by the end of camp.
"Make the team," he said. "It's going to be tough. Starting out as a rookie free agent is something I'm going to have to overcome. I'm going to have fun with it though because for me, it's a game I love to play, but at the same time I know I can be successful at other things. But right now, I'm definitely going to give football everything I have out here."