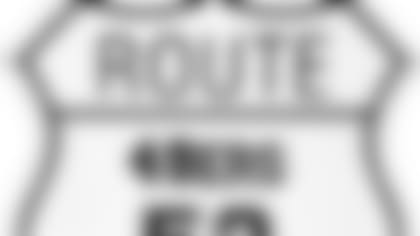 80 players are allowed to be on NFL rosters at the start of training camp (81 for the 49ers since they have an international player), and the goal for everyone is to earn their way onto the final 53. Throughout training camp, 49ers.com will highlight some of our newcomers and their Route to the 53. Here's the latest installment of Route 53 with 49ers safety DJ Parker.**
For any young player in an NFL training camp hoping for their inclusion on the final roster, they better make an impact on special teams.
Fortunately for undrafted rookie free agent DJ Parker, he played all four years of his collegiate career on special teams at Virginia Tech – a program well-known for special teams play.
And with his greater understanding of how significant the performance of a special teams unit can have on a game, Parker realizes the importance of showing the 49ers coaching staff everything he learned from his days in Blacksburg.
"Special teams are a big part of the game," he said. "They can change any game – I saw it happen a lot at Virginia Tech."
Parker recorded 144 tackles, three forced fumbles and five interceptions in his career as a free safety for the Hokies, but insists that his most memorable moment in college happened while playing on special teams in a game against Georgia Tech during his sophomore year.
"I took the ball 78 yards on a blocked field goal all the way for a touchdown," he recalled. "It was my first career touchdown."
Throughout his collegiate career, Parker and other starters at Virginia Tech, like 49ers sixth-round draft pick Josh Morgan, spent time on the special team units. His experience of playing on punt and kickoff teams has served Parker well during his first week of camp.
"I know special teams are big on this level, and that's why I'm really focused on getting on the special team units here to help the team," he said.
Out of all the roles he could potentially play at on special teams, Parker says he enjoys playing gunner on the punt team the most.
"Gunner was my favorite spot in college. I loved running down the field, beating the guy in front of you one-on-one or beating the double team," he said.
With limited repetitions at free safety during camp, Parker tries to demonstrate to the 49ers coaching staff just how committed he is.
"I'm trying to get better every day," he said. "I'm going to show the coaches and my teammates that I'm working hard and that I give 110 percent on everything. I want to make the team and the help the team any way I can – that's my goal."
As an undrafted free agent, his goal is an uphill climb, but with his good friend Josh Morgan close by, and the guidance of 49ers secondary coaches Vance Joseph and Johnnie Lynn, the transition has been made easier.
"Having my college teammate here has been great, and I love VJ and Johnnie. They do a nice job of talking to you, and a great job of coaching," he said. "They preach to us to get better everyday and always be competing. If you're doing that, everything else will take care of itself."
Parker said one of his biggest thrills in life came when he was fortunate enough to compete against legendary 49ers wide receiver Jerry Rice.
"I was in Pensacola, Florida training before the draft and he came down and talked with the group of players there," Parker said. "We worked out with him and had the chance to go one-on-one against him."
Although Rice had success in their first couple of matchups, once Parker calmed his nerves and forgot he was, "running stride for stride with Jerry Rice," he was able to settle down and play good defense.
Right after Parker found out he was not drafted, the disappointment quickly faded as he was picked up by the 49ers and given a chance to play for the "great organization," where Rice made his name.
When he's not competing on a football field, Parker says he gets enjoyment from buying new sneakers. Admitting that basketball was his first true love, Parker can't refuse a pair of shoes that grab his attention.
"I'm a big shoe fanatic," he said. "I have about 25 pairs of shoes. All kinds, Air Jordan's, Air Force One's, or anything that catches my eye – I'll buy it. I've been a shoe fanatic since high school."
Parker still likes to play basketball in the off-season, where he always displays an unselfish attitude.
"I'm a Jason Kidd-type player," he declared. "I like to set other people up with a pass."
Whether it's on the court or on the field, Parker is the perfect example of what a team player should be.
"I can play anywhere. If the coaches need me to play safety, corner, nickel back, or in dime coverage – I can learn it."