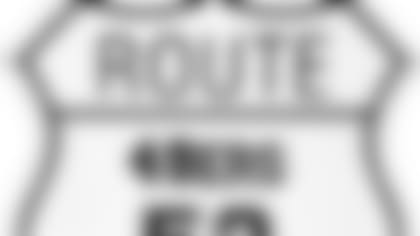 80 players are allowed to be on NFL rosters at the start of training camp (81 for the 49ers since they have an international player), and the goal for everyone is to earn their way onto the final 53.
Throughout training camp, 49ers.com will highlight some of our newcomers and their Route to the 53.
Here's the latest installment of Route 53 with 49ers kicker/punter Ricky Schmitt.*
As a teenager growing up near Virginia Beach, Virginia, San Francisco 49ers reserve kicker/punter Ricky Schmitt's favorite player on his most beloved Tennessee Titans team just so happened to be current 49ers kicker Joe Nedney.
Fast forward eight years later, and the two are teammates on the 49ers.
Schmitt, a triple-threat specialist, who kicks off, punts and kicks field goals in training camp, said that he admired Nedney because he was a left-footed kicker like himself. But he was hesitant to tell Nedney that minor detail, having let the tiny fact go unspoken since he was signed as a free agent by the 49ers on February 15.
"I've never told him that– he'd probably laugh. But he's a good guy, I think he'd appreciate it," Schmitt said.
Nedney's reaction to his competition's adoration: "No way? Hahaha, he's lying!"
Schmitt has showcased a strong leg in all three phases of the kicking game during training camp, leading to an opportunity to see action in the preseason games too.
Against Oakland, Schmitt connected on a 38-yard field goal, and last week against Green Bay, he converted from 30-yards out.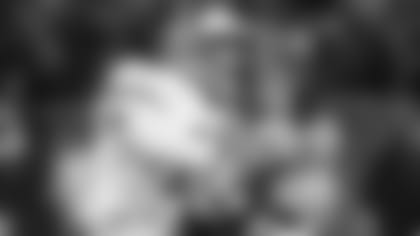 "It was great getting the first one under my belt in Oakland. It was my first NFL field goal attempt," Schmitt said. "Going into the Green Bay game, I was a lot more confident, I had been working with Andy [Lee] and Brian[Jennings] and had the timing down. Andy is a great holder, Brian is a great snapper, the blocking was great, and I have one of the best kickers ever helping throughout the game giving me tips. Joe's advice helped me stay calm and loose."
Schmitt has also had two punts and five kickoffs in preseason action. But that's nothing compared to the amount of work his leg has gone through while in training camp.
"It's a lot of work, but it's good to do all three," he said. "The only thing is, you're kicking a lot of balls during training camp. So you have to make sure you get in the ice tub and keep your legs fresh."
Schmitt believes the leg strength he possesses comes from the tireless hours he spends working out, and his years of training on the soccer fields of Salem, Virginia.
Schmitt was a star center midfielder at Salem High School in Virginia and was offered a scholarship to play at Virginia Tech. But once he suffered a serious knee injury in his junior year of high school and he heard that the football team was searching for a kicker, Schmitt decided to try his leg out on the football field instead.
"After I hurt my knee, colleges kind of saw me as damaged goods," he said. "I had tried kicking a football back before middle school, but it conflicted with my soccer schedule. After the injury though, I had to put soccer aside and focus on my football career and I got that started again in my senior year of high school."
Schmitt was an instant success.
In his first season on the gridiron, Schmitt was named All-Beach District punter/kicker.
Schmitt continued his venture into football, landing at Shepherd College, a small Division II school in West Virginia.
"It was pretty small," he said. "There were 5,000 students there, so you pretty much got to meet everyone. We went to the playoffs three years in a row, it was a great time and I loved it."
The feeling was certainly mutual. After his four year career, Schmitt broke school records for scoring (250 points), field goals (33), and extra points (151), to name a few.
Throughout his college career, Schmitt routinely attended kicking camps in the summer to improve his skills, and ironically Schmitt met 49ers punter Andy Lee at one of the camps his freshman year.
It was also there, that Schmitt started to pick up the nuances of kicking like the top collegiate and professional kickers.
When his collegiate career ended, Schmitt was signed as an undrafted free agent by the Arizona Cardinals in 2007.
The experience was a real eye-opener for the soft-spoken kicker from the South.
"Coming from a super small school to the Arizona Cardinals was pretty nerve-racking for me. Schmitt said. "My locker was right next to Matt Leinart, Kurt Warner and Edgerrin James."
Schmitt was able to see preseason action as a punter, but was not given the chance to kick field goals. The Cardinals released him in late August, forcing Schmitt to work even harder to make it back to the NFL.
"After I was in Arizona, I worked out every single day pretty much, running or kicking, just waiting for a phone call," he said.
When Schmitt received a training camp invitation from the 49ers, he saw it as another chance to make a name for himself among the talent evaluators in the NFL.
"I'm out here doing my best, trying to get better every day," he said. "I'm taking advice from Andy and Joe as much I can, so I can progress in my kicking ability. Hopefully one day I'll stick with a team for good."
Whether or not he's impressed the brain trust of another team remains to be seen, but Schmitt has certainly earned the respect of his peers on the 49ers.
Even from his former favorite player.
"I think he's really doing well with the time that has been given to him in the preseason. He's shown that he can kick a field goal, he can kick a punt and he's shown that he can kickoff in a game situation," Nedney said. "In his situation, he needs to excel in all of those so that he gets good footage for his resume. In the two games that he's played, he has shown that he can do it."
While Nedney offers the 49ers a consistent leg that has been through the rigors of an NFL season with multiple teams, Schmitt presents a unique skill-set that is foreign to many who play his position: 4.4 speed in the 40-yard dash.
"At Shepherd I ran a 4.4 during our offseason testing," he said. "I was the fastest player at our school."
Schmitt's speed was on display against Green Bay last week, when he brought down a couple of kick returners who were close to breaking down the sideline for touchdowns. His blazing speed and strong leg has produced somewhat of a role reversal between him and his childhood role model.
Now Nedney is the one who is full of admiration for a fellow kicker.
"He makes me feel old and slow. When I watched him close in on that returner in film, it was impressive," Nedney said. "I'm rooting for him. I want to see him do well, because he has the right work ethic and he's a strong kicker."