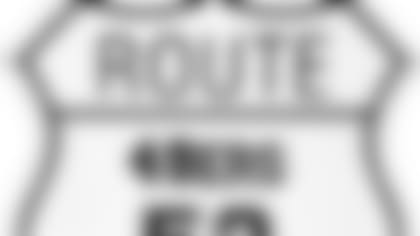 80 players are allowed to be on NFL rosters at the start of training camp (81 for the 49ers since they have an international player), and the goal for everyone is to earn their way onto the final 53.
Throughout training camp, 49ers.com will highlight some of our newcomers and their Route to the 53.
Here's the latest installment of Route 53 with 49ers defensive end Louis Holmes.*
The 2008 National Football League Draft was a disappointment for 49ers rookie defensive end Louis Holmes.
The 6-foot-4, 275-pound athletically skilled pass rusher from the University of Arizona went undrafted, but only for a brief moment did the frustration of not hearing his name called during draft weekend derail his focus on becoming a great player.
Once the 49ers called and offered him an invitation to training camp, Holmes' anger turned into motivation, as he set out on his mission to make the final 53-man roster.
The initial hardships he faced as he entered the league seemed to all be forgotten as Holmes played in his first preseason game last week against the Oakland Raiders.
"When I first went out on the field, I was thinking about when my grandmother raised me and how I talked to her about making it in the NFL," Holmes said. "I thought about it while we were warming up like, 'I finally made it – through all the stuff that I've been through – I've actually made it."
Holmes was quite active in the game. He saw a lot of playing time at the defensive end position with the second team defense, and at times during training camp, Holmes has even worked with the first team defense to give the coaches a better understanding of his talents.
"They're giving me opportunities – that's the most surprising thing," Holmes said. "Even though I didn't get drafted, I'm getting just as much opportunity as anyone else. That's pretty much all they can do for me, is give me an opportunity. It's all about what I do with it."
As Holmes continues to work every day for his spot on the roster, his draft day experience is the furthest thing on his mind.
"The last game I played a lot," he said. "It's kind of weird how things turn out sometimes."
Playing alongside Holmes usually is 49ers first round draft pick Kentwan Balmer. The two bonded immediately when they first roomed together during mini-camp and OTA's.
"We've formed a relationship," Holmes said. "Every day we're together. We play video games, we hang out, and sometimes we go to the mall – we're like brothers."
Off the field they've formed a union, but in the trenches is where the two have really earned each other's trust.
"We really liked playing the game together," Holmes said. I think there are a lot of things we're figuring out together. We're starting to get in a groove with each other to where we can make plays.
Now that he's been able to experience an NFL preseason game, Holmes is using practice to improve his skills so he can unleash them on opposing offensive linemen. Training camp is often talked about for being too long and a monotonous grind, but Holmes views each practice as another chance to showcase his abilities to the 49ers coaching staff.
"Every day is like an interview. When I play, I'm trying to build my resume in this business," Holmes said. "I'm just scraping from the bottom of the barrel. I take it one play at a time and a day at a time, and I'm still figuring out what works."
Holmes has been all over the field during training camp, including working on multiple special team units. He even blocked a field goal during practice this past week.
As he continues to push for a spot on the roster, no matter where he plays, Holmes wants to make a solid impression in the minds of whoever is watching.
"My biggest thing is every time I step on the field, I want to play well and be consistent. I want to be a good player. Whenever those lights come on, I want people to say, 'That guy can play football.'"
And when the lights come on, Holmes sheds his off the field quite manner and becomes a man of action.
"You have got all different kind of players," he explained. "In practice, I try to think about my technique and try to get better with my plays, but in the games I go nuts. I try to be everywhere."