For the last eleven seasons Allen Rossum has made a living in the National Football League as a return specialist. Heading into his 12th season, he'd like to do some more returning, not by fielding punts or kickoffs, but by first re-signing with the San Francisco 49ers.
"I want to come back here," Rossum said. "I expressed that to my agent a few months back. I guess the next thing to do is to come together and agree on something."
The 49ers and Rossum came together last February on a one-year deal, giving the team a needed piece to their special teams puzzle. After seeing Rossum return a 98-yard kick as a member of the Pittsburgh Steelers against the 49ers the year before, snatching him up after he was released by the Steelers was a logical choice.
For Rossum, the chance to play under 49ers special teams coordinator Al Everest along with a talented core group of special teams players was all it took for him to pack his bags from his Atlanta home and head out to the West Coast.
"For one, I knew I would have the opportunity to play with Coach Al," Rossum said. "I had admired his coaching when he was in New Orleans. I felt there was a need for me here and I could bring something to the team. I just wanted to seize the moment and I had never played on the West Coast, so I wanted to experience that as well."
After having one year working with Everest, Rossum came away thoroughly satisfied.
"I guess you could say he's like Coca-Cola – he's the real thing. Everything I thought about him and heard about him came exactly true," Rossum said. "What I liked about him the most was that he put you in positions to win on every play and it was up to you to go out and make the plays."
Besides enjoying Everest's coaching style, Rossum was pleased to contribute to what he considered to be a talented group of special teamers.
"I've been around some close-knit special teams groups like this one, but this was a very talented group," he said. "There's a lot of talent here with the kicker, the punter, the snapper, the core guys and I guess I added a little bit myself."
As a Pro Bowl return specialist in 2004 who won the "NFL's Fastest Man Competition,"
Rossum had experienced significant success over the course of his career, returning four kickoffs and three punts for touchdowns prior to joining the 49ers.
But when Rossum scored his first touchdown with the 49ers week three against the Detroit Lions, it wasn't a typical touchdown by his standards. It came on offense of all places, which was a career-first.
"We worked on a play two weeks prior to that and then the week of the Detroit game we didn't run it; we didn't practice it at all," Rossum recalled. "Coach Martz called me in the game on fourth down and goal from the 1-yard line and I was thinking it was going to be a different play from that formation that we had practiced that week."
Lined up as a slot receiver, Rossum took a hand-off from JT O'Sullivan and proceeded to run around the left edge and then dove for the end zone, scoring his first career rushing touchdown.
"I remember having some guys make some key blocks for me and everything else was history," Rossum said. "I had my first rushing touchdown and I kept the ball!"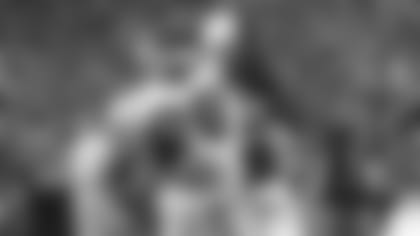 While his first touchdown with the 49ers was a career-first, his next touchdown would be a career-long, in the form of a 104-yard kickoff return on Monday Night Football against the Arizona Cardinals on the opening kickoff.
"That play was a little bigger than my first touchdown against the Lions, because that's what I was brought in to do," Rossum explained. "They brought me in to return the ball and make big plays. It definitely felt good to have my longest return on national television."
At that point in the season, Rossum was a candidate to make his second Pro Bowl, but he suffered an ankle injury the following week against the Dallas Cowboys, one that would sideline him for the next three weeks.
After resting his injured ankle, Rossum returned to lineup for the last two games of the season and was able to finish the year on a strong note.
For the season, Rossum totaled 1,482 yards in 13 games. He averaged 26.8 yards per kick return and 14.9 yards per punt return, which were the best averages in his career.
With the way things ended for the 49ers in the second half of the season under head coach Mike Singletary, Rossum is eager to return and help build on what was started in '08.
"I was talking to Nate Clements after we beat the Redskins and I told him, even though we're not in the playoffs, it felt like we won that game to make it into the playoffs," Rossum said. "It was such a big win for a number of reasons. We ended the season on a winning note, and we finished with a winning streak. We didn't win every game, but we were in every game. I think we all played hard and we stuck together."
While Rossum has already expressed his desire to return, his wife must also be on board again in order for him to come back to the Bay Area.
"I have to talk about it with my wife – that's big. She has to agree with it, because I'm so far away from my family," he said. "If you have a happy wife, you have a happy life – trust me."
In the meantime Rossum, who has eleven experiences of an NFL offseason under his belt, is taking some time off to rest up before he begins working out for the '09 season.
"Right now I just want to get healthy," he said. "I had more injuries this year than I had in a long time. I just want to get healthy and after that, I'll get back to work. I'll be working on everything, speed, agility, quickness, strength, everything. It's the same thing I do every offseason, but right now I just want to get my body some rest and enjoy spending time with my wife and kids."