With the 49ers first minicamp a day away, the team's 2009 Draft class arrived at the team facility on Thursday to get their NFL careers started.
The newest members of the 49ers (seven draft picks and 12 undrafted free agents) had a busy day for their first day of work at an NFL office.
"It's not too hectic," third-round pick Alabama running back Glen Coffee said. "It's been a busy process, but things are starting to unwind now. We're about to start camp and the testing and the questions and all that stuff is over now. Now we're ready to compete in practice and do what we came here to do."
The rookies spent their day by meeting with their position coaches and coordinators, as well as being fitted for their new uniforms and equipment, before speaking to the Bay Area media.
"We had physicals then we were walking around the facility, and then meeting a couple of teammates," first-round pick Texas Tech wide receiver Michael Crabtree said. "I've been going around shaking hands."
The hectic draft experience seems like it has finally died down for Crabtree.
"My schedule has been packed every day the last two weeks," he said. "But I've been patient about it. I found a home now, I'm a 49er. I'm feeling good."
When asked how many physicals he's gone through during the draft process, he answered jokingly: "About 35… I've taken quite a few."
But Crabtree is not expected to participate in drills during the minicamp which begins on Friday, because he's still recovering from a foot surgery he had prior to the draft.
"I'm just trying to get my mental reps in and learn the plays. I feel like I've been out of football a long time now. It feels good to be here," he said.
Instead of getting to practice with his new teammates, he'll be absorbing as much knowledge from the coaching staff and veteran teammates like Isaac Bruce while watching from the sidelines.
"I can't wait to learn whatever he has for me to learn," Crabtree said of the player he used to watch on TV while growing up in Dallas. "I'm going to be trying to call him everyday just to learn something."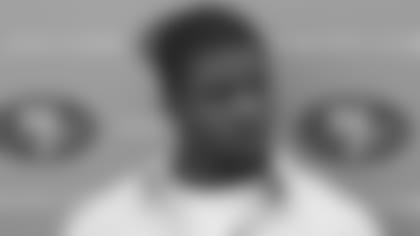 Crabtree wasn't sure when he'd be fully ready to participate in the on-field drills, but said, 'they should tell me pretty soon. Everything is healing right; I should be ready to go soon."
The rest of the rookie class will be ready to begin workouts with their new teammates on Friday.
"First impressions are key," Coffee said. "I want to show the coaches how hard I work and that I'm capable of being coached. I just want to get a feel for the coaches and how they do things here."
With each player still settling into their new surroundings, the common theme from them all is the feeling of appreciation for having their first opportunity to play professional football.
"It still feels like a dream," fifth-round pick Pittsburgh linebacker Scott McKillop said. "I'd be lying if I said when I was younger I didn't envision myself hopefully playing in the NFL. But I think tomorrow it will probably set it when I put the 49ers helmet on, when I put the practice jersey on, and come out there with the coaches. It'll set in. And I'm looking forward to it."