It's hard to start over all over again after being top dogs, but the 49ers rookie class seems to have come to grips with reality. Following a whirlwind weekend at the team's mini camp in early May, the rookies were sent home per league rules which don't allow them to re-join their teams permanently until May 16, as long as they or their respective class has finished the school year. At this point, the majority of the 49ers rookies are back and planning to make the most of the latter part of the team's off-season conditioning program.
"You have to get in the best shape of your life really, I saw that in the mini-camp that we did," said undrafted free agent J.J. Finley. "It's like the jump from high school to college all over again except it's even faster to me. If you want to compete you're going to have to be in the best possible shape and these guys know how to do that."
"These guys" is a reference to head strength coach Duane Carlisle and his staff – one that plans to work the rookies in full force for two weeks with somewhat of a limited program during the team's three weeks of OTA's.
"Most of these guys have come out of Combine prep programs so they're in decent shape to run a forty or jump high and go through the various tests they have to go through for the Combine, but now we have to get them in football shape," explained Carlisle. "We'll take this five week window remaining to do just that."
Carlisle added an additional time slot just for the rookies, which allows the youngest members of the team to get better acclimated with the program.
"It's tough getting thrown in there with the older guys and some of them have been here for over ten years," said Finley. "It's good to get out there with the rookies and learn what they're doing. That way when we jump out there with the veterans we don't look like idiots."
Wide receiver Josh Morgan echoed Finley, saying, "it was all new to me. I had pulled a sled, but I have to get used to the NFL warm-ups. I had never warmed up like that before, but it was pretty good. It got me loose and it gets you ready to work, ready to give 100 percent every time. You won't pull anything or have any small injuries. I think they do a great job."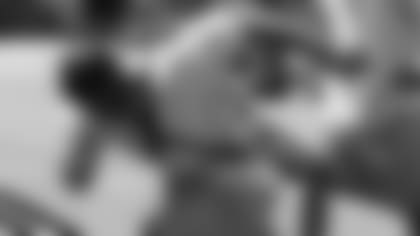 Carlisle didn't take long to ease his new group into the program, selecting a tough sled workout right out of the gates.
"I'm glad," said cornerback Reggie Smith of the intense session. "From what everybody's been telling, that's the last forty I'm going to have to run, the last time I have to max out on bench so I'm happy about that. Now I can just focus on things to get me better at back pedaling, cutting, bursting and things of that nature. The sleds worked on our speed and our burst and those are things that I like working on."
As they work from the ground up, the rookie group understands the importance of maximizing these first two weeks of the program.
"This is a lot of work and we definitely need it as we go through this
whole process," said top pick Kentwan Balmer. "OTAs are going to be fast just like mini-camp was. You have to be prepared and I think we're on pace with these workouts to be as prepared as we can going into OTAs."