Twelve members of the 49ers rookie class partnered with The Role Model Program, a volunteer program helping underserved youth set a path for college, at Stonegate Elementary for a "Dare to Dream" event with a sixth grade class as they promoted RESPECT for schools and community Tuesday afternoon in San Jose.
The event was part of a Community Classroom Visit Program, a semester long program that brings in dedicated volunteers to speak to under-resourced elementary and middle school youth about the importance of setting goals, making positive choices and the importance of education beyond high school.
Designed to help youth create ambitious career dreams and increase positive life choices to prepare for life-long success, the event was a hit for the 24 students and the players.
Breaking into groups of four kids and two players, the teams came up with a secret handshake as they got to know each other to start the day. The groups then got to work as they discussed career aspirations, challenges they may face, and who to look to for positive support. The teams created posters to represent the day's discussion, and worked creatively on the project.  
"We're doing a little exercise where they have their career goals written down – she has manager of a business, he has about ten things that he wants to be," wide receiver Kyle Williams* *said as his group was working on the project. "We're looking at the challenges they could face and the people that they could go to, the positive people in their life that can help them achieve that goal.
"It's fun interacting with them and being able to guide them a little bit on this type of stuff since we've been there before."
And the kids knew that. As the 49ers gave them advice they listened attentively and took in as much as they could.
"The 49ers get to work with us and help us out with the posters and everything," said 11-year-old Rolando who was partnered with guard Mike Iupati and defensive tackle Will Tukuafu. "I learned that if you don't do anything bad you can achieve anything you want."
Eric Valasquez, a Role Model volunteer and program manager talked about the importance of the day's visit to the youth.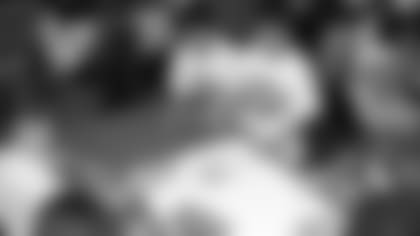 "A lot of our kids, they say 'I want to be a football player,' 'I want to be a soccer player,' but one of the things that they don't realize is that in order to be a professional football player or soccer player, you actually go to college. You have to learn a lot of things, you have to get a proper education. So that's one of the things that the kids are learning from the 49ers players today. The other thing that they're learning is that they're humans. They are superstars and they're amazing people that we see on TV, but they may go through certain struggles that the kids may have gone through as well. They may have gone through peer pressure, they may have encountered certain things like that when they were their age that they can share a little bit of information and guidance on."
The Role Model program was founded in 1989 to help underprivileged youth acquire tips for success, positive adult role models and critical life skills required to reach college. Tuesday's event aligns with the 49ers Foundation mission of "Keeping Kids Safe, On Track and In School," and is the second year of partnership between the 49ers and the Role Model program.
"What I notice in my students is that they mature in a really fun way through the Role Model program," said Julie Schmidlen, the sixth grade teacher at Stonegate Elementary. "They start to picture how they are going to be when they grow up and they get really excited about growing up and going to college and living out their dreams. For them to be able to just sit at a table and interact with the players in such a fun way doing special projects, I think it's just so inspiring because the kids look up to them so much."
And the kids weren't the only ones who enjoyed themselves.
"It's a good time," tight end Nate Byham said. "We're having fun, we get to interact with them, be role models to them and just show them we care. I think they're having a good time, I think it's making them think about what they want to do in their future. So it's pretty cool."