Chris Culliver knew he was going to be drafted in the 2011 NFL Draft; he just didn't know how soon. That's why the former South Carolina cornerback held a three-day NFL Draft party in his hometown of Philadelphia, where he enjoyed the anxious moments of waiting to hear the destination of his new football home. Culliver was selected by the San Francisco 49ers in the third round of the draft and has since become the team's nickel cornerback as well as a valuable contributor on one of the league's top special teams units. A year later, Culliver reflects on his first season in the Bay Area.
DRAFT DAY
I was in Philadelphia with my mom and my family just getting ready for the big moment, the excitement and stuff like that. We had a three-day draft party and it was kind of cool. We didn't know if I'd be drafted on the first day or the second day or third day, so we just enjoyed the time and enjoyed the moment. A lot of my family came, so I enjoyed the time with them and tried to enjoy the party. I knew I was going to get drafted, but the biggest thing was just for me to know what city I would be living in – East Coast, West Coast, Midwest – you don't know until that team calls you.
NFL AWAKENING
Playing against some of the guys you see on TV, like when I played against (Detroit Lions Pro Bowl wide receiver) Calvin Johnson, guys like that. To see them do it for a long time and to be finally in the league playing against them, you feel like, "I'm really in the NFL." It kind of hits you then.
TRAINING CAMP
It was hard. It was hard, but just because it was a lot. I know this year won't be as fast-paced as last year, cramming everything in. We had to study a lot and learn a lot of new installments, but it was what you'd expect on the NFL level. That's all you can say. And I think it definitely paid off. We got off to a great start last year and got stronger as the year went on.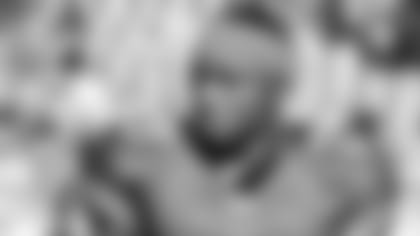 MEMORABLE MOMENT**
It was memorable for me when I saw something crazy on the field. It was against the New York Giants and their big fullback in the playoffs. It happened when Joe Staley knocked the fullback's mouthpiece out of his mouth. I saw it pop up in the air and that's when I said, "Oooh!" That was a real moment for me.
VETERAN CONNECTION
Carlos Rogers. We play the same position and he helped me out a lot. When we're on the field or off the field, he tells me what to look at; he tells me what to read. He kind of took me under his wing from the jump. It's not about, "I have all the information," or anything like that. He's a vet who lent his hand to me and I appreciated it.
COACHING INFLUENCE
Assistant secondary coach Greg Jackson. He's a cool dude. He understands the position and he knows as DBs what we need. I like Coach Vic (Fangio), (Jim) Tomsula, all the defensive coaches. They're cool and bring that excitement. They come at you not as strictly coaches, they might come to you in a joking manner, whatever it might be, they know to work with players.
ADVICE FOR 2012 DRAFT CLASS
Really, just be yourself. I found out early that this organization and the people around here aren't here to mess with you for being a rookie, they're all here to win games.
WITH THE NO. 30 OVERALL PICK, THE 49ERS SHOULD TAKE…
Trade our first round pick for more picks. I'd trade our first-round pick so we could get possibly two second-round picks from another team. I like the idea of getting more picks.