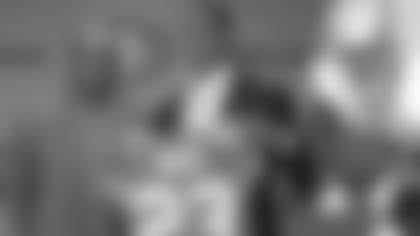 Rookie safety Taylor Mays is the latest 49ers rookie to write a diary for 49ers.com. In his first entry, Mays updates you, the 49ers Faithful, on his first month with the team, bonding with his new teammates and how he spent his Memorial Day weekend.**
I didn't enjoy writing too much in college, but when the guys at 49ers.com asked me to be the latest rookie to put together an online diary for the fans, I jumped at the chance. I don't necessarily love writing, but I like expressing what's going on around me. If people want to know what's going on with me, I'm happy to share my experiences right here in my rookie diary.
But I want to clear the air about something first. I don't have a Twitter or Facebook account or any of that stuff. I promise you it's not mine. If you want to know the things I'm doing during my rookie year with the 49ers, this is the official source for that information.
It's the most accurate place to get to know me because it's coming from my team, the 49ers.
We've been pretty busy as of late. It's crazy how fast things fly by. We've already been through a rookie minicamp, a week of OTAs and almost two weeks of working out. We're getting acclimated to our system, but at the same time, you feel like you're barely scratching the surface of what it takes to make it in the NFL, let alone be successful. That's why you have to take everything on a day-to-day basis and learn as much as you can while you're faced with it.
On top of learning the playbook, you have to learn the names and faces of all your new coaches and teammates. It's been fun getting to know the veterans, if they tell me to do something I'll have to follow orders, but so far they've been cool about that stuff.
It's great to have experienced veterans like Michael Lewis and Dashon Goldson to follow their examples. Dashon and I go way back from when he was at the University of Washington. I grew up around there, and I looked up to college safeties, just like any kid would who was playing high school football. It's funny how things come back around, and we ended up on the same team in the NFL. He's been a great person to get advice from since I've been here and he's been extremely helpful. It's just really natural to get along with him and the rest of the guys in our secondary.
I've bonding a lot with my fellow rookies too. We've been spending a lot of time at the facility, working out and trying to learn as much as we can. I think that's where we've been putting the most time compared to the veterans. As rookies, we have to be as caught up as quickly as we possibly can in the system that we're in.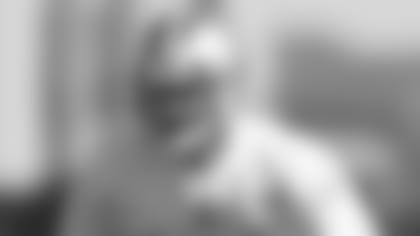 We're also spending time off the field. Our Director of Player Development Ty Knott gathered up all the rookies for a bowling outing the other day. It was fun, but man, I'm not very good! Navorro Bowman was probably the best in the group. I don't know how he did it, but he has those buff arms and he used his strength to knock down all those pins.
I had to line up three feet to the left because I kept throwing the ball too far to the right! I don't remember my score, but it wasn't anything worth repeating. My ball kept going into the gutter. I needed the bumpers, because I was struggling.
My score didn't matter to me though; I was just having fun with all the rookies. We've all gotten closer in the time we've been here in the Bay Area and it just seems natural. At first, guys were looking at each other and just waiting for the ice to break. But now, guys realize that we're all the same. We're working towards a common goal.
For Memorial Day weekend, I really had a chance to see more of the Bay Area. I've been out here for college games, but it was nice to check out some things. I went to a Giants game, went down to Union Square and spent some time in San Francisco. I've really enjoyed everything about living in Northern California so far. It's the best of the best.
I just finished up a workout at the facility and an interview with a local TV station, now it's about time to get something to eat. I'm not sure what I want. I really like eating at Red Robin. But, I don't want to eat their bottomless French fries, but then again, they're so good! If I get them, then I'll want to dip them in blue cheese dressing, but I don't know if I want to do all that. I'm still deciding. If I don't get that for dinner, maybe just a plain turkey sandwich from Quizno's with only mustard on it. I guess that doesn't sound too good. Decisions, decisions…
After I grab a bite, I'll come back to the facility and watch more film on my own. That's kind of my regular routine after a weekday workout here. I'll make sure to catch some of the Lakers-Celtics game tonight, since it's the first game of the NBA Finals. I want the Lakers to win, but it's not the biggest deal to me, I like watching the basketball games mainly for the competition. My focus has really been on learning the playbook and getting my body prepared for the upcoming OTAs and minicamp.
Oh, and I really need to get my hair cut. I need it bad, because my hair is just embarrassing. I'll make sure to get it cleaned up soon.
I want to say thanks everyone for reading my blog and taking the time to see what I'm up to. Keep checking back on 49ers.com throughout the year and I'll be sure to give you all great information that you won't get anywhere else!