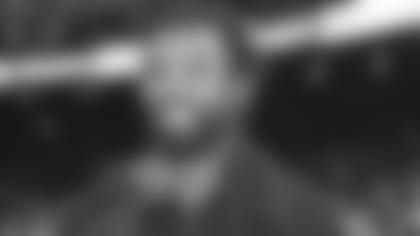 KNBR radio host and 49ers sideline reporter Rod Brooks is as close to the action as you can get on game day. He hears and sees it all, and after every game this season Brooks will fill 49ers fans in on all the inside information in his new "Rod's Report" column, exclusively on 49ers.com. Here is his second installment of the 2010 season in which he takes a look back at the 49ers Monday Night Football game against the New Orleans Saints.**Monday Night Football and what it represents to the players and fans, that's never going to change. That's never going to get old, and the atmosphere Monday night was awesome. When you add the fact it was the home opener against the New Orleans Saints, the defending Super Bowl champs, there was a little something extra there as well.
Monday Night Football isn't the cultural phenomenon it once was, but in terms of what it means in the world of professional football, there's nothing like it in sports.
You can't duplicate Monday night in any other sport. It's a different vibe. The players and fans treat it differently. They know that everyone in the league is watching them. I don't think people really realize that concept that the league watches – the other teams and coaches are watching. Everybody wants to impress their friends and their colleagues.
Although Monday night was a loss, being there in that atmosphere was great. To be on the field for all the things that happened was truly memorable.
From a pure entertainment standpoint, if you can separate it from the loss, it gets no better than that in terms of entertainment. That was the most compelling show on American television last night, bar none. Punch, counterpunch from each team – some great plays were made. It gets no better than that.
So while the players step their game up for "Monday Night Football," I feel like I have to step mine up too. It was a big event Monday night knowing people in the Bay Area and other media outlets were monitoring our broadcast. I take pride in every broadcast I do. I want to give people information they couldn't otherwise get themselves. I feel I have an obligation to get Ted Robinson and Gary Plummer information they can't get as quickly because they're up in the booth.
I can stand inches away from the players and see and hear things and, when the time calls for it, give that information to the fans.
I can also talk about the elements the players have to deal with on the field. It was very windy on Monday, and they turned the broadcast to me right before the first field goal by Saints kicker Garrett Hartley. It was perfect because the wind picked up and you could hear it blowing through the microphone. It was perfect timing. It's just too bad he nailed the field goal.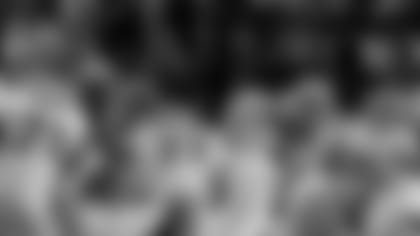 On Hartley's game winner, I'm not so sure the wind played a factor. Ray McDonald got his hand on the ball and did exactly what he was supposed to do. He got good penetration and got his hand up. He re-directed the kick, but that kick was going dead left before it hit McDonald's arm. That's just rotten luck.
It shouldn't have come down to that. The 49ers shouldn't have turned the ball over as many times as they did. I'm not going to say anything people don't already know or Mike Singletary hasn't said to the media, but those were self-inflicted wounds.
When I was in the locker room after the game, the prevailing feeling I got was not an acceptance of defeat. Not at all. It wasn't doom and gloom.
After going toe-to-toe with the Super Bowl champs, there was a feeling of, "OK, we can do this. It is a long season. We messed up royally in Seattle, and hurt ourselves and got beat by the champs. But we have a lot of football left and we can still do something special."
The 49ers know they can move forward now and that they have a chance to win if they do things the right way.
I think there's a huge difference in losing and getting beat. The 49ers got beat by Seattle. They lost to New Orleans. Neither is acceptable, but man, they taste different.
Being the radio host, I see the human side of it. I see what they go through on game day. I know these guys as human beings, and then as football players. I think when you watch games on stadium or see these guys on television, you don't really think of these guys as human. You think of them as football players, highly-paid football players. This is not to say people don't have an understanding of the human aspect of the NFL. But every single play I can tell it's human.
Reggie Bush was 15 yards away from me when he broke his leg. He tried to walk off the field under his own power because he's a football player – he's not a soccer guy who gets carted off the field and then plays five minutes later – and when he tried to walk off he collapsed. That's the human stuff I see up close.
I see a guy like Anthony Dixon, he is living out a life-long dream, making a professional football team as a running back and you can tell how happy he is. Before the game in Seattle he had this smile on his face that wouldn't go away. And last night I saw the joy on his face and the joy his teammates had for him for him when he scored his first career touchdown. The feeling he had will never be duplicated, and I feel lucky to get to see those sorts of things up close.
After the game, I saw players on both sides of the ball go up to Alex Smith and give him some dap or pat him on the back and say, "good game." That's more of the human part I'm lucky to see.  And I try my hardest to convey those moments during my radio show.
These are still brothers and fathers and sons. They're football players, but they're humans. If I get a chance to let people know that, while talking about football, then I feel like my job was done well.
But now that game is over and it's on to Kansas City to face the Chiefs. At Arrowhead Stadium, 80,000 fans are there and it sounds like it. It's going to be loud, it's going to be red. That's what you expect when you travel to Kansas City.
I'll be interested to see if the 49ers can get back on track against the Chiefs.