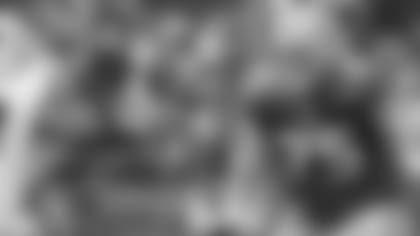 Every year 80 players are allowed to be on NFL rosters at the start of training camp and the goal for everyone is to earn their way onto the final 53. Throughout camp, 49ers.com will highlight some of our newcomers and their Road to the Roster. Here's the final installment of our Road to the Roster series with 49ers tackle Alex Boone.**
In the 49ers three preseason victories, the second-team offense has been dominant at the point of attack, allowing the 49ers running backs to pick up large gains in each contest.
Undrafted rookie tackle Alex Boone is one of the linemen responsible for that success.
"It feels great running the ball the way that we have," Boone said after a recent practice. "I think we've done a great job, but you can always get better."
The 6-7, 328-pounder out of Ohio State University is no stranger to dominating opposing defensive linemen.
In college, Boone started 35 of the 46 games he played in and was an All-Big Ten selection in two out of his four years in Columbus.
"It was a great experience and it really prepared me for life in the NFL," Boone said of his college years. "When I left there, people were telling me that being at Ohio State was just a warm-up to what I'd experience in the NFL. And they were right. Now that I'm here, I understand it."
Boone was considered to be one of the top offensive tackle prospects in this past NFL Draft, but went undrafted after an off-the-field offseason incident scared team's away from acquiring services.
Since the incident, Boone has reevaluated his priorities in life and has focused completely on becoming the best football player he can be.
"I absolutely think that things happen for a reason," Boone said. "It's in the past. Right now, I'm so excited to be where I am."
Specifically, Boone said he's pleased to be under the guidance of 49ers head coach Mike Singletary.
"I knew he'd be the perfect coach to play for, because he's a physical guy and he would keep me in line," Boone said. "I think he's doing a great job of that. He's always pushing me to get better and he's always on me saying, 'Boone, c'mon let's go!'"
Also aiding in Boone's development have been the rest of the 49ers offensive linemen, who have helped the rookie adapt to life in the NFL.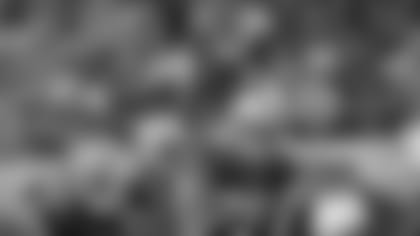 While the rest of his teammates were participating in offseason minicamps and organized team activities, Boone was back on campus finishing his school work. NFL rules prevent players from joining their team's offseason practices until school is out of session. And while Boone was late to join his teammates, once he got into town, he made the most of his time in the Bay Area.
When the majority of the team went their separate ways in between the end of the 49ers offseason program and the start of training camp, Boone stayed in town. With the time he had missed while being in the classroom, Boone had no choice but to familiarize himself with the 49ers playbook.
"I think it was very valuable being out here all summer," Boone said. "Some of the guys who live out here were around and we were able to build that team camaraderie."
Boone worked out almost daily, spending up to four hours in the gym on a given day.
Besides the work in the gym, Boone's work in learning his playbook at a rapid pace was crucial in helping him catch up on what he had missed. But learning everything on his own likely would have been too difficult. Luckily, Boone had help from his veteran teammates.
"If I ever need help with anything, they always pointed me in the right direction," Boone said.
Now that he's in training camp, Boone has continued to use the resources around him by seeking the advice of offensive line coach Chris Foerster and the rest of his teammates on the offensive line.
"If I do something that's not right, they'll point things out and correct them for me," Boone said. "They'll tell me how to look at certain plays and they always are pushing me to get better."
So far, Boone has proven to be a quick learner. Throughout the preseason, Boone has had success at the right tackle position, despite experiencing typical rookie nerves.
"I had jitters before our first preseason game," Boone recalled. "I kept saying to the guys, 'I don't want to mess up!' and they just told me to not worry about it."
But somehow, Boone overcame his nerves and was able to "put one foot in front of the other and just rock-and-roll."
And while the final decisions on the 49ers roster are looming, Boone insists he's focused on his No. 1 goal – making the final 53-man roster.
"I want to make the team first and foremost, then help out in any way that I can."