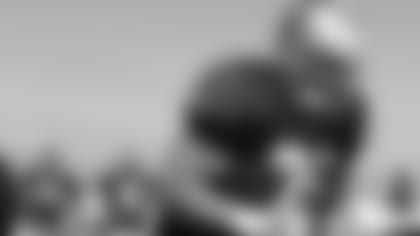 Every year 80 players are allowed to be on NFL rosters at the start of training camp and the goal for everyone is to earn their way onto the final 53.  Throughout camp, 49ers.com will highlight some of our newcomers and their Road to the Roster.  Here's the third installment of our Road to the Roster series with 49ers guard Kyle Howard.**
Standing at 6-7, 312 pounds, Kyle Howard is not a hard guy to miss.  But by being an undrafted rookie who played offensive line at the University of Wyoming, Howard might not be the most recognizable 49ers player on the roster.  
Ironically, in making his NFL debut last Friday night in front of the 49ers Faithful at Candlestick Park, it was probably the fans of the visiting Denver Broncos who were the more familiar of the two fan bases when the two teams squared off.  
Howard was born and raised in Colorado Springs, Colorado, a metro area located just south of where the Broncos play their home games.  Also consider that Howard followed his years in Colorado by attending college in the neighboring state of Wyoming, a state with a large Broncos fan base.  
Considering it was his first NFL game and he had many friends and family members watching,  Howard justifiably was filled with the pre-game jitters.  But as with most professional athletes, all it takes is one play to get back into the groove.
"I was real, real nervous," Howard revealed in a post game interview.  "We got that first play out of the way, and then I relaxed a little bit.  I just tried to have fun."
Howard's definition of fun must have meant paving the way for fellow undrafted rookie running back Kory Sheets.  Sheets broke a few long runs on the final drive of the game including a near touchdown in the final seconds.    
Fortunately the 49ers did not need for their offense to score on that final drive as they began the 2009 preseason with a victory, defeating Howard's hometown team 17-16.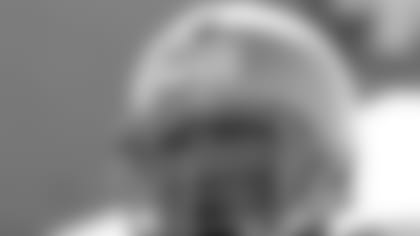 With game one behind him, Howard will look to concentrate all of his efforts to impress his coaches.  
Part of what made the 49ers notice Howard in the first place was his ability to be a versatile player on the offensive line.  In college, he started at either guard or tackle for three straight years.  Howard's ability to play both inside and outside is a quality many NFL teams look for and could potentially give him an edge on making the 49ers 53-man roster.    
"It's valuable for any player to be able to play multiple positions," Howard said.  "I was fortunate enough to do that in college.  That made me more attractive."    
While his versatility may have gotten Howard to this level, he is very cognizant of what he needs to work on in the effort to make the squad.
"In college you can kind of get away with your technique not being perfect because you're quicker and stronger than most of the guys who you face," Howard said.  "But here, everyone's fast, everyone's quick, and everyone's so strong your technique is at a premium if you're going to win."
Regardless of his strengths and weaknesses, Howard has been sure to embrace every minute of his NFL experience.
With a very high percentage of his waking hours spent with teammates, there has been plenty of time to bond.  The rookies in particular have become close.  Howard recalled a specific bowling experience the group took during OTAs this offseason where the group was able to gel.
"I think that [Scott] McKillop put together the best game," Howard said reflecting on the event.  "I think I had a pretty good game, but our team ended up losing."  
Luckily, that was not the result Howard encountered when the real games were played.
Up until that first win against Denver, his most memorable game had been in college when his Wyoming team travelled to play at the University of Tennessee in front of 100,000 fans.  The Cowboys pulled off the amazing upset, ruining the SEC perennial power's homecoming by a score of 13-7.  
That win stuck with Howard as perhaps a reminder that difficult odds can be beaten. 
As he strives to crack the 49ers regular season roster, he will continue with the mentality that has gotten him this far in this football career.
"I'm just worried about being a better player tomorrow than I was today."     
Howard's next opportunity to do so will be when the 49ers host the cross-town rival Oakland Raiders, this Saturday night at Candlestick Park.