Aside from counting the days until his induction into the Pro Football Hall of Fame, remaining involved in the latest happenings on Dancing with the Stars, and his newest activity, tweeting – Jerry Rice still has some time left over to make his professional golf debut.
The greatest wide receiver in NFL history hopes to be the greatest player out of the 150-plus participants in this weekend's Fresh Express Classic at the TPC Stonebrae in Hayward.
Rice, 44, is serving as the tournament's host, which earned him a sponsor's exemption for the Nationwide Tour event. But the greatest wide receiver in 49ers history isn't strictly there to raise funds for his 127 Foundation; he's there to compete with some of golf's best young players.
For Rice, making a professional debut in golf brings back the feelings he felt prior to his NFL debut back on Sept. 8, 1985.
"I'm just as nervous, but still excited about the opportunity," Rice told 49ers.com about the similarities of the two events. "I remember my first NFL game, I had butterflies in my stomach and things went a little crazy. I was dropping footballs here and there, but I had to fight through that adversity. It's basically the same."
Rice has spent the past 20 years honing his golf skills, whittling his handicap down to a plus-one. Without the game of football in his life, the NFL's all-time touchdown leader has found the perfect activity to fill the void left when he retired from professional football in 2005.
"Football was everything to me and all of a sudden now, I'm getting ready to embark on something that's going to challenge me 100 percent," Rice said. "I'm starting to have those sleepless nights already, just like in football. It's going to be an exciting next week."
With another exemption in the Nationwide's BMW Classic in the coming months, Rice hopes to gain experience in these professional events to one day play alongside the pros as one of their own.
"As long as I keep progressing and doing well, who knows what might happen," Rice said. "I know how difficult this game is and this is the type of game, you pretty much have to play for your entire life to have a chance at it."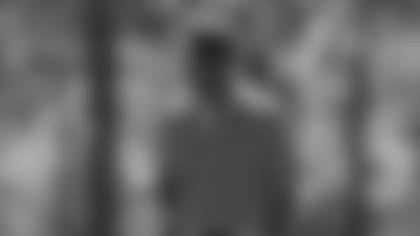 But that hasn't stopped Rice for making up for lost time; he plays multiple rounds a week and has attacked his passion for golf with the same legendary work ethic that made him great on the football field.
"Just like in football, you have to wait and let the game come to you and that's my same strategy when I'm playing in the golf tournament," Rice said.
Rice's passion for golf was beyond evident when explaining his game plan for the Fresh Express Classic.
"I think it will come down to where I align myself on the tee (box) to give myself opportunities to hit fairways, because you're going to get penalized if you don't hit the short grass," Rice explained. "The rough, they grew it up, it's really tall and if you get in the rough, you're not going to be able to try to go for the green.
"If I can come out and get a few pars under my belt, then I'll start attacking the flags to get the ball closer for birdie opportunities."
Until recently, the only "tweeting" Rice knew of came from making birdies on the golf course. Now he's active on the social networking site, updating fans on his hectic schedule, as he counts the days until his enshrinement in the Hall of Fame later this summer.
"I have so much going on right now, it's crazy. I'm doing stuff with Dancing with the Stars, playing a lot of golf. I just keep going." Rice said. "But with all the other things off the field, then the Hall of Fame, I'm looking forward to going to Canton and saying thank you to the fans and everyone who inspired me to go out there and play my best football. I'm excited about that, and having my teammates being a part of that."
Follow Rice's professional golf debut by watching it live on the Golf Channel starting April 15, at 9:00 p.m. PT.
*