If there was ever a fitting scenario for a 49ers kickoff return for a touchdown, a Monday night game played at University of Phoenix Stadium just might be it.
One, it's the scene of the team's last kickoff return for a touchdown , a 104-yarder by Allen Rossum two years ago on "Monday Night Football." And two, it's something Mike Singletary mentioned as one of the biggest keys to his team's primetime matchup against the Arizona Cardinals.
The showcase game is all the extra motivation the 49ers need to improve their 23rd-ranked return game which averages 24.7 yards per return.
More than putting points on the board, return yardage would serve the 49ers offense well coming off a game in which the unit struggled to put drives together, never crossed the opponent's 33-yard line and most importantly, never scored any points.
The kickoff return unit feels close to providing points of their own.
Fourth-year wideout Ted Ginn Jr. was acquired for a fourth-round draft pick this offseason to boost the 49ers return game which previously featured a handful of returners that totaled 21.8 yards per return in 2009. With Ginn averaging 24.1 yards per return this season (23.2 for his career), the speedy 5-foot-11, 180 pounder feels as if his biggest return in a 49ers uniform has yet to come.
"I don't think we're far. It's a matter of time before we go out there and just hit it," said Ginn, whose longest return this season went for 61 yards against New Orleans. "It would be great to go out and bust one. It would help us out. No matter if it's special teams or offense, when you're on the field you have to be accountable. We're going to go out and execute."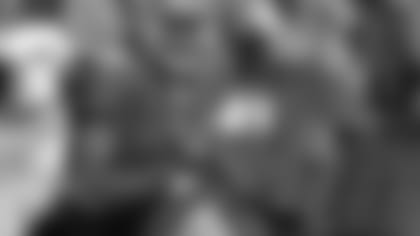 Ginn's teammates and coaches recognize how close he is to impacting the return game like he did in 2009 as a member of the Miami Dolphins. In a game against the Jets, Ginn returned two kickoffs for touchdowns of 100 and 101 yards, in the same quarter no less.
"He's been close, I just think we have to keep working at it," head coach Mike Singletary said. "Hopefully he gets hot here real soon and busts a big one, because once you do, the next one is not far behind."
Based on film study, members of the kickoff team say there are a couple of reasons for the lack of game-changing returns. The unit has played many rookies who have little to no special teams experience in their football careers, but has seen them steadily improve week-to-week. Also, opposing kickers have utilized sideline kicks to pin the 49ers to one side of the field.
"We've had a couple of instances this year where we've broken it past the 40 and we were one block away or weren't in the right position," rookie tight end Nate Byham explained. "Sometimes you make all the blocks and the opposing kicker does a good job of pinning us to a sideline."
Cardinals kicker Jay Feely has 13 touchbacks out of 42 kickoffs this season and his coverage units have allowed 24.7 yards per return.
Still, the 49ers feel like their big returns have yet to be seen.
The attention and pressure that goes into returning kicks in the NFL is fine with Ginn. It's something he enjoys most about the game. He feeds off all the eyes on him before he fields any kick and uses the attention as extra motivation.
"I've been like that. It's something I do and some of the biggest joys I've had in this game. I try to make the best of it every time I step out there."
And if the Cardinals don't kick it directly to Ginn, there's always a chance one of his blockers could field the kickoff. Last week, eight-year offensive lineman Tony Wragge scooped up a bouncing kickoff and returned it 12 yards.
"I didn't even hesitate," Wragge joked. "Well, the ball skipped in front of me and it was slowing down, but I didn't know how far Delanie (Walker) was behind me or Teddy was. You practice it in practice, it came up in the game, so I kept the ball high and tight."
Singletary didn't name a starter at left tackle Wednesday. He'll continue to look at the team's options along with the 49ers coaching staff. Singletary did say that 12-year veteran Barry Sims did a decent job last week against Tampa Bay. "We'll look at it throughout the week and see how it ends up," Singletary said.
Members of the offense said there's no self-doubt or lack of confidence after the unit was held scoreless at home for the first time in 33 years.
"We're always confident – that's something you have to be as a football player. We still have a lot of games to play," tight end Delanie Walker said.
Third-year wideout Josh Morgan agreed.
"We're still confident. We know we have to do a better job of being detailed at our job and make those big plays when the opportunity presents itself."