Marcus Lattimore is an inspiration to everyone in the 49ers locker room and anyone who has dealt with major injuries.
The rookie running back's return to practice this week was a remarkable sight. It was even more special for third-year cornerback Chris Culliver, Lattimore's former college teammate at South Carolina.
The two former South Carolina stars played together in 2010. Lattimore was the SEC's Freshman of the Year, Culliver was a starting cornerback and kick-off return man.
The close friends have not been able to practice together with the 49ers.
Culliver, once a key member of San Francisco's nickel defense, tore the ACL in his left knee in training camp. Culliver was placed on Injured Reserve, but has been able to rehab at times with Lattimore. "'Latt' is always a good spirit type of guy," Culliver said. "We're next to each other, we talk about a lot."
Culliver, the 6-foot 199-pound cornerback, has maintained a positive attitude throughout his rehab experience. Helping matters is the fact that Culliver's locker at 49ers headquarters is directly next to Lattimore's.
Seeing the rookie running back's upbeat demeanor has benfited Culliver as he deals with his own recovery. Lattimore tore all three ligaments in his right knee last October. In 2011, Lattimore tore the ACL in his left knee.
So while seeing Lattimore take part in his first NFL practice was a positive development for the 49ers, who now have three weeks to evaluate his progress and determine if he should be activated to the 53-man roster, the sight of No. 38 in shoulder pads meant so much more to his college teammate.
"It's definitely a good thing to see him prevail from the injury he had," Culliver said.
"He works hard. Every day he comes in here, he doesn't say much and he works hard. He's working to get better and that's what he's focusing on."
Culliver paid tribute to Lattimore shortly after the season-ending injury the running back suffered last season in an Oct. 27 win over Tennessee.
Culliver was devastated to learn of Lattimore's second injury. He immediately posted uplifting messages to his social media accounts, including an Instagram photo of a game-worn undershirt that read, "Get well Marcus Lattimore.
My prayers are out to my man MARCUS LATTIMORE!! Keep ya head up my dude!! — Chris culliver (@Cullyinthehouse) October 28, 2012
Culliver wore the undershirt in a 24-3 win on "Monday Night Football" against the Arizona Cardinals. It was one of Culliver's best outings of his sophomore season. He finished the primetime game with four pass breakups, three tackles and one interception.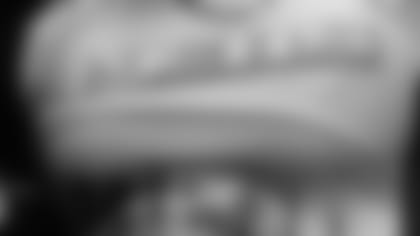 "He sent me a picture right when he did that," Lattimore recalled. Now the roles have reversed. It's Lattimore's turn to lift up Culliver.
The running back's return to practice highlights the importance of hard work and a positive mindset.
"I never thought I'd get to this day," Lattimore said before his first practice. "All the hard work is paying off."
Even a college rival of Lattimore has been moved by his return.
Enter Eric Reid, San Francisco's first-round draft pick and former adversary of Lattimore.
"I can only imagine being out with that type of injury how anxious he is to get back," the 49ers safety and former LSU standout said. "I'm really happy for him."
Reid explained that Lattimore has stood out in practice and was taking part in scout-team special teams drills.
"It was good to see him out there," Reid said. "He looks really good in pads. He's bigger than I thought he'd be in pads."
Lattimore's development behind the scenes will be taken with a careful approach. The 49ers have a stable of running backs capable of carrying the load in 2013, but if Lattimore continues to progress, he'll have a chance to compete for a role next season.
Reid can attest, Lattimore is one of the best running backs around when he's a full-go.
LSU-South Carolina games were always battles.
"It was a big deal for us," Reid said. "Being both in the SEC, South Carolina vs. LSU, it was a big game. He was one of the better backs in college, so it was always a challenge for me when I played him."
49ERS.COM SUGGESTS:________