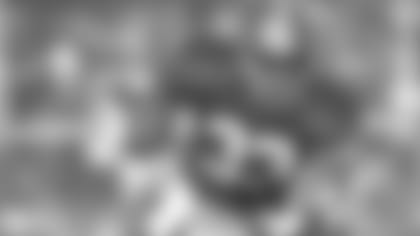 With Jerry Rice being inducted into the Pro Football Hall of Fame next week, 49ers.com caught up with several of his former teammates to get their reflections on the legendary wide receiver. Running back Roger Craig played with Rice for six seasons, and the two won two Super Bowls together. Here is what Craig had to say about Rice's induction into the Hall of Fame.**When Jerry first came in, he was really quiet and shy. That's part of the environment he grew up in. He's from the South, and I was born there too, so I know how people from there think. Jerry was just really respectful and quiet. He didn't come in and try to showcase that he was a first-round pick. Some kids come in with that cocky mentality, but he was totally the opposite. He came in and wanted to work hard.
The one thing that defines Jerry Rice is his work ethic. He came in and he knew he had a lot to prove.
In fact, I think he almost tried too hard and put too much pressure on himself at first. Early on he dropped some of passes here and there, and it wasn't that he could catch the ball; he was just trying too hard and putting too much pressure on himself. He thought he had to be perfect.
That's when I befriended him and got in his corner. I tried to help him relieve some of the pressure he put on himself and I tried to help him any way I could his rookie season.
Starting that next offseason we began training together. Through that training we really developed a great relationship and we took our workouts to another level. It was legendary. He was a pleasure to train with because he would always push me.
Those workouts were brutal. The first thing we did was we ran that hill. There was a trail we ran that worked on our endurance. We would always talk about the importance of endurance. We had such long seasons, and then we usually went deep into the playoffs, so we needed endurance.
After we ran the hill we would go to the track and work on our agility and speed. Sometimes we would do 400s, sometimes 100s, but we always pushed ourselves to get faster. We would also spend a lot of time catching the football there because that was one area we both took pride in.
Then we would go to the gym and lift weights. I loved working out with Jerry. We had a grueling regiment and we took our workouts to different stages. We would do that through the whole offseason so when training camp came around we were ready to go.
Bill Walsh trusted us and he didn't have to condition us during training camp. We had quite a few guys who were working out with us in the offseason who were on our regiment – guys like Keena Turner, Eric Wright and Tom Rathman just to name a couple. We were already conditioned when camp started so we just had to focus on the mental side of the game once we got there.
On a personal level, Jerry was really quiet. He really didn't come out of his shell until he retired. While he played, he was 24/7 football. This guy wouldn't take a vacation; he just focused on being the best, and that is what defined him as a football player. He made a lot of sacrifices to get to the top and he just focused on how to be the best football player on the planet. He was dedicated to the game.
Since he retired, he's a little bit different guy. But he still has that work ethic and it is going other places, like Dancing with the Stars and playing golf. His work ethic stays with him wherever he goes. He is going to be the best at anything he does.
I know he learned that work ethic at an early age, way before he joined the 49ers. Growing up in the South, that's really the only thing our parents can give us – a strong work ethic. They teach us how to work hard and achieve things. They tell you that if you work hard good things will come to you.
Jerry had to lay bricks with his father when he was a kid, that's tough work. He would catch bricks and lay them in concrete, and I've heard some people say that's where he gets his great hands from. But I know that working in the heat develops a mental toughness. Jerry's family worked hard and that's where he learned it from. You actually see that work ethic from a lot of kids from the South. They find a way to win, and Jerry always won.
I'm really excited for Jerry to be inducted into the Hall of Fame. This is amazing. He deserves it. It's time for him to sort of sit back and smell the roses. I am elated for him. It is his day to shine again. Hopefully one day I'll get the opportunity to join that team with him, but for right now I am excited for him.
It's going to be a great day – history in the making again. It's time for the best wide receiver to ever play the game to be acknowledged. He's like Michael Jordan. I am happy for him, he deserves it. He worked hard for it. He definitely lost a lot of blood, sweat and tears on that football field making it happen. I'm just happy to say I was his teammate and I am his friend. I will always have his back. When he was a rookie, I had his back. And I know he doesn't need it as much anymore, but I still have it.