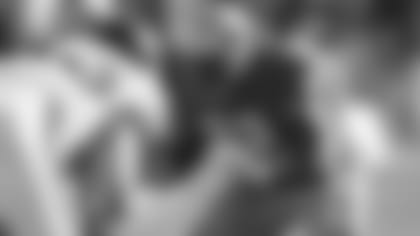 With Jerry Rice being inducted into the Pro Football Hall of Fame next week, 49ers.com caught up with several of his former teammates to get their reflections on the legendary wide receiver. Guard Guy McIntyre played with Rice for nine seasons, and the two won two Super Bowls together. Here is what McIntyre had to say about Rice's induction into the Hall of Fame.**The thing about Jerry Rice being enshrined in the Pro Football Hall of Fame is that you knew it was going to happen. You knew Jerry was going to end up there. As time went on and you saw him out there playing, you knew you were watching somebody special. You saw him making play after play, catch after catch and scoring all those touchdowns and you just knew. As an offensive lineman, I didn't really think in terms of his stats, but I just knew he was a great player for us.
However, I never stepped back and necessarily looked at him as a Hall of Famer. We all looked at him the same way we looked at all the great players on our team – like Joe Montana, Ronnie Lott and others. To be honest, we were just trying to win games more so than anything and we didn't have time to think about the Hall of Fame or anything like that. It was just about winning games and getting to the playoffs and having the chance to win a Super Bowl. So while I knew I was watching a great player, I was more concerned with taking care of my responsibilities and doing what I needed to do to better the team. I think we all felt that way.
One of the great things about Jerry was that he never tried to put himself over the team. When we got in the huddle, Joe was in control. It wasn't Jerry's team. He was a part of it – a vital part of it – but it wasn't like he thought he was better than anybody else.
Jerry was a real quiet guy, but he was flashy too. Jerry was very flashy, very flashy. They called him Flash 80, and he was the epitome of it. He put it on the front of his Porsche – Flash 80. He probably still has it on there.
I remember he used to be very, very meticulous about his outfit he went out on the field too. He had clear tape around his waist and it had to fit perfectly. It had to be flawless. Plus, I think he laid his uniform out on the floor before he put it on every game. He was very meticulous about that. I think he probably wore a new pair of shoes every game too. In fact, I don't think he wore anything in games that he had worn before.
Like I said, he was just one of the guys, and we all made fun of each other about certain things. With Jerry, we used to make fun of him a lot for his haircut. We said he looked like Bert from Bert and Ernie. One time at training camp, somebody hung a Bert doll behind a screen so when Coach Walsh pulled the string and the screen rolled up, the Bert doll was right there. That was hilarious. I bet Coach Walsh put it there himself. I wouldn't put it past him.
Since we gave him such a hard time about things, we probably helped him stay level-headed. But he probably would have been fine without us getting on him. When he started reaching those milestones and people started telling him, "Hey, you are accomplishing these feats that nobody has ever done before," it never went to his head. When he surpassed certain records he would celebrate it in the moment, and that was it. It was back to work, back to the same old thing. He would come back out there and keep practicing his routes, keep catching balls and working hard.
But all that praise wasn't there early on in his career. He didn't have immediate success. There were some games where he dropped some balls and there were some boos and some question marks. Those things could have broken him, but they didn't. He probably just had jitters at first, coming from where he came from to this big stage.
Jerry and I used to room together on the road his rookie year, my second year. Like I said, he was a pretty quiet guy. He's a Mississippi guy and that's how most of them are. We didn't talk about his struggles.
But I know how much pressure he put on himself early on. He was put in a tough situation, coming into a team that had championship pedigree and had just won a Super Bowl. Plus he was catching balls from a player like Joe Montana, who was a legend in the making, so you knew every ball thrown his way was perfect.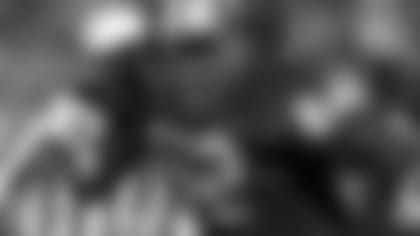 I think all that criticism and all of his struggles just made him work that much harder and made him that much more determined to be the best he could be every day. I don't think he thought about being the best receiver ever, he just went out there and put in his work to become the best he could be.
And you know about his work ethic, things like the hill workouts that were so famous. I know those were intense, but I never did them. I'm an offensive lineman; I had no business running that damn hill. I didn't even know where it was at.
He was just in such great shape. We went horseback riding one time with our wives and Jerry was doing something and he was off his horse. Next thing we know the horse started to run away and Jerry ran it down and caught it. I thought it was one of the most amazing things. But then I found out that Jerry used to run horses down when he was growing up in Mississippi, so that probably wasn't a big deal for him. He used to ride horses with his dad all day, but he had to catch them before he could ride them. So the time I saw him do it, it was nothing special for him.
The way he caught that horse was amazing, but that's kind of what he was like on the field in a way. You think of horses being so fast, but he caught it pretty easily. And on the field, he wasn't the fastest guy out there but he ran away from defenders pretty easily. You seldom saw people run him down after he caught the ball. He wasn't a 4.4 guy if you put him on the clock, but it just seemed that when he caught the ball his acceleration propelled him to outrun anybody out there.
Jerry has worked so hard and he deserves everything he has earned. It will be great to be in Canton and share this experience with him, to see him be enshrined where he should be. He worked for it. Even when the offense was supposed to be on the sidelines in practice, he would always be on the background working on some facet of his game. Whether it was catching balls from a left-handed equipment guy because we had a left-handed quarterback on the roster, or working on his release, or practicing getting off the line, he was constantly working, tweaking little things trying to get better.
I was teammates with Jerry for nine seasons and he has always been a true friend to me. We were close when we played together and we've stayed close since. I've hosted several charity golf tournaments and he's been to every one of them. He's just a great guy who puts his all into everything he does. It was pretty much solidified by the time I left San Francisco that he was well on his way to Canton, and now that he's finally there I couldn't be happier for Jerry.