Sunday's honorary game captian is former 49ers defensive end Archie Reese. Reese played for the 49ers from 1978-1981. Enjoy this feature story about Reese.
Flashback to Pontiac, Michigan and Super Bowl XVI. Twenty-two defensive bodies set in position for what would be remembered as The Goal Line Stand.
It was fourth down with a foot or so to go. Cincinnati was trailing the 49ers 20-7 late in the third quarter. All the Bengals needed was 12 inches.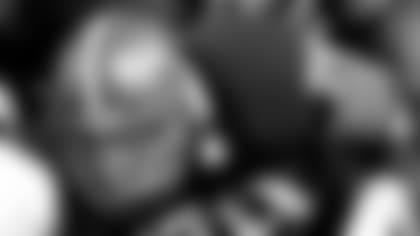 On the snap of the ball there was a collision of helmets and shoulder pads that could be heard throughout the stadium. Bengals running back Pete Johnson forced his way into the right side of the line. He was immediately hit and stopped by 49ers Jack Reynolds, Ronnie Lott and Dan Bunz. As the whistle blew the play dead, nose tackle Archie Reese was laying on top of the pile, his arms thrusting towards the Silverdome ceiling in celebration! Johnson's gain missed the end zone by a fraction of an inch and the rest is history.
While in Canton this past summer for Fred Dean's induction ceremony, I had the opportunity to talk to Reese, the former 49er defensive tackle who was in on this play and spent the first four seasons of his NFL career with San Francisco from 1978-81. He reminisced about his days with the team.
"We had an incredible team back then. Dwight Clark, Jim Stuckey and I all came out of Clemson and were drafted by the 49ers. I already knew Freddie Solomon while growing up with him in South Carolina. Although he was a couple of years older than me, we used to play pick-up basketball games together. I always admired his skill, ability and toughness. He tried to get me into the University of Tampa, but I ended up as a walk-on at Clemson ,,, and what a blessing it was.
"I also made some great friends with the Niners' organization. Besides Clark, Stuckey and Solomon, there was also Dwaine Board, Lawrence Pillers, Charle Young, Dwight Hicks, Ronnie Lott, Carlton Williamson, Eric Wright, Keena Turner and so many more. We became a close-knit group of guys. We all respected one another and were all on a mission with one goal in mind … to win. It was amazing … different people from different backgrounds all working together to help each other though the good and bad times especially in the early years.
"There were some real diverse personalities on the team, but none more focused than Jack 'Hacksaw' Reynolds. I remember him coming to the pre-game breakfast already dressed in his uniform complete with pads and helmet.
"When Eddie DeBartolo brought in Bill Walsh, the team really came together. DeBartolo was a wonderful owner and Walsh was a phenomenal coach. They did what it took to bring that first Super Bowl to San Francisco. I respect them both dearly.
"Bill was a great guy. You never had to guess where he was coming from. He enjoyed having fun when it was time to have fun, and when it was time for business, he was ALL business. He was an excellent judge of character and had to ability to spot greatness in a player or coach. Bill surrounded himself with great coaches which made his job easier. He was truly one of the best in the NFL.
"Joe Montana … now there was a unique person and incredible quarterback. Without a doubt, he is one of the greatest if not THE greatest in the history of the NFL. He was one of those fine athletes that you enjoyed having as the leader of your offense."
I asked Archie which game stands out in his mind more than any other. Without hesitation, he talked about the 1981 NFC Championship Game victory over the Dallas Cowboys
"Definitely Dallas and 'The Catch.' I personally feel that I had played a great game against the Cowboys. All I wanted to do was win and that's what we did thanks to Joe and Dwight connecting for "The Catch'. All in all it was a team effort by a tremendous group of guys who strived for that one goal – to win a Super Bowl – and on January 24, 1982, that elusive dream became a reality."
*USF grad and author Dr. Kristine Setting Clark is a feature writer for San Francisco 49ers GAMEDAY and has authored four books entitled: UNDEFEATED, UNTIED, AND UNINVITED – A Documentary of the 1951 University of San Francisco Dons Football Team. The book recounts team solidarity in response to racial prejudice in American sports; ST. CLAIR: I'LL TAKE IT RAW! An exclusive, authorized biography on former San Francisco 49ers player and Pro Football Hall of Fame member Bob St. Clair with a foreword by Gino Marchetti. Her two most recent books are: A COWBOY'S LIFE, a recently released autobiography on former Dallas Cowboy and Pro Football Hall of Fame member Bob Lilly with a foreword by Roger Staubach; and LEGENDS OF THE HALL: THE FABULOUS FIFTIES with a foreword by Y. A. Tittle. Dr. Clark resides in Northern California with her husband and has two grown children and a grandson, Justin, who is a godson of St. Clair.
---