It didn't take much for Shaun Hill to win over the support of his teammates. How could they not have his back? They'd have to ignore the fact that he's 7-3 as a starter in two seasons with the 49ers and they'd have to be completely unaware of his 5-0 record at Candlestick Park.
But for up-and-coming second-year wideout Josh Morgan, seeing Hill's helmet-less plunge for a first down last year against the Arizona Cardinals was all it took to for him to realize what kind of quarterback the 49ers had under center.
"Last year, he showed that leadership," Morgan explained. "That play where he got that first down when his helmet came off – I was real excited. I was like, 'Yeah, let's go Shaun!'"
Morgan also appreciated Hill's ability to manage the game and keep the team out of bad situations.
"He's going to make the big play. He's going to keep fighting. He's going to grind and he's going to be tough," Morgan elaborated. "He's going to put you in a situation to win the game, no matter what the situation is."
Hill proved to be a reliable option for the 49ers after he was called on mid-season to give the offense a shot in the arm. Hill not only provided the spark, he passed for 2,046 yards and 13 touchdowns in nine games, eight of which he started.
"I think that it's great that we have Shaun. He's been a tremendous asset for us in the past," center Eric Heitmann said. "He's a great leader, a great motivator, and a good friend. We're definitely excited to have him in there as our starting quarterback."
Offensive coordinator Jimmy Raye spoke to the media on Tuesday for the first time since head coach Mike Singletary announced Hill would be the starter. Raye praised Hill's leadership and solid play as reasons for winning the job, but the 49ers OC let it be known that the focus of the 49ers offense will revolve around the play of his star running back.
"This ball park is going to be run by No. 21 [RB Frank Gore]," Raye said confidently. "It was never going to be that the lead dog in this race was going to be the quarterback. The bell cow in this operation will be No. 21. The quarterback's job is to make sure we get that done and play within himself and make the plays available to him."
With Hill in place as the starter, Raye said he didn't necessarily feel a sense of relief.
"I think it brings some semblance of closure for the offense that they can identify now who will be getting the snaps and reps in practice and who will be leading them in the game," Raye said. "As far as it goes for me and my preparation, we will continue as we were before because basically, during the time we were in this competition, both of those guys were both starters."
Morgan echoed the sentiments of his coordinator.
"Both of the quarterbacks were battling and doing a great job. But it's good to have two starting quarterbacks, in my eyes both of them are starting quarterbacks. It's a great situation for us."
Legend. Hall of Famer. Icon. Jim Brown is all of those things and so much more.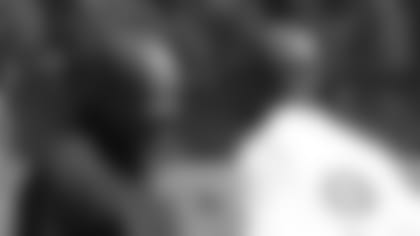 Training camp speaker can now be added to the laundry list of Brown's accomplishments. The former Cleveland Browns running back attended the 49ers morning practice and will speak to the team later in the evening.
Raye commented that having Brown at camp would be a great benefit to his players.
"Jim is back from my era and probably, arguably, the greatest running back that ever played the game in the National Football League. I think similar to what they see or what they have been exposed to, in terms of accomplishment in this game and preparation and achievement that they have seen from [their] head coach, I think now you get to see another individual who has accomplished the same kind of things and has been a leader on and off the field. I think it will be tremendous from an exposure standpoint for our guys to see that it's OK to dream and that these things are possible because they see it in the flesh in the form of the coach, the head coach Mike Singletary, and a great Hall of Famer like Jim Brown."