Throughout the offseason, 49ers.com will feature members of our Ten-Year Club. Check out our latest feature on former 49ers kicker Ray Wersching, who played for the team from 1977-1987.
Out of the 45 members in the 49ers 10-Year Club, there's only a single kicker, who coincidentally happened to wear a single-bar face-mask during his eleven seasons in San Francisco.
By the end of his tenure with the franchise, Ray Wersching had become thstory-behind-the-10-year-cle team's all-time leader in field goals made (190), extra points made and attempted (409/425), and field goal percentage (72.8%).
If it weren't for former offensive line coach Howard Mudd, who most recently worked with the Indianapolis Colts, the 49ers most decorated kicker probably never would have enjoyed the success he did.
Originally signed by the San Diego Chargers as an undrafted free agent out of the University of California in 1973, Wersching spent four seasons in the Powder Blue uniforms. But after he was waived by the Chargers at the end of the 1976 season, Wersching decided to dial up Mudd, who had departed San Diego to serve as the offensive line coach for the 49ers.
"I gave Howard a call and he helped me to get a try out," Wersching said.
When it came time for Wersching to get his gear for his audition, the 49ers equipment staff gave him a single-bar face-mask, which ultimately became his signature look.
"When I first got here, I didn't ask for it," laughed Wersching. "That's what they gave you. They said, 'This is it.' It was old technology – put it that way."
But even in unfamiliar surroundings with new coaches and teammates to impress, Wersching excelled.
"At the tryout, I had never kicked better in my life. It worked and so they signed me. It was a great change for me," he explained.
The transition from San Diego to San Francisco was made smoother since the players on the 49ers were so welcoming.
"I had already played four years with the Chargers, but when I got to the 49ers, there was something unique with all the players on the team. The camaraderie was special," he said. "That made a huge difference in my confidence."
In his first two seasons with the ball club, Wersching established himself as a reliable kicker by connecting on 35 field goals. But it was in his third year when the 49ers brought in head coach Bill Walsh that the fortunes of the franchise drastically started to improve.
Three years later, the 49ers were Super Bowl Champions after beating the Cincinnati Bengals 26-21 in Super Bowl XVI. Wersching played a major role in the Championship, tying a Super Bowl record by making four field goals in the biggest game of his life.
"It was weird how things worked out, and how I was able to kick all those field goals," he recalled. "Thank goodness they all went through!"
But if you ask him which field goal meant the most to him during his entire career, Wersching insists it was his game-winning field goal on November 22, 1981, which beat the Los Angeles Rams 33-31.
"I remember we were down and they left too much time for Joe [Montana]," he said. "It was one of those deals, where it was a magical season. You knew if there was enough time, we'd win. You didn't know how it was going to happen, but you just knew it was going to happen.
"There was little over a minute left," Wersching continued. "Joe drove us down and put us in position to kick a field goal, and it went through and we beat them. To me, that was the most memorable kick of my career."
In his eyes, that game signaled the end of Los Angeles' dominance in the NFC Western Division.
"Before that kick, the Rams always whipped us. They always beat us. It didn't matter if we were ahead by 20 points in the first quarter, they would come back and beat us. So that win was something that changed the tide and we became more dominant because of that win," Wersching explained.
The 49ers used the momentum from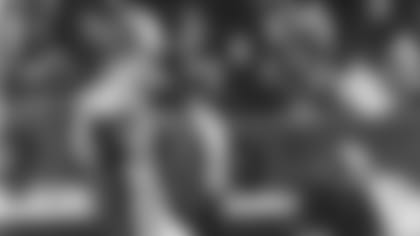 that victory to win their next seven games and finish the season as World Champions.
Fast forward another three years to 1984, and Wersching and the 49ers found themselves nearly enjoying a perfect season from start to finish.
"Looking back at the '84 season, you didn't think about at the time, but we only lost one game that whole year and that was against Pittsburgh," he said. "And it came down to a field goal-tying kick, but it didn't go through. I hit the upright and it bounced out.
"At the time, that was our first loss, but at the end of year I felt like, 'Damn, that was the only one we lost.' Now I think about it and we could have been undefeated."
Although he had the one crucial miss that would have sent the Steelers game into overtime, Wersching proved to be an asset during that Championship season, converting 25 field goals, as well as making all of his 56 extra point attempts.
His on-field success was even more impressive considering the windy and muddy conditions that Candlestick Park was known for during his playing days.
"Kicking long field goals at Candlestick was tough," Wersching said. "It was always raining. It was always muddy. The field was always terrible. And then trying to combat the wind made it even more difficult."
But one thing that helped Wersching overcome the elements was his pre-kick routine.
"I was superstitious, so I had a pre-kick ritual," he said. "I'd always pat Joe on the back and I never looked up at the uprights. I took my reference from the hash marks. As long as you kept the ball between the hash marks, it should go through. So that's what I did."
For the next three seasons following the 49ers second Super Bowl title in '84, Wersching and the 49ers were eliminated in their first playoff game, twice by the New York Giants and once by the Minnesota Vikings.
Following the Vikings defeat, Wersching decided to retire and pursue a career in accounting.
But Wersching, who still lives in the Bay Area, is frequently reminded of his playing days.
"The 49ers fans have been great. To this day, they come up to me and say, 'There will never be another era like that again.' That was 20 some odd years ago and they still remember. They still come up and talk about the memories. And it's great to be part of that."
Wersching is particularly pleased to have had such a long successful run in the Bay Area, since he played a position that was ultra-competitive.
"There were always people trying to get your job. Every training camp there was always four or five other guys who wanted the job that you have. And it was like, 'I want it. I want to keep it.'"
Wersching kept his job alright, for fourteen total years in the NFL. It was the kind of longevity that the storied kicker never truly imagined after being cut by the Chargers.
"To begin with, back in '77 when I first came to San Francisco, it was just an opportunity to keep playing a game that you loved to play," he said. "I loved kicking, that's what I wanted to do. But if someone were to say, 'You're going to be here for ten years,' I would've said, 'Nah, I don't think that's going to happen. Because back then, the average career was only a couple of years."
When looking back on his career, his plaque on the 10-Year Club and his place in the record books among the all-time greats in franchise history, Wersching is more than pleased with what he accomplished. But the most well known kicker in 49ers history feels that none of it would have happened without the help of his teammates.
"It's fulfilling. And to this day, I feel grateful for having the opportunity to perform and have those records." he said. "I have to thank all my teammates and coaches over the years, for giving me the confidence that they instilled in me early on. It really helped my career."