Justin Smith has spotted a trend in the NFL this season. He said quarterbacks are getting the ball out quicker in order to avoid hits.
In London, the 49ers faced a Denver Broncos passing attack that liked to throw downfield, but primarily utilized three-step drops and quick passes to a multitude of targets. And based on the comments made by the 49ers locker room on Thursday, they expect more of the quick passing game to show itself this week against the St. Louis Rams.
Perhaps no player highlights the trend better than Rams quarterback Sam Bradford who has a league-low average of 5.7 yards per completion of all quarterbacks who average 14 pass attempts per game.
"Throughout the league there's a lot more max protection going on," explained Smith, who leads the 49ers with 4.0 sacks, 2.0 of which came last week at the expense of Denver quarterback Kyle Orton. "Offensive coordinators are going, 'I don't want my quarterback touched.'"
With quick passes, more blockers are typically required, meaning Smith and the 49ers other down linemen are being double-teamed.
"You notice that league-wide with sacks being down and people not getting as many hits and pressures," Smith said. "But that's got to help defenses out too, there's only 2-3-man routes. That's just been a trend this year."
In the instance of St. Louis, they're not trying to protect their quarterback with quick passes, they're also protecting their No. 1 overall pick.
"To me, that's good coaching," 13-year veteran linebacker Takeo Spikes said. "When you look at their team, they don't want him to get hit because that's the worst way to ruin a rookie quarterback for a lifetime."
Bradford has been sacked one out of every 17.2 pass attempts (17 times in 292 drop-backs), but has 17 passes that have gone for more than 20 yards.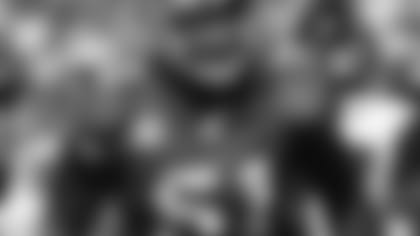 Spikes suspects the Rams will give Bradford even more leeway as the season continues.
"Probably three quarters into the year, their offense will open up a lot more than what they've shown. So far, he's been very efficient."
Bradford has no interceptions in his last three games, and has done well in connecting on big pass plays off play-action fakes to two-time Pro Bowl running back Steven Jackson.
With Bradford improving each week in the passing game, so has Jackson's production.
"Before they were predictable, now they can throw the football so it opens everything up," Smith said. "You can't just key in on their runner every play. The way (Bradford's) getting the ball out quick and most importantly accurate, that's when you have more to focus on."
It'll be the first of many meetings between Bradford and the 49ers. But the defense has faced Jackson 11 times previously, holding him to an average of 3.7 yards per rush which is .6 below his career average. The 49ers have only allowed three touchdowns to Jackson with his longest run being a 37 yarder.
"It's always a good matchup when you go against a guy like Steven Jackson," Spikes said. "He's one of the best runners inside the tackles. As a linebacker, you look forward to a challenge like that."
The 49ers defense also looks forward to digging themselves out of a 2-6 hole, by putting on strong performances one week at a time. Assignment mistakes are hurting the 49ers defense, not physical-related issues, Smith said.
"It's another thing if it's a physical problem. If you have a spot on your team that's getting ran over or missing tackles, there's not a whole lot you can do there. If it's mental, you can clean those up. Ninety-eight percent of our mistakes have been assignment errors. Those are easily fixed."
The 49ers need to play mistake-free football in order to achieve their goals. But the way many of them see it, Sunday is just the starting point to what potentially lies ahead.
"It's the most important game because it's the next one," Spikes said. "We're getting into the meat of our schedule as far as the division games. Saying that, not only do they count once, they count twice. There's a lot of meat on the bone out there for us."