Defensive lineman Pierre Garçon was drafted by the 49ers in the seventh-round of the 2009 NFL Draft after having a very successful collegiate career at LSU. TV49 caught up with him after organized team activities. Here's the Q&A from that interview.
Q: How did everything go for you at the team's minicamps and OTAs?
A: Everything has been going great. I'm just trying to get used to the playbook. I'm trying to get used to hearing a thousand words at one time and trying to get a few words out of it. I'm enjoying my experience and I appreciate the 49ers organization. It's one of the greatest organizations in the NFL. I'm trying to adapt to Cali – but there is no place like Miami. And I'm trying to get to know the veterans and everyone in the building.
Q: You have one of the most fiery position coaches in Jim Tomsula, what's it been like working with him?
A: He's funny, but he likes to work. That's just him. He's going to break it down to you – he's going to give it to you if he doesn't like your work. But at the same time, we joke around just to make sure you don't have to act different and you can be yourself and the other guys can be themselves too.
Q: What's one thing he's been working on with you?
A: With me, I came out of a 4-3 defense and now I'm in a 3-4. I played that [3-4] defense in high school, but that was a way long time ago. At LSU I used to shade but here we line up head up on linemen. So that's one main thing I have to work on.
Q: There are a lot of veterans in your position group, have you been picking their brains a little bit?
A: Yeah, Ice [Isaac Sopoaga] is one person. Justin [Smith] and Kentwan [Balmer] I mess with every day. I joke around with them, but at the same time, when I see little things I need to work on I break it down [with them] in detail. Like, "How do you do this?" or "What do you look at?" I ask them just about a thousand questions, by the end of the day they were like, "Coach, you have to take him and talk to him!" I just make sure I try to get all the details broken down in the right way.
Q: Which of your teammates have you gotten to know the best so far?
A: Ice. Because one of our [LSU] players that used to play here a few years back, Melvin Oliver, has the same kind of background [as Ice]. I mess with Ice a lot because I'm trying to learn about the Hawaiian way and I'm trying to learn about their way of life and what his tattoo means with the symbols and everything.
Q: Which of the veterans have you enjoyed competing against here in the OTAs?
A: Hmm… I'm going to say Manny Lawson. We do get-off and hand drills and I'm trying to get my hands faster than him. Even though he keeps winning, one of these days I'm going to win one! And I'll be happy. I'll just take that under my belt for winning one. He's one of the people I look up to because I remember he was a track guy. I did look up to a lot of track people and I know about his track history and now he's out here playing football. I look up to him a lot and I try to beat him because I know he's fast. I try to stay on the same level as him and stay at the same pace.
**Q: So you're competing more against the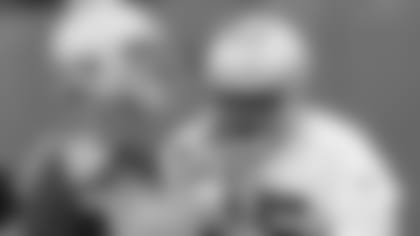 defensive guys even more than the offensive line? **
A: I'm trying to compete against the defensive guys. I'm trying to get my technique down as well as them. I'm trying to learn it in a faster pace, so I can get people to look at me like, "He's learning things fast. He's practicing like a vet and not just a rookie." But I do compete against the offense every day.
Q: Coming from a big college football conference in the SEC, how has that prepared you for the transition into the NFL?
A: The competition and the speed of the game. A lot of people say the speed of the game changes [here]. But it's not the speed of the game, it's how you react. Things are almost the same. I'm not going to say they are the same, but they're almost the same. There's little subtle things I can take here – especially competition – that's always going to be in the NFL. You're always trying to make sure you get the best out of each other.
Q: You're buddy Curtis Taylor let it slip that you do have a nickname, can you share it with us?
A: Curtis' name was "Curtdog." Everybody called me "Freak."
Q: Why'd they call you Freak?
A: Everybody called me "Freak," because I'm an abnormal guy. On the football field, I'm trying to be the quickest to the ball. You see one thumb or one finger flinch before the ball [is snapped] I'm moving at the same time. I'm just trying to do things faster and quicker than everybody while having the strength.
Q: So that's a good thing being called that?
A: Yeah, that's a good thing. Like Javon Kearse when they called him "The Freak," I basically took his name.
Q: Which NFL players did you admire when you were a kid?
A: Julius Peppers.
Q: What about him made him your favorite?
A: He was an athletic guy, who was a freak and a phenom. And he played b-ball too! I'm a basketball lover. I saw how we played basketball and carried it from one sport to another. I wanted to carry track over to the football field. I liked how he brought one sport over to the other field.
Q: How long did you play basketball?
A: I played basketball for four years. But I still have skills. I still have skills to pay the bills. I'm not NBA-bound, but I still have skills to handle a few j-shots. I still have it in me a little bit.
Q: Were you a low-post player or what?
A: Every guy had the fantasy of playing guard, so I was always the person to play the three [small forward]. But sometimes my coach would look at me crazy and slide me back to the four [power forward]. But when I did get a chance, I used to see if I could hit a three [pointer].
Q: If you weren't playing football, what would you be doing?
A: I'd be doing track and field. I'd try to get my discus, shot-put and javelin on.
Q: Now that you're out here in California, is there one thing you want to see or do while you're out here?
A: I want to see the Golden [Gate] Bridge and Alcatraz. I remember there was a movie called "The Rock." I saw it in the movie and now I want to see it.