Shaun Hill and Alex Smith participate in a variety of one-upsmanship activities on and off the football field. The close friends spend a lot of time away from the team facility when they're not working to become the 49ers starting quarterback for the 2009 season.
There are golf outings, games of horse on the basketball court, ping-pong matches at Smith's house, games of pool and darts as well as trips to the bowling alley with their significant others.
Even outdoor barbecuing competitions exist between the two.
"We compete in everything we do," said Hill, a groomsman in Smith's offseason wedding. "He just started on the charcoal grill so there's no competition between us right now."
But on the golf course, Smith has the upper-hand.
"Shaun has a few more blowup holes than me and that usually affects his game," Smith said Wednesday after the third day of the 49ers organized team activities this week.
While some of the competitions have a clear-cut winner, it's not as easy to pinpoint who's the better of the two on the football field.
Both quarterbacks have played well over the course of the 49ers minicamps and OTAs. Their play on the field has made the  upcoming decision for the coaching staff much more difficult to name a starter.
"We compete in almost anything," Hill said. "Whatever we're doing it pretty much turns into a competition. On the field it's the same way just with less laughs."
For the past six days (three minicamp practices and three OTA sessions) both Hill and Smith have rotated each day taking snaps with the first-team offense. And over that stretch each signal caller has had their moments of brilliant play.
But no matter what happens at practice, the two continue to root for each other to play at a high level.
"It's not like we're rooting for the other guy to do bad," Smith said. "We want one of us to step up and win it the right way. Both of us really want it and don't get me wrong, we're both fighting for it. It's serious when we're on the field, but when we get off the field we're both still such good friends. It's a fine line there. There's a balance because we both really want something and we're fighting for it."
On Tuesday, Hill spoke of the dynamic of their friendship and how he cheers for Smith like he does with all of his teammates.
"I like seeing him throw the ball well [and] he is. It's got a lot of zip on it right now, and his accuracy is coming back. He's looking good out there," Hill said. "I like to see my teammates do well. We are competing against each other, but we're also rooting for each other out there. I don't go out there wishing ill will on him, by any means. I like to see our offense go out there and execute. Obviously, he's a big part of that."
As they continue to play well on the field over the last six days of practice, every day of work becomes even more important.
"That's the hard thing about it, because I feel like both of us are playing well," Smith said. "You better come with your A-game out there because both of us are completing a lot of passes. You can't afford to have an off day in this competition. But I feel like with both of us playing well, the team will be in good shape down the road."
Undrafted free agent Alex Boone returned to practice Wednesday after finishing his school work back at Ohio State. Boone has one quarter of school left, but couldn't participate in minicamp or the OTAs while he was taking history, physics and comparative studies classes.
"It's good to get away from the books and be with my teammates," he said with a smile.
Boone said he worked out every day for hours with the trainers at Ohio State when he wasn't in class.
"They pushed me as hard as they could and it was fun."
Cornerback Marcus Hudson couldn't help but run up to Michael Spurlock and untie his long shoelaces before the start of team work. Afterwards Hudson twice yelled out "Got hiiiiiiim!"
In the skelly portion of practice, Hill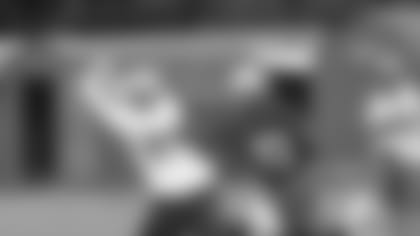 overthrew wide receiver Dominique Zeigler on a deep pass over the middle. But it was a completion to the other team as Dre' Bly came up with an impressive interception catching the ball with his fingertips before falling to the ground. Because of the degree of difficulty, Bly earned play of the day honors.
A couple of plays later, rookie quarterback Nate Davis completed a deep post pattern over the middle of the field to the tight end with the same last name –Vernon Davis. The ball-catching Davis beat linebacker Mark Washington to make the reception.
With the team working within the red zone later in practice, Smith completed back-to-back passes to Davis. The first reception was on an out-pattern. The second was on a comeback route.
Third-string quarterback Damon Huard tried to hit Davis on an out-pattern himself, but outside linebacker Ahmad Brooks read the route and broke on the ball knocking it to the ground before it got to Davis.
Davis stayed in the action later in practice, catching a touchdown pass on a comeback route from Alex Smith in the red zone.
Possibly the most memorable sight of practice was seeing undrafted outside linebacker Diyral Briggs carrying five helmets off the field at the same time. It's a tradition for rookies to carry the helmets of their position group off the field. Apparently all of the outside linebackers utilized the courtesy at the same time.