Get to know more about the 49ers rookie wide receiver out of Virginia Tech in this 49ers.com exclusive Q&A!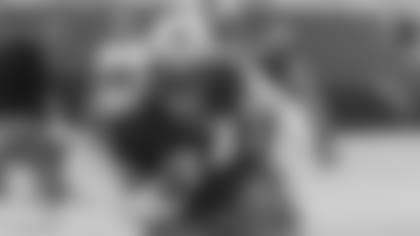 Q: How happy were you to get picked up in the sixth and to get such a long process over with? **A: I don't think that everything truly hit me until I got back on the football field for mini camp actually. That's when it sunk in that I made it. I'm a San Francisco 49ers. The dream did happen. But, draft day is such a long process and you are just happy to get it over with. That's a long process from your last college game thru the draft and don't get me wrong, it's a blessing but it's tough. So, I think being around everyone, getting back into the groove of playing football is when it really hit me and I felt very excited and blessed.
Q: You had a few guys from your VA Tech in Eddie Royal, Justin Harper and Duane Brown who also got drafted. Were you paying close attention to see where they landed?
A: Definitely, and it was a lot of fun seeing us all make it and knowing how hard we worked for it. We all talked about getting to the next level and we worked very hard to get here. That was the best part of draft day, seeing all of those names get called and Virginia Tech people making it. That was a big accomplishment for all of us. We came in as freshman saying we were going to the next level and we did, and we also won two ACC Championships. We had great careers and it's great to see everybody get the opportunity we all talked about. It was a real surprise to see DJ Parker up here, a free agent from my school. It's fun to have a teammate with me.
Q: I read that you were called a man child by your teammates in college. How did you come by that?
A: That also started my freshman year because I was so young and I was strong. DB's would try to press me and I would just have my way out there. That's where it came from, and I was kind of a freak in the weight room too. I didn't lift weights until I got to college so they didn't expect me to be as strong as I was. They called me Bam-Bam, Man Child, a couple of names out there. I was real aggressive and more mature than they expected me to be playing wise.
Q: You and your teammates all went thru the shooting crisis there. Did that change the way you looked at life at all?
A: Well, growing up in DC, I don't want to say you are used to it, but you do have friends who get shot. But to have so many people get shot at one time, that was tough. 66 people shot and 32 killed, that was difficult. It was hard to deal with because we were all stuck in our apartments looking at the television and seeing it happen, and looking at the window and seeing people run. It motivated us a team to get the community back on their feet. As a football team we felt like we had to be the savior of our community and I'm real happy with the job we did. People compare it to what the Saints did after Katrina. I'm not saying what happened was on the scale of Katrina, but for 66 people to get shot by one man, that's devastating. So, it was such a joy to see the smiles at games. We paid tribute to those who died and it was very sad, but it was also a great pleasure seeing the excitement of the community as we won games.
Q: You had visited the 49ers a few weeks before the draft and you had spent some time with your coach Jerry Sullivan. How much easier did that make it for you to come in for your first mini camp?
A: I think you still don't know what to expect regardless in your first mini camp but it did make me feel easier that I had dinner with him and his wife and I felt comfortable with them. I knew if I was confused I could ask him questions and not get hollered out, and I felt like I had a good feel for him.
Q: You also already had a friend on the team in Vernon Davis. How long have you guys known one another, and what did he tell you when you came in for mini camp?A: I basically grew up with him. We have been playing against each other since the 9th grade. We went to rival schools and competed against each other every year. Coming into camp, Vernon just told me that it would probably be a little confusing just because it was a new offense. The vets had about six weeks on us, but he said even they were still learning and to just come in and play football.
Q: What is it like to come in as a rookie and play with a veteran of Isaac Bruce's stature?A: It's a great experience. Seeing all of those guys and how they work, you just try to emulate that coming in as a rookie and try to do what you see them doing. Isaac Bruce, he's been in the league for 15 years so you just want to get under him and try to do everything you see him do and pattern yourself after what he does and hopefully you get to stick around for 15 years.
Q: How do you describe yourself as a receiver?A: At this point it seems like I have to start all over right now. I'm very athletic, I can jump real high, I can catch the ball very easily but it's more mental. Coming in, running better routes, recognizing defensive coverages and adjusting off that. That's most of what it is at this level. Everything else is still there. I'm still aggressive. You have to be able to recognize everything and do it on the run and not think about it because the speed is much quicker now.
Q: Jerry Rice was apparently your favorite NFL receiver growing up – what did you admire in him?A: Everything. He was the reason I started playing football. I played organized basketball since I was 5 and I watched my first football game, and I think it was a Super Bowl game and he had so many touchdowns. Just seeing how he ran his routes and was so open, he made it look fun out there. Everyone is getting beat up there and you see Jerry Rice slicing thru the seam and running 80 yards on a slant route. I was like, wow, I want to do that. That was when I was around 14 and that's when I started playing football. Seeing stuff on ESPN, and how hard he worked and watching In Their Own Words, that's what I wanted to do and what I wanted to be. It's a real blessing to come to San Francisco where he did all of that.
Q: You have done some kickoff and punt returning in your career. Do you plan to try to find a niche on returns for the 49ers?A: I told coach I could do returns but I know Allen Rossum and Nate Clements are back there on punt. They are pretty solid, but I'm going to try to get on kickoff and any of the other specials teams because I can do it. I feel like I'm a real versatile athlete because I've played a bunch of different positions in my career and I feel like I can do a lot on the football field to help this team.
Q: What are your expectations as a rookie?A: First I want to make the team and then make as big of an impact as I can. I could say I want to go out and be rookie of the year but first I want to make the team, and then get more time and help my team in any way I can. I feel like I can do a lot of different things on this football team. Wherever they put me at and whatever situation they put me in, I'm going to make the best of it and do what I can to help my team win.
Q: Digging into your bio, I read that you love children, in particular your niece. How much time do you spend with her?A: Yeah, my niece Harmony will be 2 in January. Every time I go home to Maryland I baby sit her. She's a real pleasure. She's walking now and calls me Osh, and leaves off the J. She's funny. She's growing up fast. She's smart and she's saying her ABC's and I'm proud of her.
Q: I also read that you think you can win the big bucks on "Who Wants to be a Millionaire?"A: When it first came on I'd watch it and I guess I was just a good guesser. I didn't know all of it, but I'd guess real well and probably about five times I won the million dollars. I figure if they let me on the show I can guess good enough to win the whole thing.
Q: Any other interests you'd like to share?A: I write a lot – a lot of poetry, a lot of short stories. I used to play a lot of chess with my father, and I loved playing basketball but I can't really do that anymore. I like to spend time with my family, and see them enjoying life and having a good time. But I'd say my main hobby is to write and be creative with my mind and creative with my words.