Tony Nathan recently joined head coach Mike Nolan's staff after spending time with the Baltimore Ravens. Learn more about the 49ers new running backs coach in this 49ers.com Q&A!
Q: What excites you about joining the 49ers?
A: I'm excited by the newness of it and just getting to know and work with different people. It's a different challenge for me in terms of my career. I get to learn a new offense as well.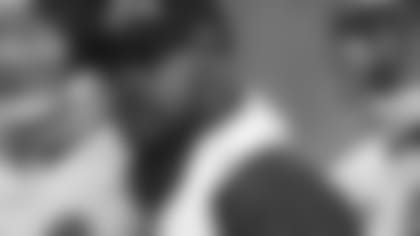 Q: What did you know about the organization before you came here?**
A: They have a great reputation of being winners and that's something you want to be a part of. When I was still playing I actually lost to them in the Super Bowl, but I won't hold that against them. You have to let the past be the past.
Q: The 49ers have Frank Gore, DeShaun Foster, Michael Robinson and Thomas Clayton at running back. What do you know about those guys so far and what makes you eager to work with each of them?
A: They have great potential, that's for sure. You just have to get it to transfer to the field. I just want to help them to become better ball players. I'm eager to get to know them as people. They seem like they love what they do and you want to enhance that love for the game.
Q: What do you expect from the 49ers running backs next season? Is there one key thing you preach to your players?
A: I want us to be consistent at what we do and minimize our mistakes. We're all human so we're going to make mistakes, but you want to cut down on them. I want us to transfer how we practice to the field on game days. We're going to work hard in practice and do things right in practice so that it carries over to the game.
Q: With the addition of Mike Martz, what kind of potential do you see from the offense next year?
A: That's what I'm going through right now. I'm trying to learn his verbiage and see the things he's trying to get done. After seeing the things he's done in the past, it's going to be very exciting. I think we have the right people to run what he's trying to get done so it will be interesting.
Q: The 49ers have coached the Senior Bowl the last three years. You didn't come on board until after the last game in Mobile, but you have some ties of your own to the Senior Bowl. What did it mean to you to get inducted to the Senior Bowl Hall of Fame last year?
A: It was touching and emotional that they though that much of me. I guess they wanted me to be a part of a unique group. It's not every day that anybody gets to go and get inducted to any hall of fame, whether it's your high school or something else. I had a pretty good class with me. I got a chance to meet Curtis Martin and Michael Strahan so that was great. I've seen them from afar, but haven't had too many conversations with them. So being in that group with them and getting to talk to them was very special.
Q: With nine years of experience as a player in the NFL, how do you think that's helped your ability as a coach?
A: It helps, and you can get good input from the players you're coaching. The first thing I will do here is sit back and see how each one of them deals with things and you learn a lot about people that way. That gives you a good feel for people and then you can see what you have to do to help them.
Q: Is there a level of respect on their end since you been where they are?
A: It seems like nowadays that there's so much water under the bridge that most folks don't realize that I actually played. I had some guys back in Baltimore that would say, "Coach, did you play?" Yeah, I did. It's kind of funny to hear these young guys because a lot of them don't know the history of the game. They just know they play it and it's just about now. It's not about who played before them. It's kind of scary, but it's true.
Q: You've worked for some great head coaches in Don Shula and Tony Dungy. What did you learn from your experiences on those coaching staffs?
A: They are both on different ends of the spectrum. Tony's quiet, Don is not. Shula was more vocal about things, but they both had a common goal and they both had their own way about attaining that goal. Tony is a very personable guy, but Don can be too once he really gets to know you. It was good to have both sides of the coin. It helps you as a coach to see when you need to do things one way and when not to. I love Shula, but he was hard on his coaches and his players. Tony's different because he'll come up to you and talk to you, but you better listen to what he's saying to you because there's a message in it. Don gets his message out right away. They both had their own ways of doing things, but it worked for each individual.
Q: You came here from Baltimore where you worked with offensive line coach Chris Foerster. What is he like as a coach and is it good to have another offensive coach on staff that you've obviously worked with closely?
A: Well he's learning things just like I am right now. Everybody has their own terminology and that's the hardest part about this game. It's hard to learn what someone means when you're calling it "tick" and they're calling it "tack." The more you hear it and the more you're around it, the more familiar you become with it. I worked with Chris in Tampa Bay and Baltimore so it kind of puts me at ease to see him here. It makes you comfortable to share a common bond with someone.
Q: How are you adjusting to the Bay Area?
A: I'm not going to be buying a house out here, that's for sure. I don't see how the common man can live out here. We've kept our home in Miami and that's going to be my home. We'll rent out here, which is still expensive. We're still adjusting and getting to know the area. I'm still trying to learn how to find things out here. I do like the area and I love the weather. Coming from Baltimore, yes, I love the weather!!!