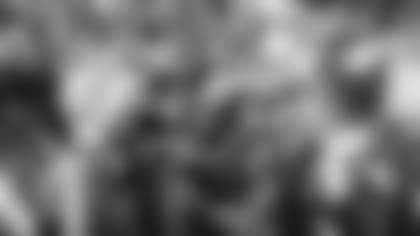 Ohio State University running back Chris "Beanie" Wells is amongst the best players at his position. Read what he had to say to the media at the NFL Combine.**
Q: Why did you come out as a junior?
A: A lot of guys were leaving and we made a run at the national championship two years in a row. We came back, a lot of guys wanted to make that second run at a national championship. We tried and came up short. All in all it was a decision made by me and my family and I think it was the best thing for me to do.
Q: How's your health?
A: My foot's great. I feel 100 percent, completely, my whole body feels healthy. I haven't really been talking with any teams about what they thought of it yet.
Q: How do you compare to other running backs in the Draft?
A: I don't really compare our styles at all. We're completely different running backs. The competitive nature in me is always going to tell myself I'm the best running back. I definitely want to be the best running back off the board.
Q: Which NFL running backs have you looked up to?
A: A lot of guys. The Adrian Peterson's, the Marshall Faulk's, the Jim Brown's, I look up to all those guys. But I wouldn't try to compare myself to anybody because I want to have my own style.
Q: How would you describe your style?
A: I guess it's kind of hard to describe. I want to be that back who can take it the distance like a scatback or a back who can get the tough yards like a hard-nosed short-yardage back.
Q: What kind of factor will your 40 time play into your draft status?
A: For me I think it's going to be a big factor. It definitely could be. With any of the guys out here, it's something a lot of the pro scouts and the GMs play a lot of attention to.
Q: With such a big family, how excited are they about the Draft?
A: We don't really have any plans for draft day. My family was extremely proud and excited to be part of this. A lot of people don't get a chance to live out their dreams and that's something
I'm accomplishing and it's a blessing.
Q: Would it be a dream to play for the Browns?
A: That would be beautiful, to be able to stay home and play. But it's a dream already for me to have the opportunity to play in the NFL. Me playing for the Browns – I would be just blessed.
Q: Can you catch out of backfield?
A: I definitely can show people that. I feel as if I can do it. A lot of people have that question, can he catch. It just wasn't a part of our scheme at Ohio State. It wasn't a knock on our running backs. If you date back in history, I don't think a running back at Ohio State has caught over 13 balls in four or five years.
Q: If there was signature moment in your career, was it the long run vs. Michigan in 2007?
A: Definitely wasn't. My signature moment would be coming out of the tunnel (at OSU) for the first time. It was a great experience. I had all the butterflies in the world. It was incredible seeing that sea of red running out of that tunnel.
---
---