Clemson running back C.J. Spiller was one of the top performers at his position during his college career. Get to know more about him by reading his comments to the media at the 2010 NFL Scouting Combine.
Q: Did you ever dream of playing in NFL?
A: As a little kid, it's something that you always dreamed about, playing in the NFL. You just to do whatever it takes to get to that level. Now that I'm here, I haven't stopped working, haven't gotten complacent, [I] continue to work hard because I have not yet arrived at the potential I want to be at.
Q: What do you say to people who question whether you have the size and weight to be a top performer?
A: Everyone can voice their own opinion. The only thing I can do is just go out there and perform. I can't worry about that. I know I play the game with a lot of passion, and I'm going to go out there and compete at the highest level, no matter my size or my height. I know what I can do as a football player.
Q: Are you comfortable running inside?
A: That's pretty much what we did at Clemson. We ran inside, did a lot of zone blocking inside, did a lot of power downhill running. I think by me doing that, hopefully I showed people I can also be an inside runner as well as a good outside runner.
Q: How much of a thrill was it to get a standing ovation from the Board of Trustees at Clemson when you graduated in December?
A: I wasn't expecting that at all. That's why people say you never know who's watching. You have to always know how to carry yourself both on and off the field. To get that, something I'd never been a part of, was a humbling experience and an exciting time. Hopefully, my younger teammates were able to see that so they can see what it takes to grab those guys' attention, because those are the guys who really run the university.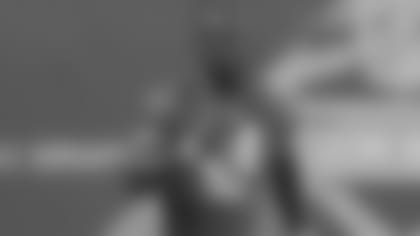 Q: How did you graduate in 3 ½ years?**
A: Hard work, doing a lot of late-night studies, just going to the classroom and doing everything the teacher asks me to do. I took a whole lot of classes my freshman year and didn't hardly go home that much. It just took a lot of hard work and it paid off for me in the end.
Q: Was graduating the reason you returned to school for another season?
A: I wanted to be an example to younger guys and to my younger sister as well. You've got to look at everything. Education can take you a long way, so I wanted to be an example to younger kids.
Q: Why do you think you've been so good as both a kickoff and punt returner?
A: I've just been blessed by the Man upstairs. You've got to be a man to get back there on those punt returns. You've got to have faith in your teammates and you've got to have faith that they're going to hold up. And kickoff returns is all about reading the blocks and then just exploding through the hole. Hopefully, you can give your offense good field position and hopefully it'll turn into a big play. I take a whole lot of pride in playing on those special teams, especially kickoff return and punt return.
Q: A lot of guys don't want to return kicks in the NFL after their first year or so. Is that something you want to do your entire career?
A: That's something I love to do. Special teams can win or lose a game for you. That's something I enjoy doing. I think I'm pretty good at doing it. Hopefully, I can help an organization by doing it so teams can't just key on me as being a slot guy or just running the ball from the backfield, and I can go in and help that team out in any way.
Q: Can you be an every down back in the NFL and do you want to be?
A: I think I can. I went back and I proved that I can carry the ball 20 to 22 times a game and still last. I think I get stronger as the game goes on and get a better feel. But that's not my decision to make. That's going to be up to the coaches, what they think and how they use me.
Q: What was the ACC Championship game like?A: It was fun. That's why you play the game, to play in championship games. To get there and (have) the experience we did, it was just awesome. I was just trying to put my team in position to win and I was just having fun. It was a game going back and forth, back and forth.
Q: Do you agree with the comparison of you to Reggie Bush because you're a multi-dimensional player?
A: Everybody's going to compare me to whoever. Like I tell people all the time, every running back is different. I can't go to an organization and try to be Reggie Bush. It's just not going to happen. The only thing I can do is just try to go be C.J. Spiller. It's great to be in that company. Reggie Bush has done a phenomenal job while he's been in the NFL. Even to be mentioned in that company is a humbling experience for me.
Q: With so much passing in today's NFL, how much of a plus is it that you're a 100-catch back?
A: I take great pride in catching. That's something I grew up enjoying doing. Baseball kind of got my catching really good. That helps a running back. The more a running back can add to his game, I think the more dangerous he can become to defenses. It's just another opportunity of helping the offense.