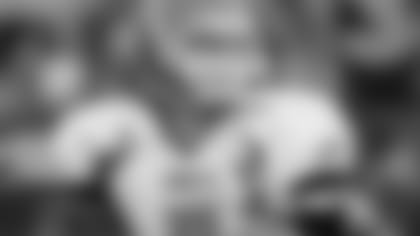 Sam Houston State quarterback Rhett Bomar has a long and winding collegiate career leading up to the Draft. Read what he had to say to the media at the NFL Combine.**
Q: How would you set yourself apart from other quarterbacks?
A: I'd say that I have the ability to play. I have the arm and the athleticism and those kinds of things. I feel that I've overcome a lot in my situation, and stuff that I've overcome to get back to this point, and I'm proud of that. I'm the type of leader that one of these teams could take a chance on and be successful in the league, and you have to think that. I'm looking forward to the opportunity and it's just really a dream come true right now.
Q: Do you think it has helped you playing so many more games than some of the other guys?
A: I think the experience does help. Some of these guys haven't played a lot. I guess it's really who you talk to. They're going to have differing opinions on that. But I think the more you play, the more you know what to expect and the more things you've experienced. I think it'll just help you in the long run.
Q: Do you think people will hold the Oklahoma situation against you?
A: I get questions about it, definitely. I don't think it's as big a deal as some people make it out to be to NFL teams. When I meet with them, they're going to ask me about it. They just want to hear it from me and I'm upfront and honest with them. We will discuss it and then we get to move on to more important things, which is football. I don't think that's going to affect anything with my future with the NFL.
Q: Do you think playing at Sam Houston set you back?
A: I don't think it set me back. It was an experience that I had to overcome. I think time is time wherever you are playing. I had to step down and it was an unfortunate situation. I felt that my time never went away. It's not like I changed; it's just that I changed the situation I was in. I went in there and I played well enough to show my ability and now I'm getting opportunities.
Q: Did that situation mature you, and are you a different person now because of it?
A: I think there's no question about that. That's how I try to look at it now. It was unfortunate and of course I wish it hadn't happened, and things might have been different. But the way I look at it, it matured me a lot. I was young back then and I made a mistake, and that was that. I've grown up a lot since then. I've dealt with a lot of adversity and I've overcome a lot. I think when you go to the NFL, you're going to deal with a lot of things. Nothing's going to go perfect. For a lot of these guys, everything has gone their way perfectly their whole career and their whole life. A lot of stuff in life people don't deal with in college, and I think that's just going to help me in the long run.
Q: When Sam Bradford won the Heisman Trophy did you think 'that could have been me'?
A: I don't know if you think like that. You think, I could have been in that situation because those are my guys that I grew up with. I grew up with those guys as freshmen and they're all seniors now. I was happy for him. He's a great player and a good guy, and this is a good thing for him.
Q: How did the Senior Bowl go?
A: I think the Senior Bowl went well. I felt that I had a good week of practice, and it was a great experience. It was an honor to play there. That was my goal from my first year – to get invited to the Senior Bowl. I had a blast just being with NFL coaches and other players and some guys that I played with at OU, so it was a great experience and I had fun.
Q: How was the interaction with the NFL coaches?
A: They shared a lot. I took a lot from that week and used it in the next month to get ready for this experience right here. That's the best of the best right there. They were great the whole week. It wasn't an intense thing. We learned a lot from them, offense-wise and things like that, and I had fun with it.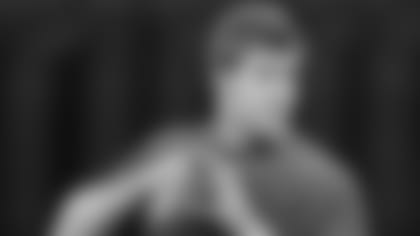 Q: What did you learn most at Sam Houston? **
A: I learned just to appreciate the game, really. It's tough, of course, coming from the situation I was in, starting at a big-12 school and then you go down. I went in there without an ego. I couldn't, because you want those guys to accept you. I worked hard for the year that I couldn't play. When I got to play, I had fun with it. There are some great people down there. I owe them a lot. Those coaches gave me a shot and they helped me out these last two years, and I'll always have great memories of that place.
Q: What do you want to show of yourself here at the Combine?
A: I just want to go out there and try to show my athleticism, and try to do well in all of the drills. I'm going to do everything, so just go out there and throw the ball well – compete. They want to see you compete. If something doesn't go well, or you throw one bad ball, they want to see you come back from that the next time. I just want to go out there and do well on all the drills. I always pride myself on being an athlete and that's key in today's game. Guys are running around and you have to make some plays, as you saw in the Super Bowl. That's what I'm going to try to show these coaches.
Q: Have you made any changes in your delivery or mechanics?
A: Not really. It's a tough time to do that right now. You don't really want to change anything. Even the coaches at the Senior Bowl didn't really try to change anything up with us. It's such a critical time right now. You don't want to mess up your throwing motion or anything like that. So we just kind of worked on position drills and getting bigger, stronger and faster, and just getting ready for these drills that we're going to do at the Combine, really.
Q: How much have you been under center?
A: I was under in high school about 40-50 percent of the time. When I was at Oklahoma we did a little bit of both. When I was at Sam Houston we were about 90 percent shotgun like most of the other spread offenses out there. We were similar to that. We did a lot at the Senior Bowl and I feel comfortable. It's just something you have to get used to again. It's not that big a deal. It's not as big a deal as people try to make it out to be.