For two consecutive seasons 49ers outside linebacker Jay Moore has been placed on the injured reserve with season ending injuries after the final game of the preseason against the San Diego Chargers. But after battling back from the ankle and bicep injuries that claimed his first two seasons in the NFL, the 49ers fourth-round pick of the 2007 Draft has been working hard for this upcoming season. 49ers.com caught up with the quarterback sacking golf aficionado after the recent organized team activities for an exclusive Q&A.
Q: First off, how's your arm feeling?
A: I feel great health-wise. Injuring my bicep was a setback, but it was a small setback. I feel good right now and I'm excited to be back practicing with my teammates.
Q: How frustrating was the injury for you, especially because it happened against the same team in the last preseason game?
A: I think my rookie year was more frustrating. Last year was just a deflating feeling. The hard thing about my rookie year was I thought I could come back from the ankle injury, but I ended up being more hurt than I really thought it was initially. When I injured my bicep this past season, my mind was made up right then and there that I would come back for the team as soon as possible. The first couple of days it was depressing, but I was able to put it behind me. If I keep worrying about it won't do me any good and I won't get better.
Q: How did the bicep injury happen?
A: It was on kickoff team in the first quarter against the Chargers. I made a tackle and I felt the muscle pop on me. I looked at my arm and could immediately tell something was wrong. I told Ferg [head athletic trainer Jeff Ferguson] right away that I thought I tore my bicep and he said, "Yeah, you did." I put ice on it and I was out for the game and the rest of the season.
Q: Was it hard for you to watch the games, because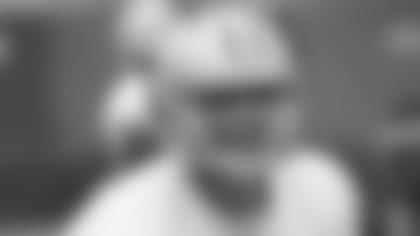 you weren't able to participate?
A: I'd go to the home games and on the road I'd watch on TV. My wife and I would sit in the stands and watch the games. It hurt not being down there, but I'm just glad the organization has stayed patient with me and I'm still around here and able to do what I love to do.
Q: Although you were injured, you were always at the team facility working out and rehabbing, did you become more comfortable in the defensive scheme by sticking around the facility last year?
A: Oh yeah. This year I feel a lot more comfortable in the system because I was still involved in our meetings and everything last year. For me, last season was all about learning. It was all beneficial for me and I felt a lot more comfortable during our OTAs and in our minicamps.
Q: During your college career at Nebraska you played defensive end and then converted to outside linebacker with the 49ers, now that you've had two seasons as an outside 'backer under your belt, do you feel like the transformation is complete?
A: I feel like an outside linebacker now. I know I could still play end, but I feel really comfortable playing the outside position.
Q: What are your expectations for this upcoming season?
A: We know that we're working on something special here. We're putting in the time and putting the hard work in, as long as we keep doing that I know we'll get positive results and that's all you can ask for.
Q: It's no secret golf is a major passion of yours, how's your golf game? Have you been able to work on it this offseason?
A: It's going good, I just played at Pebble [Beach] last week for the first time. I did alright, but I want to do better so I'm going to play there again. I'm trying to get better; my index is just above a four and my goal is to become a scratch golfer or below. I still have a long ways to go, but I enjoy getting out there. It's fun to play golf in between all of our minicamps and OTAs. But I haven't missed a workout at the team facility and I'm going to be here training all the way through until training camp starts. Once training camp starts, my golfing is done and it's time to go. That's the plan for the next couple of months.