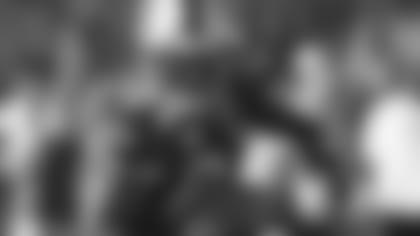 Running back, wildcat quarterback, special teams standout and TV49 host Michael Robinson is certainly a jack of all trades. We recently caught up with the 49ers do-it-all running back in this exclusive Q&A with 49ers.com.**
Q: It seems like you and Joe Staley are really competitive over who has the best show on TV49, why is the Robinson Report, the best player show on 49ers.com?
A: Mine is just better. I have better people on and I have better content. I've had BY (Bryant Young) on my show before. I've had Isaac Bruce on my show before. I've had coach Nolan on my show before and soon I'll have coach Singletary. I just have the better show.
Q: Being the experienced media personality that you are, have you covered any women's softball games for ESPNU recently like you did last year? Or do you have any other media opportunities coming up that fans should look out for?
A: On April 5th, I covered the University of Texas spring game and April 20th I did some draft coverage for ESPNU.
Q: Did you do anything fun or out of the ordinary during the offseason?
A: I pretty much focused on my family. I tried to spend more time with my 1-year old daughter Mikayla and my girlfriend and her son. I just focused on doing the family thing.
Q: Can you tell the fans how much you eat, drink and sleep football?
A: Ah man, it's really all I think about. Outside of my religion and outside of my family – I'm always thinking about football. I'm always thinking about ways to improve. I'm always thinking of ways to get better. I'm always thinking about ways I can help the team. I'm also a student of the game. I'm always watching old football games and old interviews of great players and what made them great. I'm always reading books. I just finished (former Indianapolis Colts coach) Tony Dungy's book. I'm pretty much a student of the game. I love it. I live it.
Q: What's it been like working with coach Rathman as your running backs coach, being that he is one of the most popular fullbacks in team history?
A: He preaches toughness. He was a pretty hard-nosed tough guy when he played and we just want to continue that rich tradition of being tough 49ers running backs.
Q: What are your goals coming into this upcoming season?
A: Team-wise, obviously make it the playoffs and make it to the Super Bowl. Individually, help this team however I can. I'm not a big stat guy. The things I do for a team really don't show up in the stats, so I just want to help the team win. Point blank.
Q: One of the things you really do to help the 49ers is being the captain of the special teams and contributing heavily, is there any chance you dethrone Jeff Ulbrich as the Top Gun (top special teams performer)?
A: (Laughs) Well, he got it last year, but I was the reigning three-time in a row Top Gun performer. So he still has to dethrone me. But I'm very excited about our special teams units and I'm excited that we have Allen Rossum back. He definitely adds a different element to our team game. People have to be concerned about kicking to him and that creates great field position. Just having him back there will definitely help the team out.
Q: You've been in the NFL since '06, so what's that like going from a rookie learning the ropes to being an experienced pro, who knows how to take care of his body and do all the little things to master your craft?
A: It's all about being a professional. You kind of look at the older guys like Isaac Bruce, Arnaz Battle and BY when he was here and you learn from those guys and watch what they do. You develop your own little routine according to your body and that's what I've done. I never really felt like a rookie and that's the great thing about the people who the 49ers draft or bring in through free agency. They bring in good people.