Patrick Willis, a first-round pick in 2007, enjoyed a tremendous rookie campaign with Defensive Rookie of the Year and Pro Bowl honors. Before wrapping up OTA's last week, the 49ers linebacker sat down with 49ers.com for an exclusive Q&A. Check it out.**
Q: Let's start off with the Pro Bowl, which was a nice end to your rookie season. It didn't seem like that was necessarily something you listed out as a goal, but what was it like for you to have that experience?
A: Yeah, making it to the Pro Bowl wasn't necessarily a dream because it was never really a big thing in my mind. I'm the type of person who thinks if you just go out and play football to the very best of your abilities, then the accolades will take care of themselves. So, I didn't say "I'm going to go out and play hard this year so I can get Player of the Week or Defensive Rookie of the Year" or anything like that. I just wanted to go out and give my team everything I had and be a good player. That's what I focused on. It was an accolade that just came with a good season. I was blessed and I'm grateful for the people who voted for me but it wasn't a big thing in my mind. Still, I think once you get over there that you really appreciate being there because it's a lot of fun and you get to hang out with some of the best players in the NFL, and guys you grew up watching. To get over there and see that they are human just like you are, that was fun.
Q: One of the players you spent time with was Baltimore linebacker Ray Lewis. What advice did he have for you?A: Ray just talked to me and gave me some words of wisdom. Just about being smart and enjoying the game and things that it will take to get the name you want for yourself. He told me to be who I can be and that made me feel good because with all due respect to the guys who played before me and the guys who will play after me, I have always just wanted to be the best that Patrick Willis can be. I don't want to say "I want to be just like Mike Singletary or just like Ray Lewis" because I don't want to measure my career by theirs. I've been that way since I was younger. I like to make my own way, and Ray told me that was the best approach and to just continue to be me.
Q: Having this entire off-season to train and focus on this defense, how much better can Patrick Willis be in 2008?
A: A lot better. I believe that I'm working on a higher game than I played at last year. Last year was more just instincts. This year, I'm out there being the guy who says, "hey this is coming," and I am able to see something before it happens. Last year it was just reaction and going off of my instincts. I have my laptop at home and I watch games from last year and I find so many things I could have done so much better. I see some stuff where I think I looked horrible out there, and so there is a lot of room for improvement. Also, I feel good. It's always different when you are playing games, but my body feels good and I'm ready.
Q: With Derek Smith being gone, has it been a little different for you because Coach indicated that you will have more responsibility in the huddle now?
A: Yes, last year Derek broke the huddle because I wasn't ready to take that role. It was supposed to be on me, but because it was a little much for me, my coaches just wanted me to play and not worry about that. This year it's on me and I'm making all of the calls. It feels good to be able to do that because you know you've already bettered yourself from the year before. I understand things around me so much more now to where I'm able to take on that role.
Q: It sounds like you expect to be more comfortable out there, but do you also sense that teams will game plan in order to neutralize you more this year?
A: Even last year, it got to a point where I felt like they were trying to stop me from doing this or that and sometimes they got me, and sometimes they didn't. I don't worry about teams trying to stop me because I've got 10 other guys. If that team is worried about me, I've got 10 guys who will go make the play. Don't get me wrong because I'd love to have 20 or 30 tackles a game, but if I only had two and we stopped the run, stopped the pass and shut down their offense, then I'm happy. The biggest thing is winning. They can put two or three guys on me, but as long as we stop their offense from scoring and we win the game, I'll do it 17 weeks. But still, I do know my job is going to be harder. I know I have to be faster. I know I have to read faster, which is why I work on training my eyes every day. But I trust the guys around me to help me and we'll get it done. They can't stop all of us.
Q: Some new additions to that defense you just mention include Justin Smith and Kentwan Balmer. What do you think of what they bring to the table?
A: Justin and I have the same agency and when we got him, they told me he was a very tough guy and was very physical. They talked really highly of him, but when I saw him out at practice and saw his whole aura and how he wants to kill the offense, I liked that. That's when I really knew what we had gotten in him.
Balmer, I see him as I was last year. He's just coming in and trying to learn day by day. He's not talking about how he should start because he's a first-round pick. He has high expectations for himself, but he is just talking about how he knows he has to work, listen and learn from the guys around him. I think that's a great approach, and he'll help us.
Q: Ultimately, they are also guys who can help make your job easier. How nice is that?A: Having guys like Balmer, Aubrayo Franklin, Justin, our whole defensive line, I wouldn't trade them for the biggest guys in the NFL. I wouldn't trade them for the Ravens defensive line, the New England defensive line, no one's. I have the highest confidence in them because they really bust their tails. Coach Tomsula coaches them like no other. He has them right and I have all the faith that they are going to do their job. I love our defense because from the guys in front of me, to the guys behind me and the ones next to me, I trust them.
Q: One guy you will be getting back out there next to you is linebacker Manny Lawson. I know you invited him to go to the Pro Bowl with you and you guys are close, so how excited are you to have him in the lineup this year?A: Aw man, I can't wait. Manny said to me that he thinks he's the only one really and truly looking forward to training camp. I'm looking forward to it too, but because I know as soon as it gets over, it's the season, but Manny said he's looking forward to it so he can just go.
When I got drafted, Manny was the first person I talked to and he told me that they were going to treat me well and get me ready and that meant a lot to me to hear that. Then, I got here and saw how skinny he was for a linebacker and remember being impressed about how physical he is, and how he could also cover like a DB. I was like "wow, I like that cat." I think we are both guys who are versatile and can do more than just one thing. I don't think you can categorize us as only being able to do this or that, and I knew that together we could cover some ground and that nobody could ever get away from us. It was tough when he went down, and so I'm very excited to get him back because he's a multi-positional player and he'll help us out. I'm also excited on a personal side because I know how much it means to him.  
Q: The defense looked like it had its hands full this off-season working against Mike Martz' offense. Do you anticipate this offense giving other teams some major headaches in '08?A: His offense, to be honest with you, I love it. It gets me because we don't game plan, but we see their formations and you try to anticipate what they'll do, and it's unpredictable. What most teams would do out of that formation, our offense will do that times something else to throw it off, and you are like, "what was that?" It's all part of his system, and they have some things that make me feel excited about this season. They do off the wall stuff sometimes and I wonder how they remember all of it. I hate it because they do it against us and have some success at times, but I also sit there and know that's good for us once the season begins.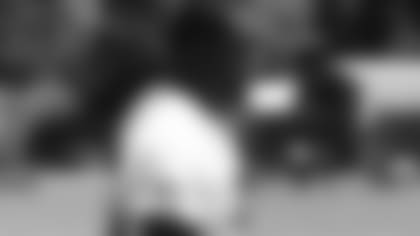 Q: You have spent some time this off-season talking with former 49ers like Keena Turner and Ronnie Lott. What are you learning from them? **A: I just try to understand the responsibility that they had at my age and how they went about dealing with all of this. I know I have to find my own way, but I love to listen and learn and see what I can borrow from them. I have a lot of respect for people who have been there and done that. I can't be them or do the same things they did because it was a different team and a different era, but I can take things from what they tell me and mold an approach around that. I have to say things in my own way and be my own man but it helps to hear about their experiences, and really great to hear their stories.
Q: There's also a very exciting addition to your family on the way. Can you share that with the fans?
A: Yes, my (foster) mom is adding a little brother to the family. She is due at the end of June and hopefully all goes well. All of the checkups have gone well so far. Whether he'll be a baseball player, a basketball player, a golfer, I don't know. But, he'll be something special. I'm going to have him Under Armoured out as a baby. When she told me she was pregnant, I believe I was more excited than I was on draft day. I knew it had to be coming sooner or later, but with them taking me and my siblings in at the time they did, I felt bad. They had just gotten married and instead of having kids of their own, they were raising us. My dad always told me it wasn't because of us and just that it wasn't the right time, but I always still felt inside that they were putting things on hold because of me. So, as a gift and token of my love and appreciation, I bought them a new vehicle and I put a baby seat in the back with some bottles and pacifiers. I can't wait to meet him!
Q: It sounds like things are going well for you at this point in your life...?
A: Overall, I think I'm just excited where the good Lord has me in my life. I'm thankful every morning and I wake up with a smile. I'm tired some mornings, but I splash the water on my face and I get ready to enjoy the day because I realize it's a blessing to be where I am right now.