General Manager Scot McCloughan landed the attention of the media in one of the longer podium sessions of the day. Here's some of the highlights...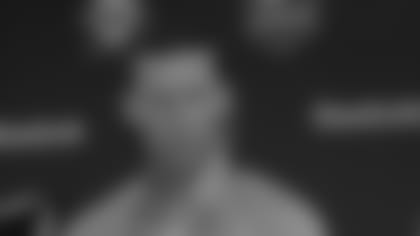 Q: Did the addition of the junior running backs who recently declared increase the depth at that position?**A: It did. I think at any position it helps out because of the quality of the juniors that come out. But this is a good year for the running back position, not just for the juniors but the seniors as well. Anywhere from the first round to the seventh to free agency, if you need a running back this is a good year to get one. But the juniors always help out at any position. There are some talented guys out there.
Q: Will the 49ers be as active in free agency as they were a year ago?
A: We're lucky enough to have some money in free agency and hopefully we can use it in the best manner for us. But we're not going to spend just to spend. We're going to identify who we think is a 49er, like what we did last year with Michael Lewis and Nate Clements and those guys, and go after them. We have names that we've already been through, restricted and unrestricted,
we have our thoughts and we have our limit. We're not going to just go after one guy just to get him, and spend whatever. We have an idea. We have Plan A, Plan B, Plan C. But we'll be involved again. It'd be nice if we could add some good football players.
Q: How many wide receivers do you think will go in the first round?A: Right now I really don't. A lot of it will be determined here, especially with the underclassmen and the measureables, a lot will come from the medical, how healthy they are. As I touched on earlier with the tight ends, a lot of these college offenses are going to three- and four-receiver sets and guys have a lot of production. You look at the kids who are "Y's" and they'll have over 100 catches and 1,000 yards. So you're getting a football player that's more ready to play as a receiver because they've had so much production at the college level. It'll be a good group again.
Q: How do you rate this crop of offensive linemen?A: I think this year at tackle it's one of the better classes I've seen, probably, in 10 years. And it's not so much on the inside on the O-line, but at the tackle position. It's a good group of players. It'll be interesting to see how many of them go in the first and second round, but it will be a handful. There could be as many as six to even eight in the first round. I think it's good. I think it's deep. Matter of fact, I think it's the deepest I've seen in awhile, which is really good because everybody is looking for them. You want to draft a young tackle. That's how you want to set your offensive line up. It's a good class, it really is. They're big, they're strong, they're intelligent and they're good football players.
Q: What do you think about the depth at linebacker and defensive line?
A: From my standpoint, and it's just my personal opinion, I think the linebacker depth is a little bit down, especially on the inside. D-line, again, you have those hybrids – the "tweeners" as we call them – that fit us pretty dang good because they're not big enough to be considered a 3-4 or a 4-3 end but they're athletic enough to be considered as a standup linebacker. They haven't done it; usually they come out as an end. It's not as deep as it has been in the past. Again, people always want to talk about the draft and it's not as good as last year, whatever. But there is going to be a good player in every round that is taken and ends up being a good player in the NFL. You just have to identify what you're looking for in certain rounds and you go get that guy.
Q: Do you see a player you would want number one in this Draft?
A: I really haven't, from the standpoint of looking at the number one player … there are some very talented guys in this draft, and there are guys that are going to be taken up there that are very good football players. The one thing it comes down to, some organizations have the philosophy of "What position do you take? Do you take a guy who is going to touch the ball on every snap, do you take a guy who's going to touch the ball maybe five times, 10 times a game or do you take a running
back who's going to touch it maybe 25 times a game?" So everybody has their own philosophy.
"The one thing you can't lose sight of is, you're looking for a dang good football player. But you're also looking for an individual who can handle the pressure of being a high pick, financially, in front of the media and the fans outside.
Q: A guy like Kevin Smith leads the NCAA in rushing but comes from a small college, is he tough to figure out?
A: No. Absolutely not. A lot of people say it's tougher to figure guys out – it's really not. If a guy produces, a guy produces. And there is a lot of good football out there and he's a good football player. And I think there is a reason why he ran for so many years. You pay attention to the level of play, especially in Div. II or Div. III. But there are always good football players that come out of there.