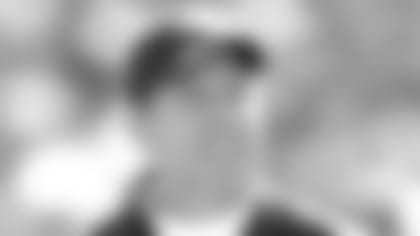 Chris Foerster joined the San Francisco 49ers this off-season after coaching the offensive line in Baltimore. Foerster enters his 16th NFL season with the 49ers and will be coaching the offensive line with George Warhop.** Learn more about Foerster and his coaching approach in this Q&A!
Q: What has the transition been like coming from Baltimore out to California to coach with the 49ers? Mike Martz runs a different offense than what you did in Baltimore, so has it been a bit of a crash course or were you familiar with this offense from another one of your stops?A: The transition has been good. Since I actually lived out here 20 years ago, it's nice coming back to the Bay Area. The 49ers and Baltimore are actually very similar organizations. I think with Coach Nolan coming from Baltimore and given what he's tried to establish here in San Francisco, it makes it any easy transition because both organizations do things similarly and they do them well. As far as the offense goes, when I was in Miami, Norv Turner had just left the Dolphins and they kept his terminology, and so with Martz taking over here, the systems are very similar so it's been nice that it's not a huge transition in what I need to learn.
Q: You played center in college at Colorado State, but what made you decide to then get into the world of coaching?
A: My high school football coach, Ollie Mayfield, was the most influential person in my life. I was just a normal kid playing all sports and he came in my junior year of high school at Sabino High School in Tucson, Arizona and he was just very positive, very demanding, very tough, but very, very positive and he always talked about doing everything right. He very much believed that football is a small picture of what life is like in general. If you do things right in football, it should carry out into the rest of you life. If you learn the disciplines of football, you can learn the disciplines in the classroom and your personal life. For some reason it clicked with me and when I went off to Colorado and did my thing playing and it came to the end, I decided I wanted to do what he did and be a high school teacher and coach. I graduated and was ready to go to my student teaching and the guys I played for at Colorado told me if I could get into grad school that I could be a grad school coach there. So I got into grad school and I was a grad assistant for one year and they had a position open after that and they hired me. From there it was just a matter of networking. I ended up at Stanford, worked for Dennis Green, followed him to Minnesota where I met Tony Dungy and it went on from there.
Q: You also have been an offensive coordinator and a tight ends coach at the NFL level. How does it help to have that versatility in your coaching background?
A: It's made me more flexible as a line coach. I've lived thru the problems of the passing game and what the tight ends, quarterbacks and receivers go through after coordinating and so it's helped me see show how the whole thing fits together. As an offensive line coach, you get locked into your five guys and your world and how tough a job it is because it's a rough place to play. Guys won't like this comment but arguably you have the worst athletes on the field. They are the biggest and the strongest probably, but they have the least amount of athletic ability and they have to do things against people who are much faster and more athletic. So, there are disadvantages for offensive linemen and as coaches you are so locked into taking care of your guys and making sure you help offset any disadvantages they have physically that you can sometimes not see the big picture. There has to be give and take and so I think in coordinating and working with the tight ends, it really opened my eyes to that.
Q: You and George Warhop will share offensive line coaching duties. Have you guys worked out a system for that?
A: I think the first thing is learning the terminology that George uses so that I say things the way that he says them. It's a bit of a learning curve in that regard but these guys know his lingo and that's something I am going to have to get on board with. The way Coach Martz has set it out for us as far as installation goes is there is a lead coach in the running game and a lead coach in the passing game. George will be the lead guy in the run game and I'll be in charge of leading the protection. That has to be my area of expertise every Tuesday when we are putting in the game plan, so I'll need to know what the problems are in protections, which are good and what adjustments we might need to make. George will be a huge part of that as well, as I will in the running game. We'll really do it all together but the preliminary work leading up to it, Martz will turn to me on protections and turn to George on the run game. As far as coaching, we've all had two guys out there working before so we'll just be communicative in terms of where we've got our eyes. Finally on game day, I think I'll be in the press box and George will be down on the field
Q: What is your coaching style? Are you a yeller, or more cerebral in your approach in dealing with the players?
Well, I'd like to think I'm evolving and maturing. I really think I have high expectations for players and when you have a high level of expectations, the importance of one play starts to build on a coach as the year goes on. So, I'd say I express my feelings freely when that frustration level reaches a certain point, but over time, that frustration level has gone down because I've learned through experience that certain things are going to happen. When you have a younger player in the game, you realize before the game you might have a mismatch so I'm not going to get mad at this guy because we know he's not going to win every battle. It's really our job as coaches to try to help him out to minimize that mismatch. Before I had the attitude and expectation that we were going to block everybody every play or I was going to lose it. I can't do that anymore. I wouldn't make it another 20 years coaching if I lost it that often, but when I do hit my boiling point, I'm not afraid to express myself. So I think ten years ago I was much more volatile in all areas. I think now I pick my battles.
Q: What is the one thing you hope to impart to your players?A: I really want to be the best teacher I can be. At the end of the day I want to help my guys be the best players they can be. It's not about me, it's about them becoming the best player they can be so they can help the 49ers win. Everything I tell them is to help them become a great player because that works for everybody.
Q: As of now the 49ers have to plan without Larry Allen who is no longer under contract and not expected to make a firm decision regarding retirement until this summer, so what is the plan for that guard position? Will Adam Snyder work there primarily or will you also be working him at tackle?
A: Snyder goes in there at left guard now for us. Jonas Jennings will be on the right side, Joe Staley at left, David Baas at right guard and Eric Heitmann at center. We've got Tony Wragge who has played guard and center and then we just signed Jeb Terry, so we are still a little thin at guard, but we expect Snyder and Baas to get the job done. It's a good group. They are a young group, and they are still developing, but they love to play football. They have a great attitude and they are good guys. George has done a nice job getting them to this point and we'll continue to work with them until they develop as really solid starters in the league. They've got some experience and we'll look for them to develop further.
Q: What kinds of things do you plan to work on with your group during the upcoming OTA period? What can they gain this off-season?A: The key thing before mini camp is to get the installation done for the offense. We'll go through that installation twice before mini camp and then we'll install it again during mini camp. We've got to get them familiar with this terminology and this offense. While it's the same system, there are some subtle changes that weren't here the last two years so they have to be confident in it. When you know what you are doing, you have a chance to perform physically. If you don't know what you are supposed to be doing, it's hard to ask them to know physically what we expect out of them.
In addition, we'll also address every single player's individual needs. Instead of getting ready for an opponent, we'll just work overall on the general fundamentals. Each player was given an index card of what they need to get better at, so when we go out on the field to work, each guy knows what they need to work on. That's something you don't really have time for in the season, but right now we can really individualize and work on what each guys needs help with fundamentally.
Q: Scot McCloughan has said that the depth at offensive line in this year's draft is loaded. Do you agree with that assessment? How much time have you spent lately on watching some of these college players?
Since I've been here, we spend every morning working on our offense and every afternoon watching college guys. They gave us an extensive list and George Warhop and I have split that up, and it's a very good draft. It's a deep draft, and probably deeper at tackle than any year before. There are a lot of guys who can play, so you are going to get some quality players beyond the first round. It's a good year for them.