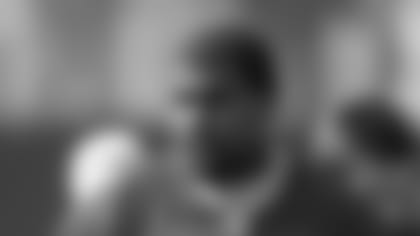 Learn more about the 49ers second-round draft pick in this 49ers.com exclusive Q&A with guard Chilo Rachal.**
Q: Is it true they had a parade for you in Compton after you were drafted?
A: It was just a little something, something, a festivity for me that Sunday. It was pretty cool. I'd say half the city of Compton came to congratulate me on a huge accomplishment and so it went pretty well.
Q: What was it like coming in for camp and at what point did it really hit you that you are in the NFL now?
A: I'd say after the second practice during PAT when I was watching the guys run by me. It hit me then that wow, I'm really a San Francisco 49ers. It's just a little overwhelming. You are coming into somewhere you aren't familiar with. None of the players say anything to you, you don't really say anything to anyone. You are in the locker room and you feel like you are by yourself and the rookies don't really know each other, but as the days go by you start to feel comfortable and start talking with the guys more.
Q: What was your reaction to seeing your locker for the first time?
A: It was just like wow. Wow. And then it was just a great feeling that my hard work is paying off. It was a little overwhelming, but at the same time it was a sense that I'm making progress in my life, and that it is just going to get better if I keep doing what I'm doing.
Q: I read that you were recruited by San Jose State, so did you visit here during that time and what's it like to now wind up in this area?
A: I never visited. They came to my high school, but I didn't make a visit. I just came up when we played Cal and Stanford, so I do know my way around a little bit and I've seen this area before at least. But it's great to be on the west coast. Hopefully I get to play my whole career on the west coast. I went to high school, college and now I'm here in the pros so it would be nice to be here my entire NFL career.
Q: You talked about actually wishing that you could have finished out your final season at USC in order to get your degree, and that your mom's poor health and lack of insurance altered your plans. That's caused some people to say that maybe you weren't ready for this level, but how do you feel?A: I definitely feel that I am ready to play at this level. That wasn't why I wanted to stay in school. It was more about school, but when my mom got sick, I knew what I had to do. But just getting in the mix with the guys here at camp tells me that physically I'm here. Mentally, there is always room to mature but that comes along with life.
Q: You seem like you've had to mature quicker than most in your young life and dealing with the loss of two of your brothers to street violence. What kept you focused and made you always do the right thing?
A: I think just learning from my brothers' mistakes and seeing how much of a factor I am to my family. I basically just threw my family on my back and carried them by making smart decisions so that I could make a better way for them and get them out of the situation they are in.
Q: I know taking care of your mom was a huge part of your decision, but you also said you didn't want your dad, age 64, to keep working either?A: Yeah, my dad gets up at 5AM every morning without an alarm and goes to work in construction. I just told him "Pops, you don't have to work anymore. You got me to this point, I'll get you to the next point." He just smiled. Both of my parents smiled and I know they are proud of their son. I think it's a little overwhelming for them though. I don't know if he'll be able to just cut the switch off and stop working, but eventually I hope he will stop.
Q: What did it mean to you that your mom waited until the end of the season to tell you she was sick? (Chilo's mother has a tumor in her stomach that is currently being treated with injections)A: Just that she's a mother who really knows her son. If she had told me during the season, it would have been very difficult for me. Not saying I wouldn't have gone out and done what I had to do in terms of my job, but her letting me keep my focus is just her being a good mom.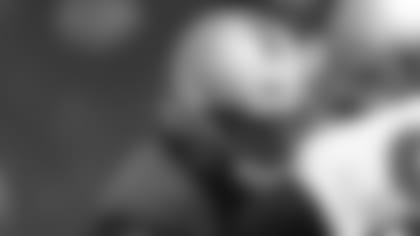 Q: You faced an elite defender day in and day out in Sedrick Ellis, who was a top 10 pick this year. How did that help prepare you for this level? **A: Aw man, if I didn't bring it, he was going to bring it and embarrass you. At SC, Coach pretty much records every practice and when you lose, the whole team is watching you lose. It's either eat or get ate. So going against Sed, it made my Saturdays easy for me because I never really saw too many guys as good as Sed.
Q: You were impressive in your own right, recording 77 knockdowns last season. How did you feel after those?A: Like a million bucks. It's the best feeling there is. I just like to go out there and be a mauler, a glass eater. If I see someone in my way, they are going to get it. I want to be a punisher.
Q: That's a lot like Larry Allen, who you've said you idolized growing up?
A: Oh yeah. I can just remember watching him play with Dallas and then him coming here. He's just a mauler, a glass eater. If you are in his way and he gets his hands on you, it's pretty much good night.
Q: You just had your first mini camp. What did you hope to accomplish?
A: I just wanted to come in and compete and show the coaches that they made a good decision drafting me. I just want to help my team in any way I can, anywhere they need me, even if it's grabbing a bag or carrying helmets. I just want to stay within my role and play my part and not step outside my part.
Q: What were your first impressions of Mike Martz and this offense?
A: He's a guru. He knows his stuff. It's just a matter of repetition, studying and hitting my book. I'm trying to contribute right away and so the faster I learn it, the sooner I can play more comfortable and I'm not out there thinking too much.
Q: You seemed to have surprised people out there with your ability to get down the field and pop a block or make a tackle after a turnover?
A: Yes, they underestimate the feet but the feet are ferocious. They can get going. I think I'm athletic, I can move, and I can get to the second level.
Q: Last question for you. Aside from football, what are your other hobbies?
A: Watching movies. I like to get off my feet when I'm not at practice and so I probably have about 400 DVDs that I know of in my apartment. Some of them aren't even open because I'm just always buying new ones. Whatever I'm feeling that day, I just watch it.