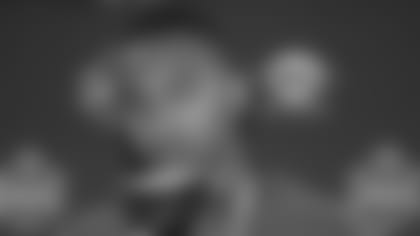 Check out this Combine Q&A with Cal wide receiver DeSean Jackson, a junior who recently declared for the NFL Draft. **
Q: How tough was the decision to leave Cal early?
A: Yeah it was a big decision for me to come out early. I had a lot to think about through the process. My family was very supportive, Coach Tedford was very supportive of my decision and I just felt I had three successful years and I was ready to bring my game to the next level and compete with the best.
Q: Why did you decide to leave early?
A: Just taking the risk of coming back, getting hurt. Like I said I had a successful three years and I felt comfortable coming out. My decision was a tough one and like I said, Coach Tedford, wanted me to come back and supported me a lot. It was just one of those situations I felt comfortable and ready to put my game on the level of all the best.
Q: What kind of impact was it on you coming from Long Beach Poly with so many great athletes?
A: Definitely coming from Long Beach Poly, it's a great group of guys coming from there. A lot of people are very supportive, and come back to Poly to give a lot of support. When I was a freshman Herschel Dennis, Marcedes Lewis, Manny Wright, Winston Justice, all them dudes were like all stars, superstars. That was a great class for me to look up to and it gave me a lot of great motivation to get to where I am today.
Q: Do you plan to workout here at the Combine?
A: Yeah, I'm definitely going to workout.
Q: What do you hope to run in the 40?
A: I'm trying to impress a lot of people, open up a lot of eyes. I don't know exactly what I'm going run yet, but I do know I'm going to run a good time. Everybody will notice on Sunday. I want to keep it to myself because I don't want to put something out there and then not reach what I want to get. But I'm definitely going to open up some eyes with my testing time.
Q: Do your return skills help your stock?
A: I consider myself a receiver first. That's just an addition I can bring to a football team, the ability to return kicks and punt returns and just bring an electrifying air to the game.
Q: You had a touchdown on your first catch and punt return in college - did you think college would be easy after that?
A: It was definitely tough coming out of high school and starting as a true freshman. Being able to catch a touchdown pass on my first thrown ball and then the first time they kicked to me I was able to take it to the end zone, I'm very blessed. I have a lot of skills and I've definitely worked hard at a lot of things that I do. But, it was definitely a great opportunity for me to do that.
Q: Is your weight an issue?
A: If there's something I have to work on, that's something I feel I could improve on and get stronger and put a little bulk to me. But heart, dedication and my will to be great is something I have. My size is not going to hurt me. You can put on my film and actually see I play bigger than what I really am.
Q: You said your mentor has been Jerry Rice. What have you gained from him?
A: Jerry's a great dude. I'm just very fortunate for me to be able to work with him. Like I say, he came on and he was just very supportive of me. Like I said, great mentor. He has all the right things to say. Basically, off the field stuff was the biggest thing that he tried to preach to me -how you treat people when you go meet people and things like that because you'll always be able to build relationships and people will remember you.
Q: Did he tell you about the hill he ran?
A: Yeah, he did tell me about the hill. He said it takes about 15 minutes. He said he tried to get a lot of people out there to run that hill but not too many people make it through. Hopefully one day I'll get a chance to go work out on that hill.
Q: How would you feel about playing for one of the bay area teams?
A: The raiders, 49ers and coming from the hometown of Oakland would be a great support to be out there. I'm friends with a lot of dudes in the NFL just being out there and there some relationships that I could take to the next level.