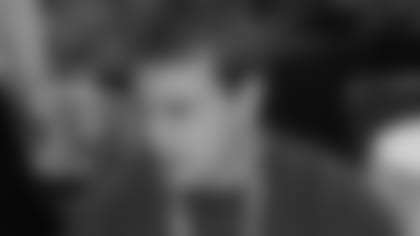 California tight end Craig Stevens addressed the media during his podium session at the NFL Combine. Here are some of the highlights from his interview… **
Q: What was it like to like to play with Marshawn Lynch and Justin Forsett?
A: Those guys are great guys to block for.
Q: How are they different?
A: Marshawn has that great speed side to side and he can find a hole. Forsett I think just gets up the field so fast and he's a really good player. He gets behind you and finds a hole, even if it's really small. He finds that hole.
Q: Have you gotten to know Fred Davis here?
A: He seems like a really nice guy. I haven't really talked to him, but he's well spoken and nice guy.
Q: What areas of your game do you feel you need to work on to make it at the next level?
A: The little things, just getting in and out of my breaks in routes. Getting my second step in the ground and blocking. There are a few little things.
Q: Do you consider yourself a stronger blocker or receiver at this point in your career?
A: I'm probably a stronger blocker. In our offense, Coach Tedford usually used me as a blocking tight end, but I really did pretty much everything.
Q: Do you have to overcome that reputation or is that a positive?
A: I think it's a positive. Sometimes a feel there are tight ends out there who don't take pride in blocking. Everyone wants to be that receiver, but blocking is just as important part of the game as receiving.
Q: What was Marshawn Lynch like as teammate?
A: He made it easy. He was really good. He brought so much energy and excitement and really got everyone going. It was fun playing with him.
Q: Did you model yourself after any tight ends when you were growing up?
A: No, no one in particular. I just go out there and try as hard as I can really.
Q: How much did playing in a pro-style offense help you?
A: I think it will definitely help. Every little thing could possibly make the transition easier.
Q: Are you running and doing all the drills?
A: Yeah, I'm running. I'm going to do everything.