On top of the time spent on the practice field and in meeting rooms with the coaches, many of the 49ers spend hours on end at the team facility getting treatment, watching film and doing the extras needed to hone their craft. Only in his second year, defensive end Ray McDonald consistently stands out as one of those guys who has no problem putting in extra work.
McDonald, a third round draft pick in the 2007 National Football League Draft has been at the team facility so often that 49ers team owner John York might soon have to ask him to pay rent.
Whether he's out on the practice field stretching his legs out first thing in the morning after a tough home game against the Eagles, or staying late in the evening to work on hand speed by boxing with assistant strength coach Mark Uyeyama, McDonald has earned a reputation around the building for being a tireless worker. The 6-foot-3, 290-pound starting defensive end typically arrives at team headquarters around 7:30 in the morning and sticks around usually until seven at night, all with the mindset of becoming one of the best defensive players to ever play the game.
But it's not like this is new behavior for McDonald.
Growing up the son of a University of Florida football player, Ray McDonald Sr., the 49ers defender had an excellent role model in place.
His father, who played wide receiver for the Gators from 1982-85 and once graced the cover of Sports Illustrated, has to be happy that his son followed in his footsteps, yet it wasn't an issue he ever forced.
"I think he let me do my own thing," McDonald said. "He let me choose my own path. And he never pushed me to play a certain position on defense or offense."
By the time ninth grade came around, McDonald was convinced to play football by someone other than his father.
"One of my coaches told me I needed to come out and play football and that he had a spot for me to play on the defensive line," McDonald remembered. "He said I could be a good defensive lineman, so I think that's how I started playing. I've been playing that position ever since."
During his high school days, McDonald became a talented pass-rusher, and envisioned himself being the next Jevon Kearse at Florida.
"I used to go to all their games growing up. We always went to Gainesville for track or football games, so I always wanted to go there," he said.
As a freshman for the Gators, McDonald was the only rookie defensive lineman to start on opening day. He also became the first to start all 12 games in a season.
While his career was off to a good start, it only took one play to almost derail his success on the field all together.
"My junior year, it was the third game of the season against Tennessee. In the start of the second quarter, I came off the ball and I twisted my right knee on the play before, but I didn't think anything of it. And on the next play, my ACL just shot."
McDonald looked into surgery to fix his torn ACL, and missed three games before deciding to finish out the season.
"It was horrible," McDonald said of the initial ACL injury. "A lot of my family members in the stands were wondering why I was still out there playing. Everybody could tell I was hurt. They thought I should get the surgery and I ended up doing that, but at a high cost."
McDonald tried to play hurt so he could help the Gators win, but ultimately he made the health of both knees worse by overcompensating for his injured right knee and relying more on his left knee for extra strength.
"I went out there for another five games and I ended up tearing my left one in the last game of the season. So I ended up having two ACL surgeries after my junior year," McDonald said.
As low as those times were, McDonald experienced the ultimate success the following year as a National Champion, following a 41-14 victory over the Ohio State Buckeyes in the 2006 Tostitos
BCS National Championship game.
Though winning a National Championship was one of the best nights of his life, McDonald can't help but wonder what would have happened differently, had he taken better care of his knee immediately.
Since he didn't have the same athletic burst coming off the two ACL surgeries, McDonald felt he missed out on a chance to be drafted in the first round.
"I'm thankful that we were able to make it to the National Championship and win, but as far as the long haul of my career, I think it kind of stopped me from going much higher in the draft, he said.
"Looking back on it, if there was one thing I could change in my past, it would be that. I wished I would have gotten that surgery in my junior year."
A nightmare of an experience at the NFL Combine all but sealed his fate out of the first few rounds.
"I ended up getting salmonella poising from eating a peanut butter and jelly sandwich before the combine, and I lost about 15 pounds," he said. "I was supposed to be a certain weight and I ended up being 260 pounds.
"So I tried to drink like two big jugs of water and I was 276 pounds after drinking all that water. It was horrible because I couldn't do anything, because I was sick. I couldn't run, I couldn't do any of the agility tests, I couldn't do lifting, even the IQ tests, I was like, 'I don't feel like doing this.' I was too sick."
Despite the horrific experience, McDonald was selected by the 49ers, a team he grew up following as a kid. The experience was bittersweet for McDonald, who was happy to be selected, but yet a little bitter over not being selected higher.
"During the draft, I was at my house. And I was outside mad and pissed off that I was seeing guys drafted, who I thought were not better than me," he recalled. "I was walking outside and coach Manusky called me and said, 'Are you ready to be a Niner?' and I'm like, 'Yeah!' Then, my name flashed across the screen and I was like, 'Thank God,' because I was a nervous wreck that whole day."
After going later in the draft and suffering from a bad case of food poisoning at the Combine, McDonald arrived in San Francisco with a chip on his shoulder, ready to prove to the 49ers and the entire NFL, just how good of a player he really was.
In his rookie season, McDonald saw action in nine games and recorded his first sack on Jeff Garcia late in the season. The first sack in his NFL career, was a play McDonald will never forget.
"I was unblocked. I saw things open up and I just ran towards the quarterback," he said. "Nobody was blocking, so I thought I might as well get the sack. It was exciting. Even looking back on it a year later, I was happy to get that. You don't get too many of those in the NFL, where you're unblocked and nobody picks you up."
McDonald predicted his sack would come and he even gave Garcia a heads up.
"I had told him earlier in the game, 'I'm going to get you.' And I got him," McDonald said.
Registering his first sack was a big accomplishment for the rookie, but as important, was his overall growth as a player in his first NFL season. Although McDonald came in with more developed technique than most rookies entering the NFL, a credit to his Florida coaching staff and advice from his father – the youngster learned a great deal more from his former teammate Bryant Young.
"Growing up watching football, the 49ers were my favorite team. I used to always watch guys like BY. And just being here with him, that was a blessing for me. Being able to know a guy like that, a baller, and a future Hall of Famer, and to get to see him work every day, I enjoyed and appreciated it."
Young's work ethic rubbed off on McDonald.
"By listening to the older guys like BY talk about how they treat their bodies, that's something I paid a lot of attention to when I got here," he said.
With his rookie season behind him, McDonald worked tirelessly in his first ever NFL off-season to get himself ready to make more of an impact in his second season. And when the 49ers brought in Justin Smith to play on the opposite side of the defensive line in free agency, McDonald became even more excited about what was going to happen in his second year with the 49ers.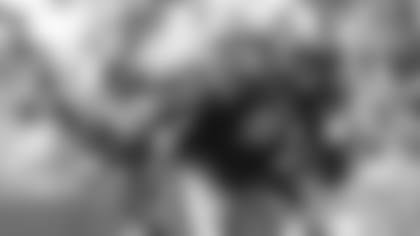 Through six games, McDonald's play has been a bright spot. In six starts, McDonald has totaled 19 tackles, and against the Patriots two weeks ago, he picked up his first sack of the season. His lone sack isn't indicative of the pressure he's put on opposing quarterbacks as McDonald also has 11 quarterback pressures.
This past week against the Eagles, McDonald blocked a David Akers field goal that teammate Donald Strickland recovered and returned it 41 yards for a touchdown.
"It was a big play for us," McDonald said after the game. "They were coming out, firing out on their field goal unit. Our special teams coach saw that and called a great play on that. And I came through and blocked it."
While he has made standout plays on both defense and special teams, McDonald credits the veteran Smith for helping him improve his play. The duo has effectively used pass rushing stunts to get pressure on the quarterback, and they've formed a tight bond rather quickly.
"We're good friends," McDonald said. "When you're close with somebody, you know what kind of moves they like to use and then you can communicate with each other very well out there. I think that's one thing we do on the field, we're always communicating. A lot of guys don't do that. But when you're communicating, you know what the other guy is doing, and you can go a long way."
And with Smith and McDonald pressuring opposing quarterbacks in the backfield, it might not be long before McDonald reaches his ultimate dream.
"I want to be known as one of the greatest players to ever play the game. That's how I look at it. If I'm going to do something, I'm going to do something to the best of my ability. I just don't want to be someone they remember, who played football and you can forget about when I leave. I want guys to remember me like Bryant Young. Everybody will remember him, he was a hell of an athlete. That's my goal."
As long as he continues to put in the hard work leading up to Sundays, McDonald should have no problem being remembered by the 49ers Faithful.